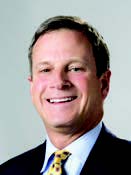 MCAA and our Supplier Partners recognize that you're always aiming to meet your clients' needs while improving productivity, cutting your costs, and saving time on the job. In this issue of Smart Solutions, you will learn how Zurn Industries, LLC and Jay R. Smith Mfg. Co.® helped keep projects on track with customized solutions. You can also read how Egan Company overcame time challenges and space constraints to provide Bethel University with an energy-saving HVAC solution by installing Daikin Applied highly efficient Rebel rooftop units. The Hill Group saved around $45,000 by relying on Erickson Incorporated's aerial services for several heavy lifts in downtown Chicago, IL. Using the Miller® PipeWorx 400 welding system, De-Cal, Inc. improved productivity by as much as 40 percent.
Other stories in this issue illustrate how the right products can help you meet the complex, varied challenges you face as a contractor. A.T. Chadwick turned to Victaulic's drawing services team and grooved piping systems to manage a historic building renovation without a hitch. Working within the limitations imposed by a hospital renovation project, Dynamic Systems, Inc. prefabricated as much as possible, calling on CADDY products to get the job done and also saving time on the jobsite. PAR Plumbing found that HOLDRITE® support systems allow them to work within the narrow confines of New York City high-rises.
Digital innovations in the contracting field are arriving daily. This issue of Smart Solutions has examples from Jonas Construction Software, Technical Sales International, and Milwaukee Tool on how contractors used digital solutions to improve productivity and grow their businesses. Other innovative companies are marrying technological and mechanical solutions—such as touchless sensors for restrooms (Sloan Valve Company) and smartphone monitoring of HVAC operations (Daikin Applied's Intelligent Equipment® controls).
With all these digital solutions come new concerns about managing devices and software, so KEY2ACT offers tips on when to upgrade your operating system. Also in this issue are insights from Baltimore Aircoil Company on getting the most from your evaporative cooling equipment and from Wayne Water Systems on selecting the right sewage pump for the job.
You can also read about University Mechanical's use of Uponor's radiant heating and cooling system to achieve LEED® Platinum certification and All Area Plumbing's selection of stainless steel waste and vent piping systems from Josam Company for a restaurant in need of a product that could stand up to just about anything. MCAA and our Supplier Partners know you aren't just looking for solutions, you're looking for Smart Solutions.
Bill Tavenner, Chairman