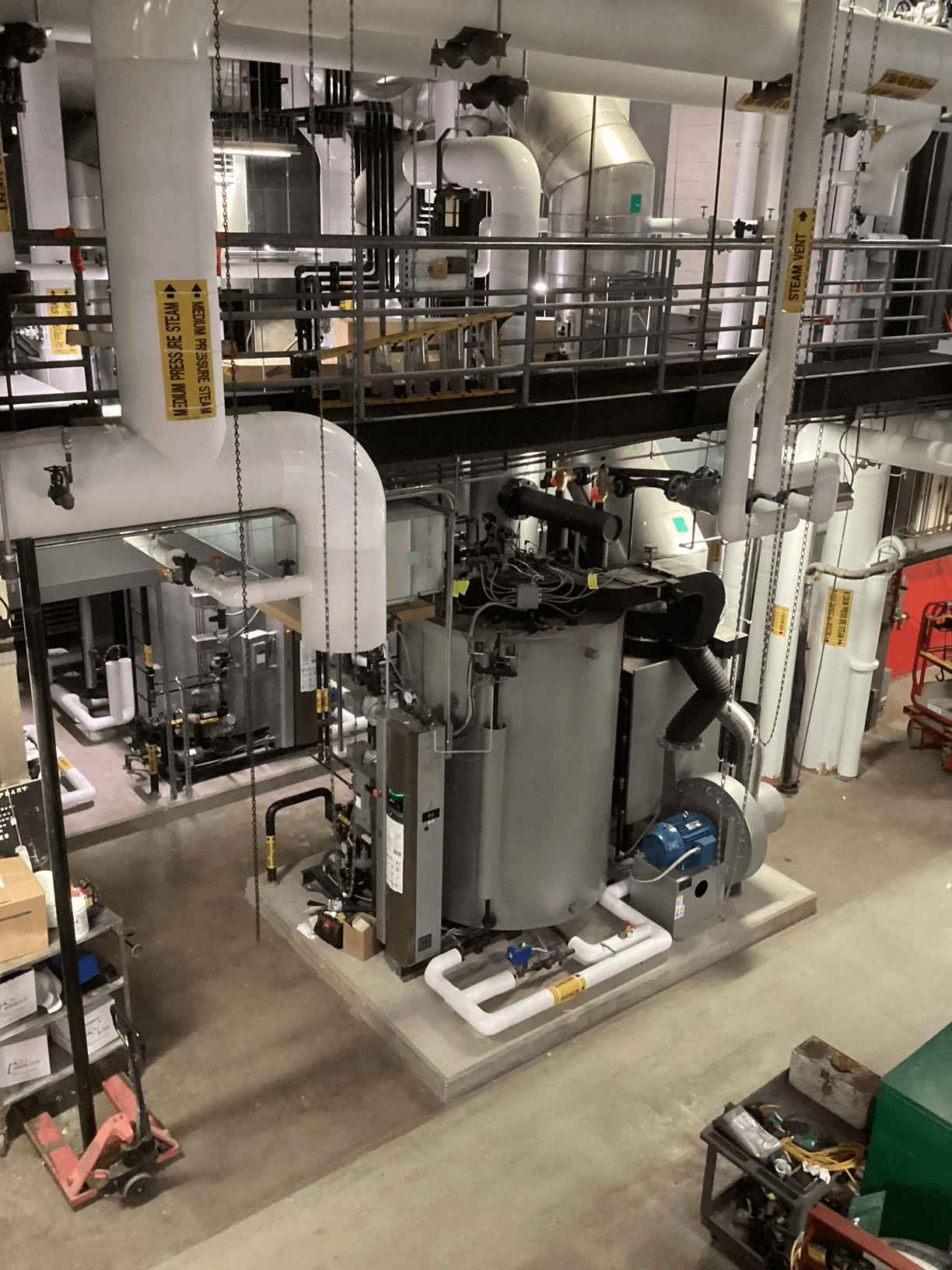 Recognizing that pipe fabrication was slowing down its prefabrication process, F+F Mechanical Company invested in a Watts-Mueller pipe cutter that dramatically improved speed and quality while decreasing labor costs. In fact, thanks to the efficiencies gained from prefabrication using the Watts-Mueller machine, F+F Mechanical recently completed a full boiler room change-out for a hospital in just three months.
Several years ago, F+F Mechanical, a full-service mechanical contractor based in North Haven, CT, recognized the need to embrace new technology. John Ferrucci, vice president of F+F Mechanical, said, "We needed to move into prefab units and modular construction. As we started this process, it quickly became clear that pipe fabrication was taking too much of our projected time and consuming too much of our budget—piping was the bottleneck in our progress. We had four men fully dedicated to cutting, beveling, and prepping pipe."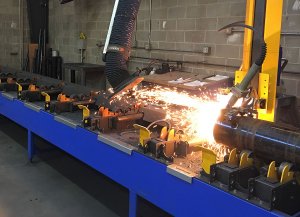 Ferrucci continued, "We visited a few large fabrication shops and observed them using the advanced technology we were considering—we had to upgrade our capital equipment. We were already looking at Watts-Mueller and one other manufacturer; everyone we talked with advised us to look at Watts-Mueller."
In 2017, F+F Mechanical purchased the Watts-Mueller W-242 (two axis) machine with a 25' bed and a conveyor outside the building for preloading and feeding pipe into the building. "We quickly went from two men working all day cutting pipe each day to cutting pipe two days a week. The labor savings alone justified the purchase of our new Watts-Mueller pipe cutting machine," said Ferrucci.
"Another cost-saving benefit was gained efficiency with welding X-ray joints," continued Ferrucci. "We had been using oxy-fuel in our pipe cutting. The quality of beveling with the plasma torch on the Watts-Mueller machine dramatically improved the speed and quality of our X-ray joints. All large-bore, high-pressure steam piping that requires radiographic testing passes at 100 percent now. One of the contributing factors to the success is the good end prep from our new machine."
Ferrucci noted, "For the quality of the machine and all the features, the price was competitive, but what really got my attention was that every mechanical company I spoke with raved about Watts-Mueller machines."
When he attended the annual MCAA Convention, Ferrucci visited the Watts-Mueller booth. "I introduced myself to David Carr and told him about our needs. Working with David was really great. He has so much knowledge of the industry and honestly told me what we really needed, actually steering me away from the more expensive options I thought we needed."
Recently, F+F Mechanical upgraded the Watts-Mueller 3DPP software. "We are seeing substantial improvements with office/shop communication as well as gains in efficiency and accuracy," said Ferrucci. "Our cut/prep time has gained roughly 60 percent in efficiency since the addition of the W-242 pipe cutting machine. All of our connected fabrication capabilities have increased. We now can cut heavy-wall pipe, stainless steel, and nozzle outlets."
F+F Mechanical credits its ability to replace the boilers at Yale New Haven Hospital's Saint Raphael campus in just three months to its prefabrication capabilities. The project included a complete replacement of three 1,000-horsepower boilers and all the high-pressure steam mains in the power plant and was performed with no time loss for the hospital. "We could not have completed this project in this timeframe prior to having the Watts-Mueller machine," said Ferrucci.
For more information, visit www.watts-specialties.com.