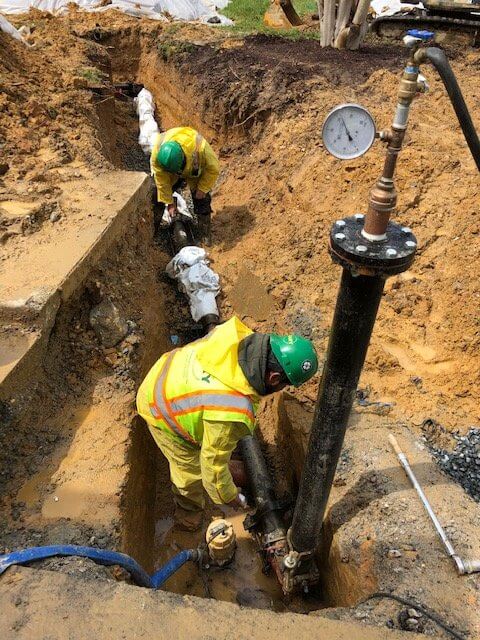 MCAA members are using new solutions, teamwork and creative problem-solving to approach fast-track COVID-19 projects in their communities. W.L. Gary Company, Inc., is just one example. The MCA of Metropolitan Washington, Inc. member played a role in expanding patient care facilities in Maryland.
Transforming a Parking Lot Into Critical Care Facility
W.L. Gary Company assisted in the installation of a STAAT ModTM Critical Care Unit in the parking lot of the Adventist Healthcare – Fort Washington Facility in Fort Washington, MD.
To activate the modular solution, sewer and water lines from the existing utilities had to be connected to the STAAT ModTM unit. The scope of work included excavating two lines that were connected to the utilities, running new four-inch lines to a point underneath the STAAT ModTM unit, and then testing, inspecting, and backfilling the lines.
Working through challenging weather and safety conditions, the W.L. Gary Company, Inc. team, led by Foreman Daniel Valdez, completed the work in less than a week.
Converting Office Space Into Patient Rooms
W.L. Gary Company, Inc. also collaborated to transform four floors of hospital office space into additional patient rooms. The team spent and a half week on construction per floor, facing several challenges along the way.
One floor's entire medical gas system was compromised and needed to be replaced. The team prepared new medical gas lines and replaced all of the outlets in one week, resulting in over 30 patient beds.
The building's plumbing included galvanized pipe and cast-iron drain lines that needed to be cleared and repaired to avoid future issues with the building's restrooms.
Service elevators were shared with hospital staff and patients. To mitigate the possibility of contracting COVID-19, W.L. Gary Company, Inc. followed appropriate Personal Protective Equipment (PPE) and safety precautions. Team members avoided areas with coronavirus-positive patients, and an air-scrubber was installed to avoid any cross-contamination.
Steamfitters Local Union 602 member Travis Jackson, a foreman and service technician for W. L. Gary Company, Inc., juggled manpower, supplies, client expectations, and an accelerated schedule to make the project a success. Challenges were addressed as they arose, with all parties collaborating to create effective solutions for each.
Efforts like this one and those of many other MCAA members showcase the importance of teamwork in helping our communities cope with the impact of the COVID-19 pandemic. We're all in this together.
Related Articles