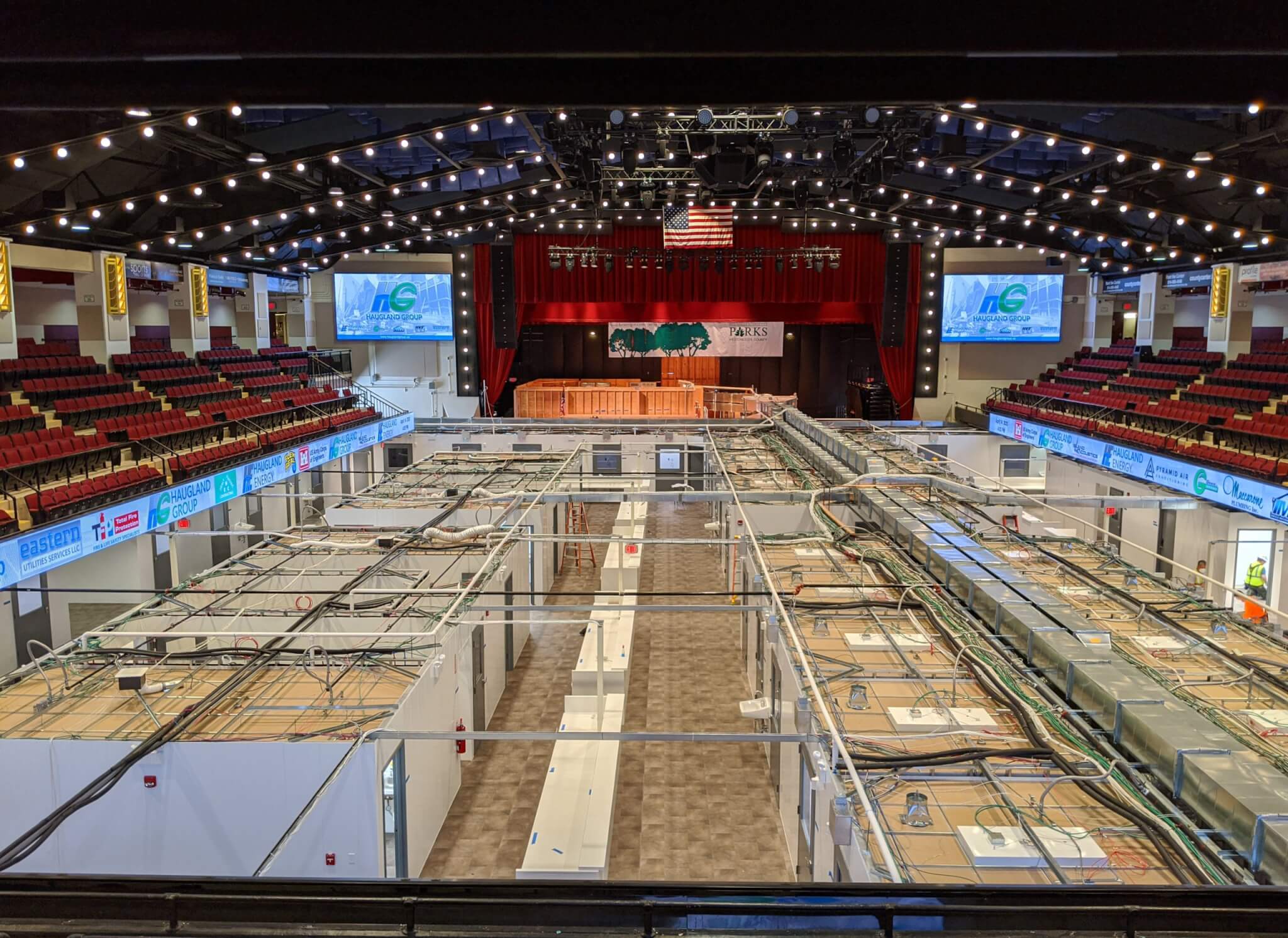 MCAA's manufacturer/supplier members have worked tirelessly to shorten lead times and provide needed equipment and expertise throughout the COVID-19 crisis. SIEMENS, for example, supported the transformation of the Westchester County Center and a portion of its parking lot into a 110-bed temporary field hospital for COVID-19 patients in White Plains, New York.
SIEMENS worked diligently with their partners at Haugland Energy Group LLC (a division of Haugland Group LLC) to support the State of New York and meet the U.S. Army Corps of Engineers' (USACE) timeline, which called for substantial completion of construction in 21 days. SIEMENS submitted their proposal to the USACE within 12 hours and began work immediately following notification of the project award.
The collaboration enabled a 110-bed temporary facility in the Center and across four tents in the facility's parking lot with the power distribution and building technologies needed to care for patients affected by COVID-19 and protect hospital staff.
To get products on-site as quickly as possible, lead times were cut from weeks to days. SIEMENS designed, built and shipped the custom switchboards in only two days. Russelectric, a SIEMENS company, delivered the automatic transfer switches in less than five days.
To ensure reliable power across the site, SIEMENS supplied several critical power infrastructure technologies including panelboards, custom-made switchboards, circuit breakers, load centers and automatic transfer switches. Many components were custom-built and shipped within days from SIEMENS' U.S. manufacturing sites in Grand Prairie, Texas; Spartanburg, South Carolina and Hingham, Massachusetts.
"Everybody understood this was an emergency situation and went above and beyond to deliver the supplies and services that were urgently needed," said Matt Martinez, technical director at Siemens Government Technologies. "With the support of our CEO Tina Dolph and the extended leadership team, who removed barriers every step of the way, we were able to get this project done in record time and ensure that the USACE and the State of New York had the support they needed on the frontlines of our nation's fight against COVID-19."
In addition to optimizing the spaces for specialized care, SIEMENS supplied:
Pressure monitoring systems for every patient room to ensure negative air pressure and minimize further transmission of the virus
Nurse call stations in each room that feed back to master stations
Building automation controls for the tents
Behind the scenes, the SIEMENS team worked strategically across business divisions focused on manufacturing and operations, distribution, customer support and sales to meet the healthcare facility's unique needs. Pressure monitoring systems were prefabricated at a local branch office for quick mobilization to the site. Additional safety mechanisms were incorporated to provide control over the air handling units in the tents.
"Undertaking a healthcare project of this magnitude is incredibly complex and to complete it within weeks under today's unprecedented circumstances is truly a testament to the dedication of our employees, partners and suppliers," said Dave Hopping, President and CEO of Siemens Smart Infrastructure USA. "I thank Governor Cuomo for his leadership in this response effort. We're proud that our technology and know-how will not only help New Yorkers affected by COVID-19 but also continues to support hospital environments and other critical infrastructure across the country."
Continuing COVID-19 Support
SIEMENS continues to combat COVID-19 by supporting critical infrastructure and helping state and local governments address urgent healthcare needs. The company's employees are maintaining essential operations to support hospitals, power plants, government facilities, military sites, manufacturing locations and data centers. We are all in this together.
Related Articles