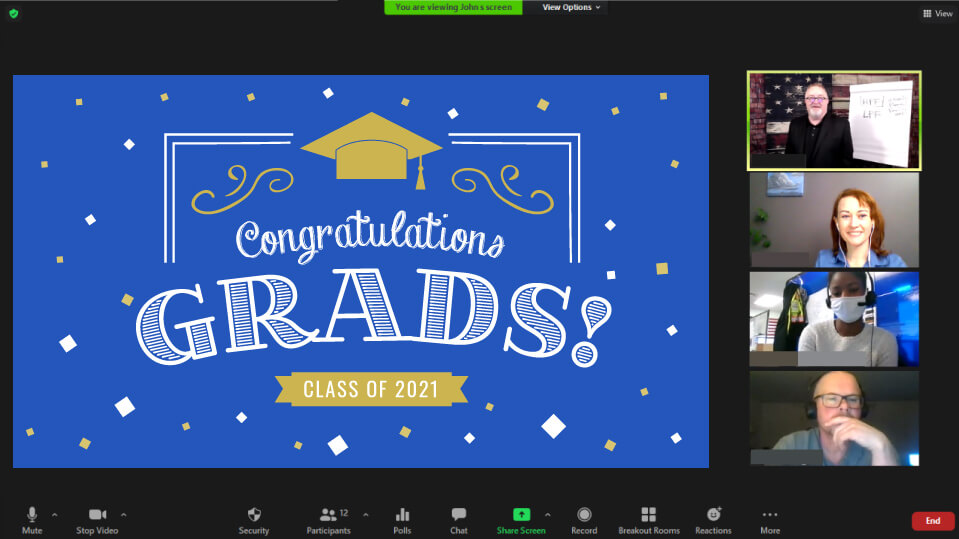 Congratulations are in order for the newest batch of Pre-IPM graduates! Classes 11-14 of MCAA's newest national education program have just completed their 12 weeks of introductory project management training. How did it go? Well, here's what our recent grads had to say about it:
Practical Application
"At the end of each class, I was excited to apply the material to my daily work. It also motivated me to learn more about project management and to become a great PM."
"The course was so engaging and each class was perfectly different. I loved hearing different perspectives across different topics. The content was interesting and valuable. As someone who is brand new to this industry, I couldn't feel more confident […] for a difficult and rewarding career."
Our Instructors
"Great instructors with great advice and knowledge! I learned a lot through this class that will help me start my career on the right path."
"I liked that each instructor was genuinely excited about the topic they were teaching."
"The instructors were very engaged and they appeared to care a great deal about teaching the next generation of project managers."
"Instructors were super engaging and helpful. I could tell they liked sharing/teaching people things they've learned along the way. Nice to have the opportunity to learn from different leaders of the business."
"I really liked the ability to basically be taught by some of the best in the business. Having the opportunity to ask questions if necessary who have really had the hands on and years of experience. It wasn't just read this book and learn it was real life experiences being shared and it's helpful to learn that way. Also appreciated how it started with real basic material that you can apply in daily life."
Course Content
"This was a great class. It covered so many topics that were all very practical and helpful. Thanks!"
"I think the course did a phenomenal job at showing me aspects to project management I hadn't thought about before. Even areas I had some experience in, I learned views that I hadn't considered… I think this course did a great job at exposing me to the basics of everything."
"I really enjoyed how each class has its own specific topic that we learned about but regardless each class tied in together well. The course topics flowed in a logical manner that was easy to understand."
"Even though it was a lot of information the time went by quickly all the instructors where able to keep us engaged in the course."
"I liked how the course focused on self improvement and really paved a path to becoming a great project manager."
Course Structure
"I love that it was online. I understand some classes have to be in person, but I am not always available to take a week off and go to a different state for a class. It really allowed me an opportunity to learn a subject I had been wanting to, which will help me in my career."
"The quizzes and homework were helpful to allow us to review."
"I think the homework and the engagement with someone in the office was very beneficial in learning certain concepts of project management."
"I learned the most in the Q&A section since those were focused on scenarios that occur on our projects."
"The best part about the program, in general, was how [instructors] would interact with the students. I enjoyed hearing what others answered in their homework assignments and reflecting on their answers versus mine."
Who Should Attend
"I wish I had taken this course when I first started as a PE."
"Great for someone who has little experience to understand what a PM does and why."
"[Pre-IPM focused on] taking the time to really hammer out the basics. Crucial for people with 1-3 years of experience, which has a lot of training on the fly."
"For a beginner class, it was very detailed! It allows anyone that might be interested in project management, to find out if it is a career they might want to pursue!"
"You guys rocked… Being in the field for 30 + years I know what it takes to build, sitting on the other side of the desk is a little intimidating, so thank you for the experience that you are teaching."
"Overall, I felt like this was the perfect program for someone like me – fresh out of college with little experience in the mechanical contracting industry. Each of the speakers did a great job presenting a high level overview of the topics."
Interested in sending someone to Pre-IPM?
The next Pre-IPM courses will begin in May of 2022.
Registration will open in early spring of 2022, and the registration window will be announced in advance via the MCAA National Bulletin.
Registration is done online, and is first-come, first-served.
For more information about the program, click the link below.
Related Articles