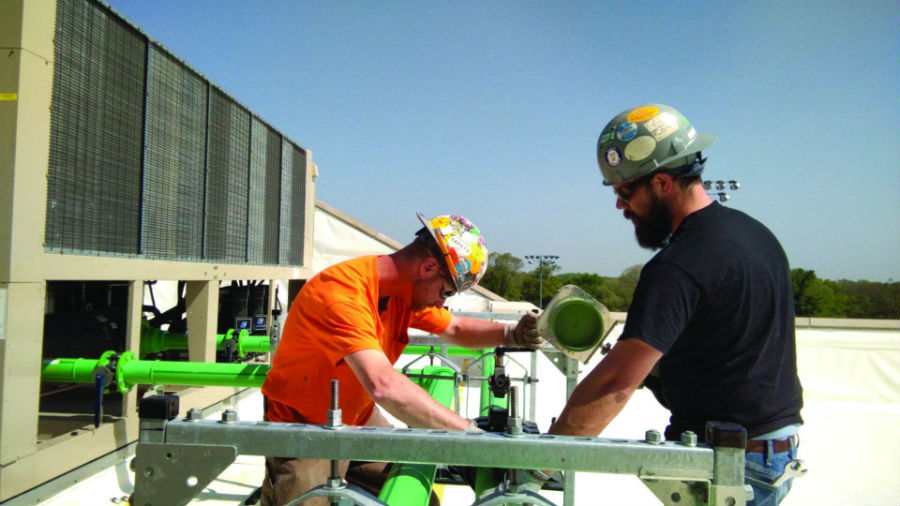 John E. Green Co. of Highland, MI, cut labor and installation time by using Aquatherm's polypropylene-random (PP-R) pipe systems for a 2013 project at the University of Detroit Jesuit High School and Academy (U of D Jesuit). The project went so well that when U of D Jesuit and John E. Green teams reconvened in 2014 to plan the school's new science building, no other piping options were considered.
Past Success with Piping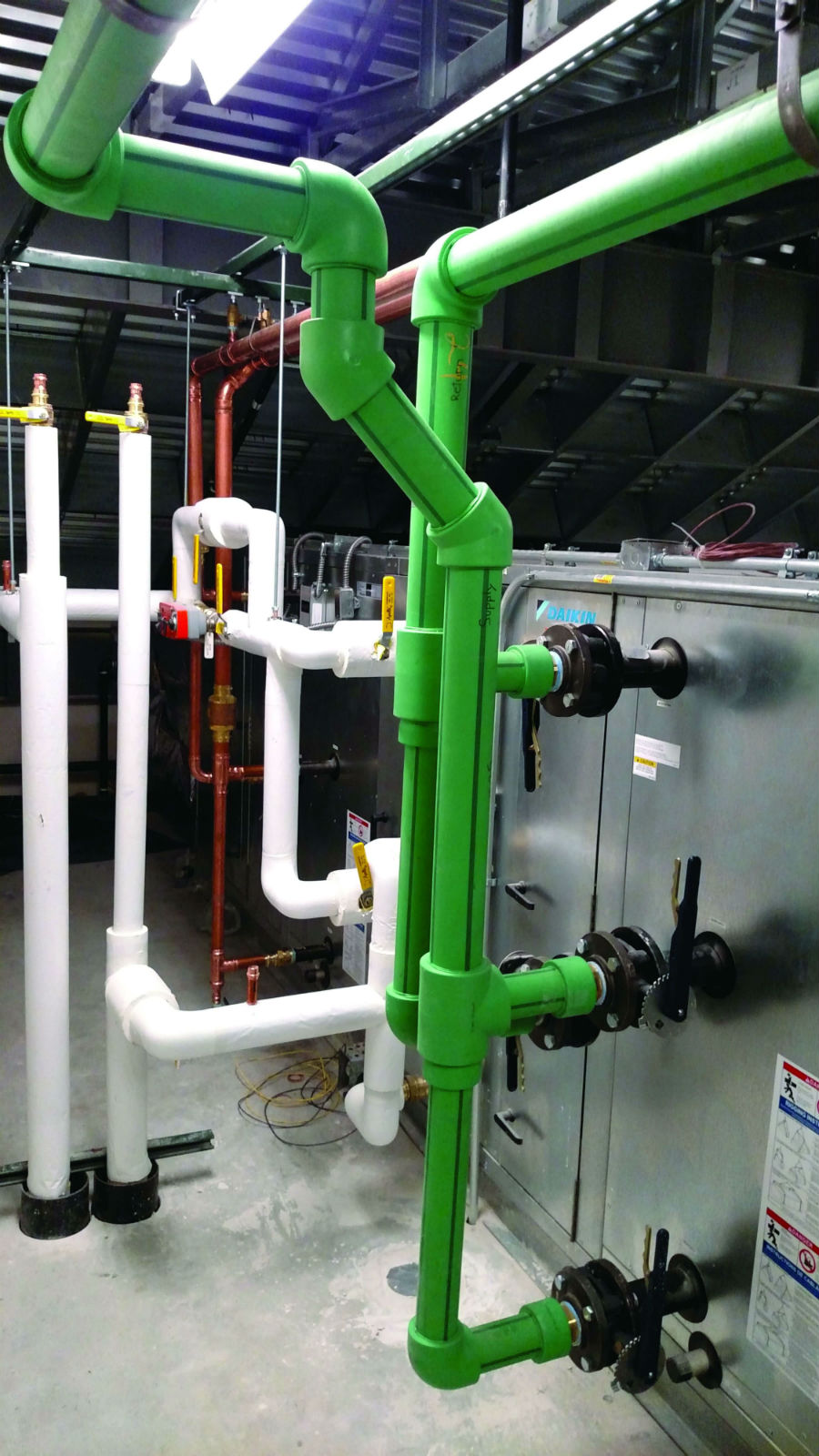 Aquatherm's PP-R pipe systems played a key role in the success of the 2013 direct-bury water-source heat pump installation at U of D Jesuit. During that project, 4" Aquatherm Blue Pipe® was buried in an underground trench, serving as the supply and return piping that linked the campus' boiler house to a 50,000-square-foot building that originally housed the school's priests, but now serves as administrative space.
For that project, John E. Green provided design-build support. Bob Williams, director of plant operations at U of D Jesuit, worked closely with John E. Green's Mark Bobrowski, senior mechanical engineer of preconstruction services and a U of D Jesuit alumnus.
The 2013 installation is leak-free. The pipes will not corrode or leach into the soil and are environmentally friendly. In fact, Aquatherm currently has the only piping systems in North America that can contribute directly to LEED v4 credits.
Science Wing Takes Flight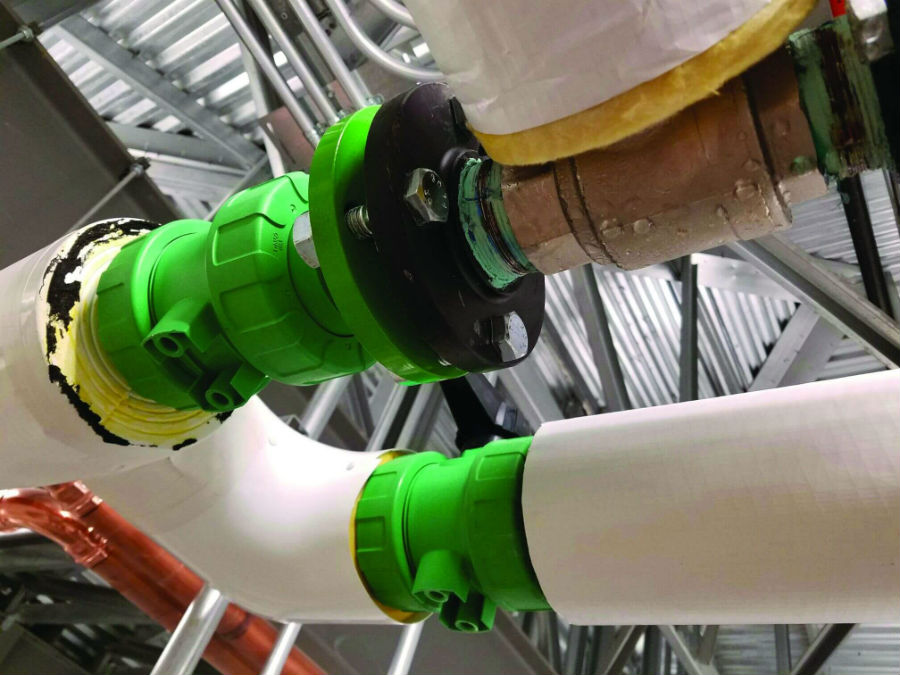 Construction of the new science wing began at the end of the 2015 school year, and the new building opened in time for the 2016–2017 school year. The four-story, 40,000-square-foot science, technology, engineering, and math (STEM) center includes laboratories for robotics, chemistry, CAD, biology, and physics. It also houses U of D Jesuit's Shell Eco-Car program.
The new STEM center is the largest addition to the campus since the main school building of the current campus was built in 1930. (The original high school was built in 1877.)
To condense installation time to meet the construction schedule and save on labor costs, some sections of the new chilled-water pipe system were fabricated at Aquatherm North America's Lindon, UT, facility. With the fabrication assistance, Bobrowski noted, "we were able to maintain the schedule and budget by getting this work done efficiently."
Because of their light weight compared with metal pipe, Aquatherm fabricated spools were carried manually to the roof without a mechanical assist. Tying Daikin air handling units and air-cooled scroll compressor chiller and Armstrong pumps together is Aquatherm SDR 7.4 Green Pipe® in 2″, 2 1/2″, 3″, and 4″ diameters.
"The more you do, the better you become. Toward the end, I really had a good handle on what to do and how to make a perfect fusion [with Aquatherm's heat-fusion process], and there's definitely a labor savings compared to welding steel pipe."

—Josh Umphrey, Journeyman Pipefitter, John E. Green
Aquatherm is joined by heat fusion. The pipe and fitting are placed on a 400–500° F heating iron, then connected. This process bonds the pipe and fitting at the molecular level without the use of chemicals or mechanical connections and eliminates systematic weaknesses and fail-points. Once the installation was complete, the Aquatherm-required pressure test was performed using compressed air. There were no leaks.
Seeing Is Believing
Aquatherm trained and certified John E. Green's Journeyman Pipefitter Josh Umphrey onsite to install Aquatherm piping. Although this was Umphrey's first experience with Aquatherm, he was impressed.
"The more you do, the better you become," Umphrey said. "Toward the end, I really had a good handle on what to do and how to make a perfect fusion, and there's definitely a labor savings compared to welding steel pipe."
He added that there is a tendency to be skeptical when a product almost seems "too good to be true."
"Most of us tradesmen in the field are 'I'll-believe-it-when-I-see-it' types," said Umphrey. "But I will say that after going through the process and the pressure test, I'm more than comfortable installing and recommending Aquatherm pipe."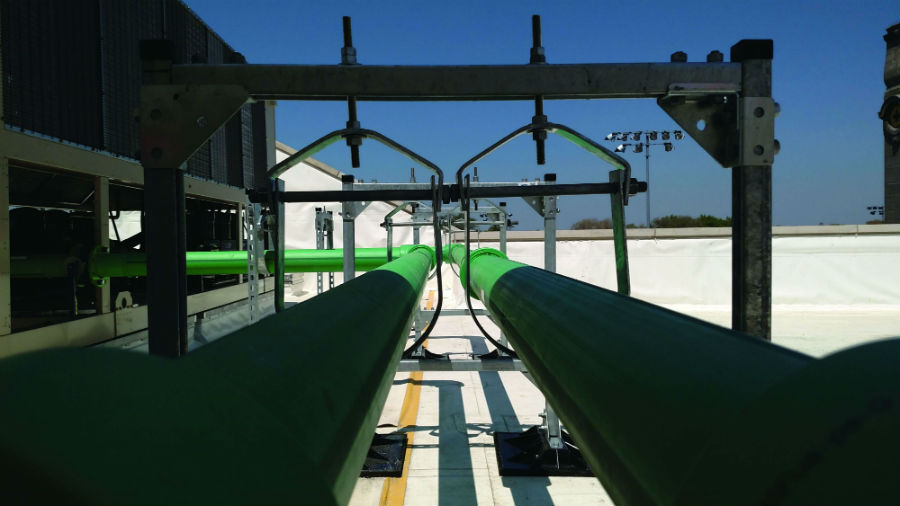 Safe and Efficient
Bobrowski recommended and specified Aquatherm for the project's chilled-water piping system because it is corrosion-resistant and will not scale. No hot work permits are needed because Aquatherm's heat-fusion technique poses virtually no fire hazards. Additionally, no solder or glues are used that could wear or corrode the pipe.
Because Aquatherm is so light, installers can move faster without the risk of injury that often accompanies metal pipe, saving on labor costs. The pipe's light weight also eliminates the need for extra heavy-duty hangers. Finally, joining the PP-R pipe via heat fusion speeds up the welding process, saving even more on labor costs.
"I think it was a good deal for U of D Jesuit and a good experience for John E. Green," Bobrowski said. He called Aquatherm's PP-R piping "a great new product" and anticipated using Aquatherm piping on future jobs.
Most importantly, the customer is pleased. "When [Bobrowski] first introduced the Aquatherm pipe to us, I liked its insulation properties and the speed of putting it together," Williams said. "On [the 2013] job, the team had budgeted for the trench to be uncovered—and an excavator operator required onsite at his hourly rate—for eight or nine days. The Aquatherm installation only took six days. If we had put steel or welded pipe in, it would have taken a lot longer and increased costs dramatically.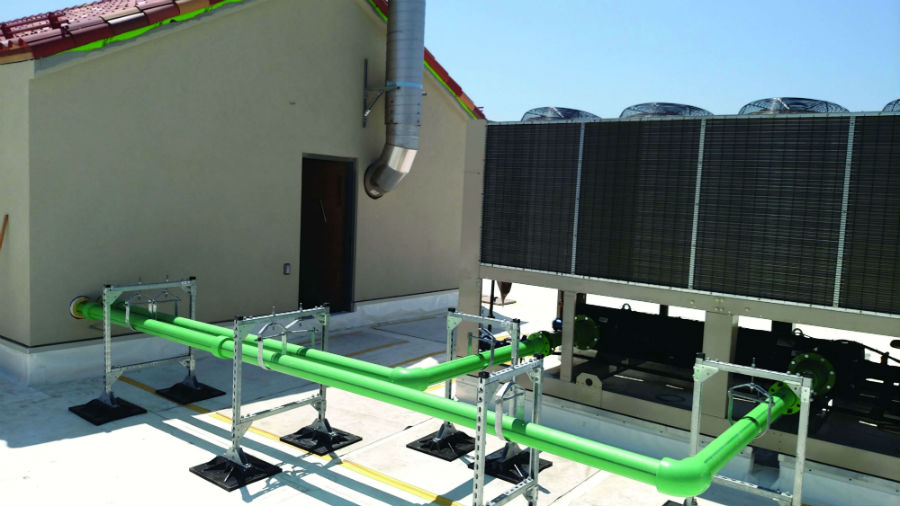 "So when John E. Green wanted to bring it in on this other project, I was all for it," Williams continued. "On this project, we again appreciated the inherent insulating properties of the Aquatherm pipe, and we can bill this as a green product. Even though we're not building a totally green building, we're able to boast a bit about what we are doing here."
For more information, visit www.aquatherm.com.