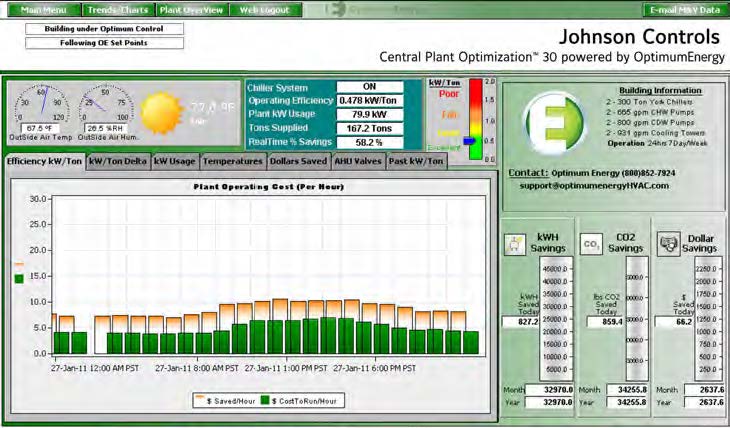 The Central Plant Optimization™ (CPO) software from Johnson Controls that is helping a global marketer and distributor of food service products significantly reduce its central plant energy consumption is also helping Straus Systems of Stafford, TX, advance their position as a leader in the installation of new technologies. "Straus Systems has been in business since 1933, and we continue to build our job resume," said Vice President of Operations Management Paul Alexander. "Projects like this one that incorporate innovative technologies like CPO30 can help us differentiate our company and grow our business. Our success serves as a springboard to capture new business, particularly among companies interested in best-inclass, energy-saving solutions."
Transforming an Outdated Building
The client is wrapping up the third phase of a multi-phase renovation that began more than two years ago with the purchase of a 20-plus-year-old former call center facility. The company purchased the 660,000-square-foot structure to create a shared services facility for its North American distribution centers. When completed, the building will house centralized functions, such as customer service, accounts payable, and accounts receivable, and include a 24/7 mission critical data center.
During the first two phases of the renovation, Straus Systems installed three 350-ton air-cooled chillers to help get the data center operational and meet the challenge of transforming an outdated, vacant building into a code-compliant, state-of-the-art facility with built-in redundancy and building automation that protects against data center downtime and ensures the reliability of call center operations.
As phase three of the renovation nears completion, Straus Systems continues to provide HVAC support to the company. According to Alexander, phase-three accomplishments include the installation of two 1,200-ton water-cooled chillers, two two-cell stainless steel cooling towers, and new pumps, as well as a complete upgrade to the central plant control system. When installed and commissioned, the water-cooled chillers will provide primary cooling to the structure, with the air-cooled system assuming backup responsibilities and providing cooling during off hours.
Upgrading and Innovation
Straus updated the original Metasys® building management system from Johnson Controls with the newest version of Metasys to better manage the facility and provide critical redundancy. The new Metasys system will allow building staff to access, report, and use data on how the building is performing, including energy usage and spend by energy type. The system will help reduce energy consumption and costs while maintaining safe, comfortable, and sustainable environments. And because the system uses the latest web-based and wireless technologies, Metasys will ensure compatibility with mobile devices, allowing users to access the information they need anytime, anywhere.
"In this particular case, the Metasys system is also providing important continuity as we complete the water-cooled system changeout, helping to maintain proper chilled water flow throughout all parts of the building," noted Alexander. The need for redundancy means the central plant displays twice the number of controllers as would ordinarily be required in a non-critical central plant, providing a myriad of backup scenarios that will ensure data center up-time and maintain call center operations.
"My experience with Metasys has demonstrated that it is a great system, tried and true in installations around the globe," said Alexander. "But just as important as the product and how well it performs is my relationship with the supplier of that product. I have worked with the Johnson Controls rep on a variety of projects for a number of years, and I know him pretty well. So I have faith in what he says and the recommendations he makes. To me, contractor/supplier relationships like this go a long way toward achieving success and bringing value to the products we install and, more importantly, the customers we serve."
"Added to the more efficient chillers that we've installed, [Johnson Controls'] CPO30 should really help the facility shine as a result of energy savings, and the customer is going to be delighted with those same energy savings when they see their utility bills."

— Straus Systems Vice President of Operations Management Paul Alexander
This solid relationship and his successful track record with Johnson Controls products made it easier for Alexander and his customer to embrace another innovative technology that the renovated facility features—Johnson Controls CPO30 software. It features patented relational control technology to help significantly reduce central plant energy consumption. Algorithms will make continuous real-time automatic adjustments to the central plant based on building load and weather, while web-based dashboards will enable staff to efficiently measure, verify, and manage the building's performance in real time.
Real-time data are especially important as the company strives for efficiency and works closely with their local utility to take advantage of rebates that reward improvements in energy efficiency. "CPO30 will help them achieve these rebates in two ways," explained Alexander. "First, and what I'm most excited about, is the fact that the software will significantly improve operating efficiencies of the central plant. Added to the more efficient chillers that we've installed, CPO30 should really help the facility shine as a result of energy savings, and the customer is going to be delighted with those same energy savings when they see their utility bills. In addition, CPO30 will help them document these efficiencies and support their rebate application."
"I look at this facility as the company's front door—the place where customers gain access to an enormous product line and register their needs," Alexander said. "If the facility shuts down, the door is locked, access is denied, and eventually, revenue is impacted. The door needs to remain open, and it most likely will, thanks to the combined efforts of Metasys and CPO30."
For more information about Johnson Controls, visit www.johnsoncontrols.com.