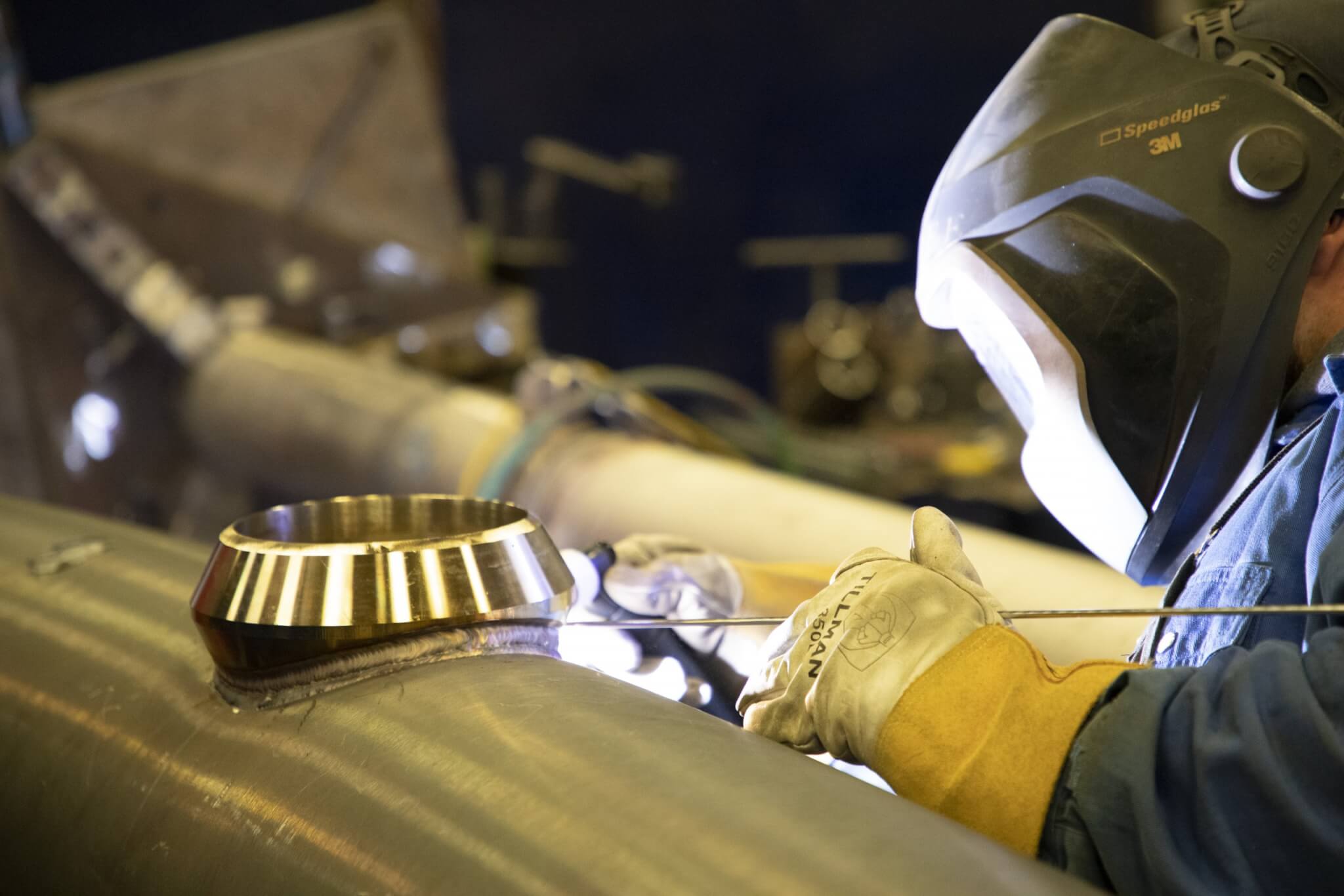 Harris saw an immediate return on investment (ROI) from their Watts Specialties automated pipe cutter, with improved efficiency in cutting and handling and no need for hand-cutting for olets or saddles. Based in St. Paul, MN, Harris has 15 regional offices with more than 300,000 square feet of fabrication shops.
In Need of an Upgrade
"Our operation in the Bellingham facility was growing… fast," said Garett Andersen, director of the fabrication shop and field operations for Harris' Bellingham location. "We needed to gain efficiency, and we knew that we needed an automated pipe cutting machine to gain that efficiency. We had an old Vernon machine with problems. One of our other shops had an older Watts Specialties machine, and they were getting the efficiency that we lacked.
"We looked at Watts Specialties. Then we looked at three other manufacturers: all three were either priced too high or their machines did not have the features we wanted.
"We decided to take a small group to the Watts Specialties facility in Puyallup, WA, to meet the Watts team," said Andersen. "We met a couple of the owner/managers, which was good, but then we met with a few of the machine technicians and support team. We were completely impressed with the machine guys. We walked away knowing that we were going to move forward with Watts. Seeing how they build each machine specifically for the purchasing company was also impressive. The personal contact with their service and support team was HUGE if or when we have any issues."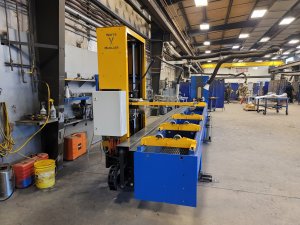 Anderson continued, "We wanted a larger machine, but our need for an automated solution outweighed our ability to wait for a machine to be built. We needed a machine more quickly, so Dave Dunham [Watt's managing director of operations] offered us a rental machine so we could get started quickly and see the benefits before we made a large capital commitment.
"We leased a W-244-Eco machine with a 24' bed. We use Stratus so we were able to import pipe data directly into the machine through the Watts software. We immediately realized a benefit we had not expected—savings on pipe fitup. The cutting accuracy—the quality of the bevels, joints, and olets—saved us on prep manhours. We would typically transport a cut pipe to another fabrication station for prep and fitup. Prep work was reduced dramatically!"
See the Harris Bellingham fabrication shop in action.
Results in Real Time
"We immediately benefited from leasing the Watts machine," Anderson noted. "Their service technician came to our shop and trained our machine operator. In a day-and-a-half, she was running the machine. The operator inputs the data with Stratus into the Watts software and the machine starts cutting. We quickly saw the ROI with this machine; the efficiency in cutting and handling was immediate. No more measuring and marking pipe. The operator inputs the data and the machine makes all the cuts. We realized immediately additional ROI by not having any hand-cutting for olets or saddles."
Register online to use Watts Specialties' ROI calculator.
Anderson added that Harris is extremely happy with the Watts software. "The software is easy to learn, easy to use. Importing data through Status also reduced the learning curve."
Now, Harris is planning to expand the capacity of its Watts machine. "We are now looking at extending our W-244-E with a 40' cutting bed and other logistics," said Anderson. "The economy version came without loading racks. Adding loading racks will make material handling far more safe and efficient."
For more information, visit www.watts-specialties.com.