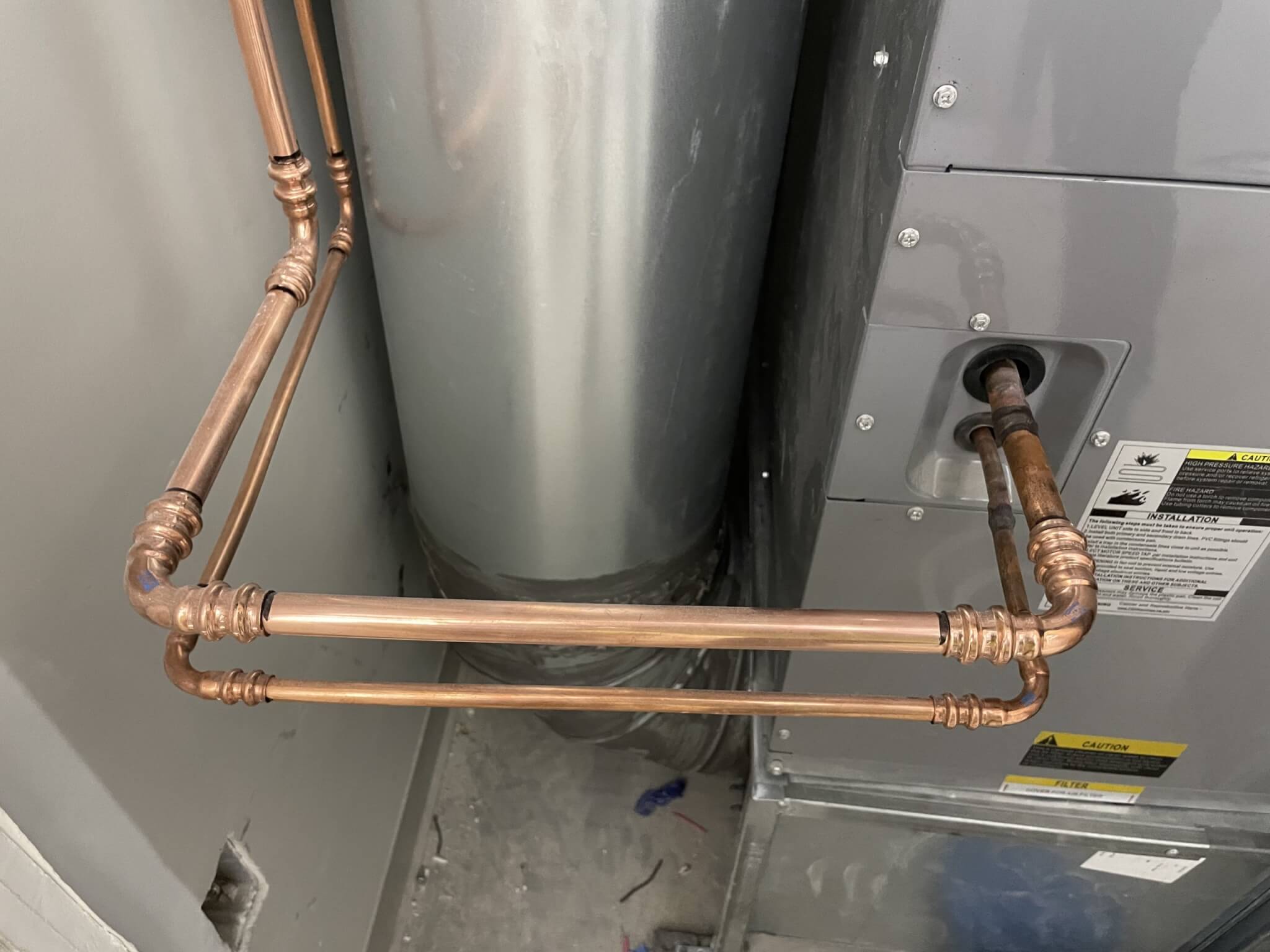 To expedite construction of a new university housing project designed as a hybrid of wood and steel, Harry Grodsky & Co., Inc. turned to Mueller Industries and its Mueller Streamline Co. products and piping systems specialists "We were able to save an incredible amount of time on the project thanks to Mueller" and its Streamline® ACR Press Fittings in particular, said Ross Halket, superintendent at Grodsky. Mueller's products gave Grodsky "the ability to get stuff into tight spaces, [and with] no fear of burning the building down, the ability to run piping in areas where brazing would have been hazardous," Halket noted.
High-Quality Housing
In October 2022, University of Massachusetts Amherst moved forward with plans to build new undergraduate, graduate, and student family housing on campus. The project calls for 150 two-bedroom units and another 824 new beds in total and is poised to address the university's strategic housing needs. UMass Amherst approached Grodsky, a fourth-generation family-owned mechanical contracting business with offices in Massachusetts and Connecticut. Adding Grodsky to the project gave UMass Amherst more than a century of contracting experience with a local touch, and the Grodsky team quickly took to the unique project.
"It's a large housing project that is 100-percent electric heat, using Lennox VRF systems," said Halket. "It's a hybrid structure, as it is wood framed. It was challenging to get lines to fit in places where they need to go, as you're dealing with all the nuances that come with a wood structure, such as trusses. Spaces for large mechanical systems are limited. And no pre-fab was used, as everything was fitted on the job in real-time."
In addition to housing, the $274-million project includes retail spaces for the school, dining spaces, and student social areas. It brings UMass Amherst's total undergraduate rooming capacity to 14,700 beds, the sixth-largest on-campus residential program in the country. With an extremely tight local housing market, the university knew it had to provide high-quality living spaces with modern amenities in a central campus location.
Productive Partnership
Brian Caufield, vice president of Mueller Streamline Co., described meeting Dave Streeter, vice president of Design Build at Grodsky, at an industry event, where they discussed upcoming projects. "We agreed that there was an opportunity to provide Grodsky assistance and value with our new Streamline ACR Press Fittings. That conversation led to the UMass Amherst project," said Caulfield.
In particular, Grodsky recognized the value of using Mueller's Streamline ACR Press Fittings. "We saw benefits of the double O-ring design," said Halket. "Mueller is heavy into the air conditioning and refrigeration space with their ancillary products. And they have a good support system, whether it be tech support or on-site training."
The partnership with Mueller provided Grodsky with substantial and crucial time savings during the project. Mueller provided complete onsite installation training to get installers ready quickly, and the intuitive and flameless process eliminated the need for brazing. "That eliminated the concern of bringing an open flame to the wood structure, and we weren't required to have a fire watch either," said Halket.
Halket added that Mueller's overall onsite support came with everything Grodsky needed for the project, whether it was tech support, tooling, or expediting necessary products.
Looking Ahead
So far, the first phase of student-family housing is complete. Seventy two-bedroom units and a multipurpose community center will soon be joined by 80 additional two-bedroom units. The next phase includes construction of apartment-style housing that will provide 623 beds for upper-level undergraduates and 201 beds for graduate students, scheduled to be completed in fall 2023.
Throughout the process, Grodsky team members cited the quality and reliability of the Streamline ACR Press Fitting's dual O-ring design and the full 360-degree press contour. "I found it all to be very intuitive," said one Grodsky team member. "The way the fitting and the jaws work together is very self-explanatory. The foolproof design led to no phone calls or installation issues."
"We really found it very beneficial to partner with a company that is heavily involved in the HVAC and refrigeration space to provide support for the job," added another team member.
Mueller Streamline Co.'s Caufield added, "We appreciate the opportunity to work with the Grodsky team on this project and look forward to many more collaborations in the future." Halket anticipated Grodsky partnering with Mueller on future projects. "I really enjoyed working with the Mueller team," he said. "I like the fitting. It provides a fast, quick, and reliable connection."
For more information, visit www.muellerstreamline.com.