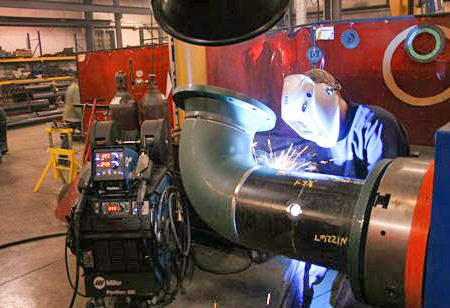 By taking advantage of the multiprocess capabilities of the Miller® PipeWorx 400 welding system, mechanical contractor De-Cal, Inc., was able to change its pipe welding processes to significantly improve productivity—by as much as 30–40 percent—while also growing business. The PipeWorx system offers conventional stick, TIG, MIG, and flux-cored welding processes optimized for pipe welding in addition to advanced wire processes, including pulsed MIG and Regulated Metal Deposition (RMD®) from Miller.
Based in Warren, MI, De-Cal has worked since 1992 to establish itself as a premier mechanical contractor in the mid-Atlantic states, with additional locations in Youngstown, OH, and Pittsburgh, PA. The addition of a fully functional fabrication shop at the Youngstown location allowed the company to add a new element to its business to meet the demand for customers in oil and gas as well as municipal water, chemical, power generation, food and beverage, and institutional applications.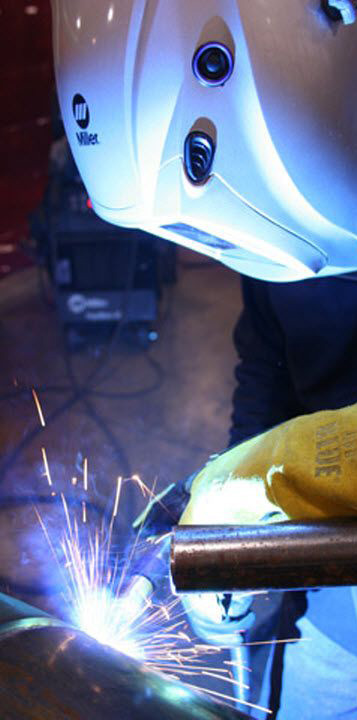 The fabrication shop used several PipeWorx welding systems along with a series of weld positioners. However, most of the local welding talent had been certified to the ASME codes using only stick and TIG welding processes in fixed positions. To remedy this issue, De-Cal worked with UA Local 396 to certify welders in MIG and fluxcored processes to UA and ASME codes.
The productivity gains that De-Cal realized spurred them to make the switch from the proven-yet-slower stick and TIG processes (in fixed positions) to the faster MIG and flux-cored processes (rolled using a positioner). De-Cal has achieved numerous certifications under ASME Section 9 that included extensive radiographic and bend testing to prove the quality of these processes.
One of the primary contributors to De-Cal's success has been the conversion of most root pass applications to the RMD process from Miller. RMD is a modified short-circuit MIG process in which the welding system anticipates and controls the short circuit, then reduces available welding current to create a consistent metal transfer. Precisely controlled metal transfer provides uniform droplet deposition, making it easier for the welder to control the puddle. The smooth metal transfer also compensates for high–low misalignment between pipe sections and creates more consistent root reinforcement on the inside of the pipe than other short-circuit MIG processes.
The process also maintains a consistent arc length regardless of electrode stick-out. This compensates for operators who have problems holding a constant stick-out, and it enables a better view of the weld puddle—making the process easier to learn than TIG welding.
De-Cal made similar improvements as the shop transitioned from stick to flux-cored welding for the fill and cap passes. Flux-cored welding provides a number of benefits over stick welding that help improve productivity and quality. These include faster travel speeds, increased deposition rates, and increased deposition efficiency, which ultimately means that less filler metal is wasted in the process.
In addition to the process advancements, the PipeWorx welding system also provides a number of additional benefits in terms of ease of setup and process changeover. For instance, the RMD process is easily set with the touch of a button, and the selection of the wire type, wire diameter, and shielding gas type helps dial the system in to typical weld parameters for pipe welding. The ability to save weld parameters is also helpful to operators. The flux-cored process sets up with voltage and wire feed speed and can also be assigned to a memory location.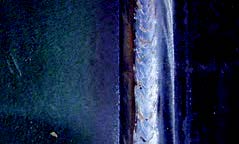 As De-Cal continues to grow to meet increasing regional demand, the PipeWorx welding system helps shorten the learning curve so the shop can bring welders up to speed faster. The use of advanced welding processes and a system that is optimized for pipe welding helps shops address critical industry challenges such as the shortage of skilled welders, shorter project turnaround times, and the need to increase quality standards.
For more information, visit www.millerwelds.com.