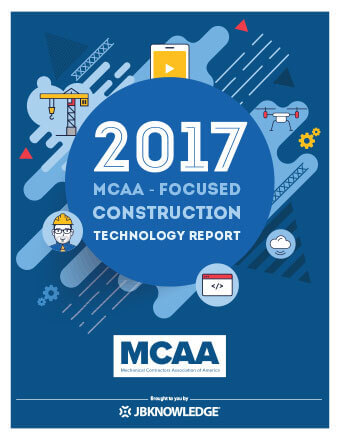 The MCAA-sponsored 2017 Construction Technology Report by JBKnowledge took an in-depth look at how the construction industry utilizes technology, software and IT. This week, MCAA released an "MCAA Focused" Report that analyzed the responses of MCAA and MSCA members. It looked at how MCAA members use and estimate BIM costs, track productivity, and emerging tech tools.
Part of the report focused on how MCAA members compare to the rest of the construction industry.  It showed that MCAA members have a greater adoption of BIM and have higher use rates for BIM with especially with coordination and fabrication.
The MCAA focused report also explored how MCAA members are tracking BIM hours and estimating their costs.  It found that far too many contractors do not track their BIM hours per project and as a result cannot use those hours to estimate the amount of time needed to perform BIM on a project.
The report also looked at emerging trends that contractors are currently testing. While the industry at large favors drones by a wide margin, MCAA members are far ahead of the industry on fabrication and modularization.
Related Articles