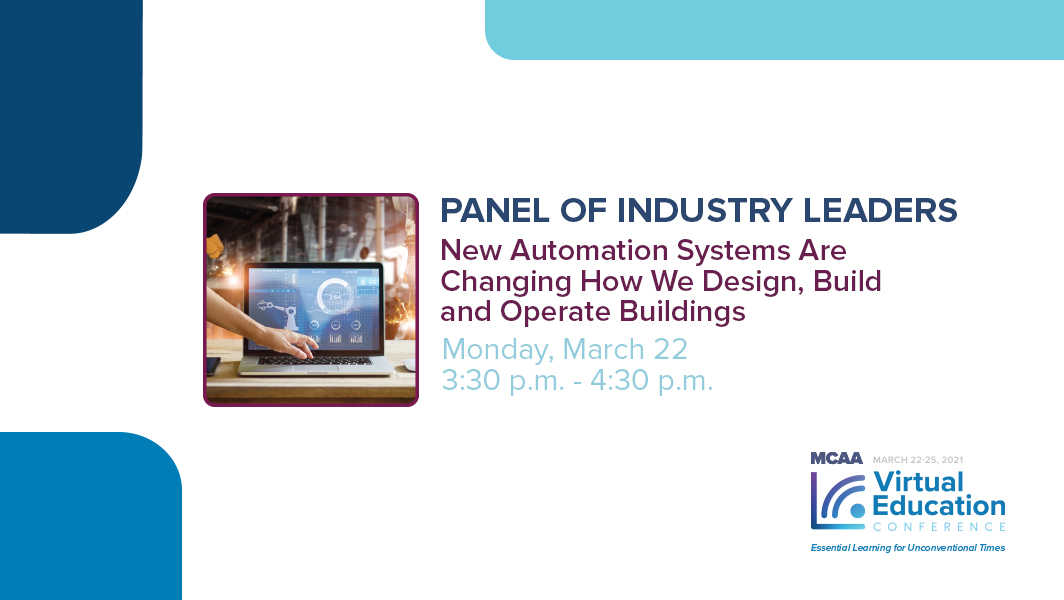 As part of our Virtual Education Conference (VEC) Essential Learning for Unconventional Times, you will have the opportunity to hear from a group of industry leaders on technology systems and the emerging trends impacting how buildings are designed, constructed and operated in the future.
The session "New Automation Systems Are Changing How We Design, Build and Operate Buildings" will identify new technologies and applications that are impacting our roles in how building systems are installed, commissioned and operated to improve first costs, lifecycle costs and the overall user experience. There will also be an interactive discussion with Manufacturer members and MCAA contractors to address audience questions, explore the impacts on our roles in the building lifecycle and provide feedback and insights with leaders from three of the largest building system manufacturers in the industry.
James Plotz is HVAC Controls Business Performance Leader for Johnson Controls. Brian Estill is Director of Controls Marketing and Strategy for Johnson Controls. Andrew Krenning is Solutions Director for Smart Buildings & Pre-Construction for SIEMENS. Richard Nowak is Head of Automation & Smart Buildings for SIEMENS. Gene Shedivy is Controls Business Development Leader for Trane. Armand Kilijian is President of O'Brien Mechanical, Inc. II.  
Register today and join your MCAA friends and colleagues online at MCAA's first Virtual Education Conference (VEC) Essential Learning for Unconventional Times, March 22 – 25, 2021.
Registration is available for individuals and for companies (up to 10 registrants per company registration). Questions can be directed to eventregistration@mcaa.org. We look forward to seeing you in March!
Thank you, EVAPCO for sponsoring this session and your continued support of MCAA.
Related Articles