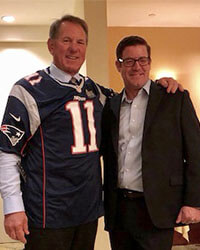 MSCA Chair, Kip Bagley, (EMCOR Services Mesa Energy Systems, Irvine, CA) spoke at the New England MSCA membership meeting last month in Boston, MA. Later that week he joined Local 537 to celebrate their new Pipefitters Training Center. Also in attendance were UA General President, Mark McManus, Mayor Martin Walsh, many sate and city officials, UA International Representative C. Daniel Watts, Building Trades President, Brian Doherty, The Boston City Singers, Rev. Gerry Petringa and many LU 537 members, family members and friends.
"You have so much to be proud of  with your beautiful new training center," remarked Bagley. "It is very impressive and I know it took a joint effort to make it a reality."
The new facility hosts over 80 welding booths, hands on refrigeration and pipefitting classrooms and state of the art computer labs. This Class of 2023 will be the first apprenticeship class that will spend their entire five years of education in the newly built Training Center.
A special thank you to former MSCA Chair and Education Trustee for Local 537, Frank Norton, who plays an integral role in the HVAC industry in Boston and was instrumental in seeing the building of the training center come to fruition.
This is an exciting time at Local 537 and in Boston!
Related Articles