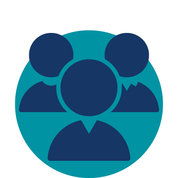 MSCA CONNECT reaches far beyond the business world – we are also your connection to building meaningful and fulfilling relationships within your community.
Through MSCA's charitable work with the following organizations, MSCA members can make a difference every day within their own communities.
MSCA also recognizes individuals who go above and beyond in giving back to their communities through our annual Everyday Hero Award.
CONNECT here to these inspiring stories:
MSCA has partnered with Convoy of Hope since 2010 to deliver supplies to families in need who live in cities where the association holds its annual education conferences. This partnership has resulted in donation funds of more than half a million dollars, which translates to over $1 million dollars in food and supplies being delivered to a needy organization in our conference city.  This, plus hours of volunteer work by our Board, committee and other volunteer members to unload the truck, stock shelves, pack meals, clean and landscape, serve food and other volunteer tasks at the local organization. Click here for more history on the MSCA's partnership with the Convoy of Hope.
Watch the latest Convoy of Hope videos below:
Convoy of Hope 2018 Packing Party Video 
MSCA Everyday Hero –  In 2013, MSCA introduced the Everyday Hero Award. This award was created to recognize an employee from one of our member companies who, in his or her own extraordinary way, quietly gives of their time and skills to benefit others. These compassionate people lend a hand to others solely out of the goodness of their hearts and seek no recognition or compensation. Members are asked to nominate that unsung hero in their company for consideration for the award.
For the latest nomination form, please click the button below. This form is now fill-able so that you can fill out your nominee information right on the PDF form.
2020 MSCA Everyday Hero Nomination Form