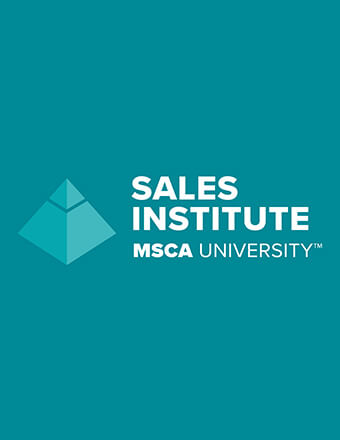 Description:
Sales Masters Program Overview
With a curriculum designed by MSCA in-the-field experts in partnership with sales specialists from the University of Houston Sales Excellence Institute, this two-week program is perfect for service sales employees who often find it difficult to get useful training for their level of expertise that is specific to the mechanical service industry. The program comprises Sales Masters Week 1 and Sales Masters Week 2.
Week 1 of Sales Masters is April 30-May 4, 2023 at Eaglewood Resort in Itasca, IL.
Week 2 of Sales Masters is November 5-10, 2023 at the University of Houston in Houston, TX.
Sales Masters (Week 1)
The highly anticipated Sales Masters Week 1 is a new four-day program specific to the intermediate-level service sales employee. No longer new to the industry or perhaps even the company, this employee is a valuable member of the team with several years of experience that have refined his or her skills and abilities. But, these employees may be missing the tools and insights needed to really take their expertise to the next level. Sales Masters I will give these professionals the boost they need to become the go-to resource for their teams and customers.
Topics include:
Establishing a prospecting plan to build your portfolio and identify new opportunities
Enhancing your proposal writing and presentation skills to proactively identify needs before they arise and opportunities for add-on services
Understanding the art of financial selling to create more consultative partnerships with customer executives on your accounts
Sales Masters (Week 2)
In Sales Masters Week 2, the high level of training continues on the campus of the University of Houston's Sales Excellence Institute. This week long-program will provide an unparalleled experience in a high-tech academic setting taught by acclaimed sales experts.  Participants will be challenged to use inventive thinking to cultivate their talents and elevate their sales skills to ensure peak performance. Attendees will learn through industry-specific case studies, experiential role-play opportunities and a personalized post-training plan to ensure implementation of concepts and tools learned. 
Topics include:
Advanced topics in verbal and non-verbal communication

 

Personal and organizational time management

 

Understanding complex decision centers

 

Developing strategic relationships

 

Managing with influence, not authority

 
Suggested Attendees:

Local Executive, Middle Manager, Operations Personnel, Principal, Salesperson, Senior Manager
Hotel Information:
Week 1: Eaglewood Resort, 1401 Nordic Road, Itasca, IL 60143; Week 2: University of Houston, Houston, TX
PREVIOUS EVENT
NEXT EVENT