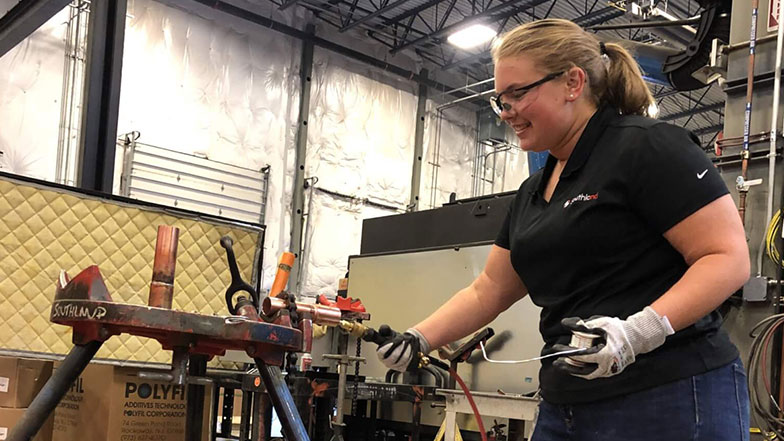 Molly Sizemore has accepted her second summer internship at Southland Industries, a member of the MCA of Metropolitan Washington.
She will be interning in the company's engineering department, where she will work on mechanical and plumbing systems projects in Navisworks and Revit. Last summer, she saw the project management side of the industry as an intern on a data center project in Ashburn, Virginia.
Molly said, "working on a data center opened my eyes to understand different heating and cooling systems since they're so MEP-heavy and mission critical. Southland has opened many doors of opportunity in the past year – one of them being MCAA."
Molly learned about the opportunity to be part of a MCAA Student Chapter during her internship last summer. There, she met Lauren Boyle, a Southland Industries design engineer and a past member of the MCAA Student Chapter at the Pennsylvania State University
, also known as Penn State. Lauren told Molly about MCAA and the resources that would be available to her.
Molly worked with her faculty advisor and her local association, the MCA of Central Pennsylvania, to help the Penn State University chapter gain momentum and even participate in this year's MCAA Student Chapter Competition. She said, "Participating in the competition has been a really unique experience in my college career."
Molly also attended the 2019 GreatFutures Forum in Washington, D.C., where she was, "…blown away by the friendly faces of both students and professionals along with the engaging and fulfilling content of the conference."
Molly is looking forward to expanding her network before heading to Washington, D.C. for her internship.
"MCAA has definitely created a springboard for me into the mechanical contracting industry, and I'm very excited to continue this journey and get others involved," she said.
You can meet student chapter members like Molly at mcaagreatfutures.org.
Please contact Harlee Mooney if you have questions about any of our student activities or the internship grants funded by the Mechanical Contracting Education & Research Foundation (MCERF).