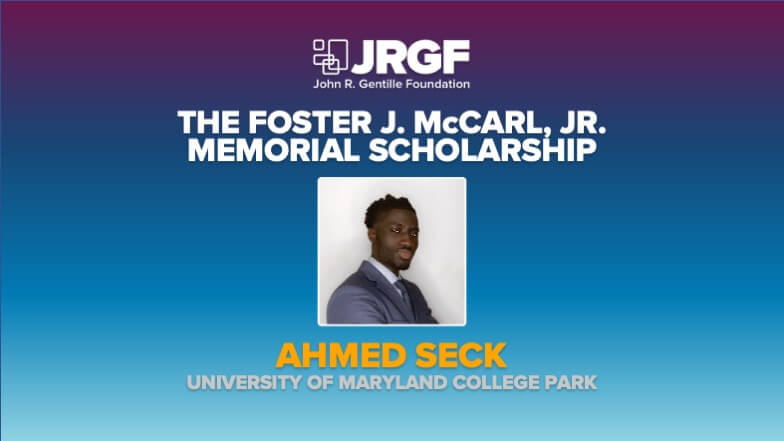 Ahmed Seck, a junior at the University of Maryland, College Park, has been awarded the Foster McCarl, Jr. Memorial Scholarship for 2020. This national scholarship honors Foster McCarl, Jr.'s many contributions to advancing the mechanical contracting industry, including his efforts toward establishing what is now known as the John R. Gentille Foundation (JRGF). McCarl's Inc. (Beaver Falls, Pennsylvania) is the scholarship sponsor.
Ahmed, a Mechanical Engineering major, has been honored with several academic accolades over the last few years, including making the dean's list for academic excellence. When asked about his interest in a career in the mechanical contracting industry, Ahmed said, "What drew me towards a career in the mechanical contracting industry was after joining my MCAA UMD chapter last year and having the opportunity to work on a nationwide competition with my team. Working on this project heightened my understanding of the mechanical contracting industry by exposing me to some of the responsibilities that one has to assume in the real world as a contractor." He continued on to share,  "Although our proposals would not of course be considered in the real world, it really felt as though we were contractors. We had our own firm name, our own responsibilities, a headquarters, a deadline. It truly felt real and exhilarating. It gave me confidence that I could indeed do this in the real world."
Ahmed and his fellow University of Maryland College Park student chapter team members went on to make it into the Final Four of MCAA's 2019-2020 Student Chapter Competition. Those who worked alongside Ahmed said in preparation for the competition, Ahmed dedicated multiple hours a week to sharpening his presentation, interviewing, and professional networking skills.
During his time with the student chapter, Ahmed has worked closely with eight industry mentors to advance his understanding of mechanical systems and innovative technologies. Ahmed continuously communicates with the mentors to seek opportunities for professional advancement and feedback for constructive improvement.
MCAA and the John R. Gentille Foundation congratulate Ahmed on this distinguished scholarship.