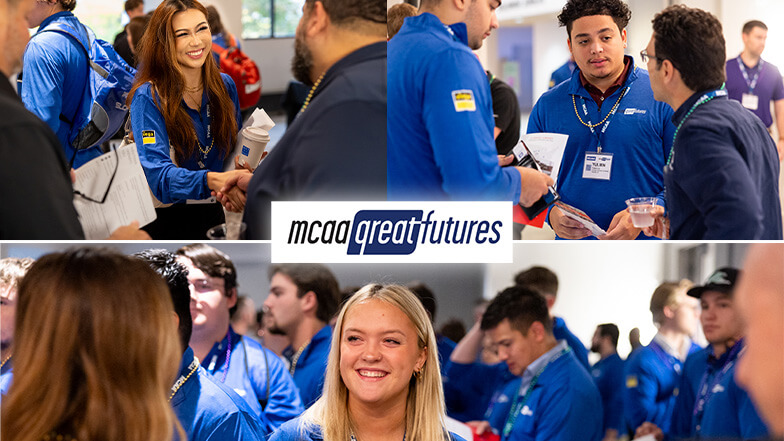 Just under 150 students from 30 MCAA student chapters attended the GreatFutures Forum Job Fair in Milwaukee, WI. Students were prepped with conversational tools from a variety of speakers leading up to the fair. The two keynote speakers reminded attendees to embrace wonder and 'wow' when visualizing their future career and offered a playbook for building a confidence skillset to open new doors (and windows) beyond their currently visualized reach. The opening panel, "Different Paths to Mechanical," highlighted that no two career paths are ever truly identical and the best way to a GREAT future is to always keep your eyes open to the wide variety of opportunities available in our industry.
Job Fair Encouraged Networking
During the non-traditional job fair, students connected with MCAA members looking for interns and full-time new hires. Employers proudly sported their company shirts and students were all easily identifiable in their bright blue matching GreatFutures Forum attire. Upon entry, everyone grabbed beads to signify if they were looking for/offering an internship (yellow), full-time position post-graduation (green), or if they were in a supportive role and just there for the bacon (purple).
Students and employers networked their way through the room, scanned name badge QR codes to trade contact information, and followed up with quick on-site interviews. Blank business cards were available for the students to utilize and on the back of each card was the link to the MCAA GreatFutures Job Board.
Mark Your Calendar for Our 2024 Event
Make sure to be in the room for our next GreatFutures Forum Job Fair in Seattle, WA – September 26-28, 2024! Until then, be sure to visit the Student Chapter Connection Corner at MCAA24 and remember to post frequently on the job board. Don't forget to utilize your local resources by connecting with student chapter faculty advisors and/or local affiliated executives (student chapter industry advisors) in your area.
Additional Career-Related Resources
How to Post an Entry-Level Job or Internship
Login with an MCAA username and password
Click on the job board within the Career Development page
Click Manage My Jobs and Add a Job to create your posting
Jobs remain active for 1 month to ensure postings stay fresh
When the job is set to expire, a reminder will be sent for you to either "mark as filled" or "duplicate" and repost for another month
Interested students can view postings and submit their contact information and resume
Your office will be notified via email when interested students submit their resume
From there, your office is encouraged to continue with your company's application and interview process
* New jobs highlighted every 2 weeks.