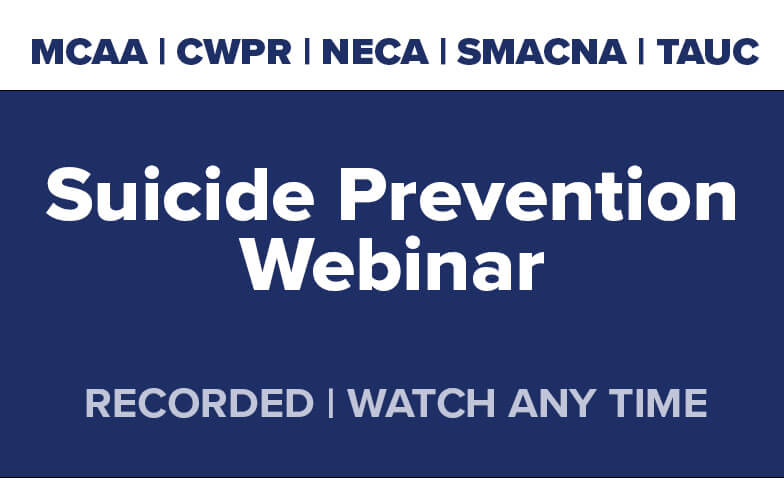 Studies show that suicide is killing workers in the construction industry at five times the rate of work-related injuries like falls and struck-by incidents. And it's killing them in all parts of the industry – including upper management. Unfortunately, there is no simple answer to why this is happening nor is there an easy fix, but in many cases deaths from suicide CAN be prevented when we push mental health stigma aside and help one another. MCAA and our Alliance partners explored the topic during a September 13, 2023, webinar. This is one recording you won't want to miss – you could help save a life!
MCAA and our Alliance partners at CPWR – The Center for Construction Research and Training (CPWR), the National Electrical Contractors Association (NECA), the Sheet Metal and Air Conditioning Contractors' National Association (SMACNA), and The Association of Union Constructors (TAUC) partnered to present the webinar.
During the event, a representative from NASCAR driver Daniel Dye's race team and the Race to Stop Suicide participated in a conversation about real issues affecting us every day and ways to spot signs of depression or feelings of hopelessness in colleagues, employees, and loved ones.
Panelists shared their own experiences with mental health, engaging in suicide prevention activities in the workplace, and breaking down barriers in an industry that does not always welcome conversations about feelings. Employers and other attendees walked away with ideas to help reduce stigma and save lives and a toolbox of mental health resources for the construction industry.
Meet the Panel
Moderator:
Chris Trahan Cain, CIH, Executive Director, CPWR
Panelists:
Raffi F. Elchemmas, Executive Director, Safety, Health and Risk Management, MCAA
Alexander M. Kopp, Director of Environmental Health and Safety, TAUC
Daniel Dye, NASCAR Driver
Randy Dye, Chairman, Race to Stop Suicide
Kevin Striegle, Manager, Daniel Dye Racing
Justin Crandol, MS, CSP, ARM, CRIS, Director of Safety, SMACNA
Wesley L. Wheeler, SMS, CESCP, Executive Director of Safety, NECA
See a Brand-New Video from MILWAUKEE TOOL
In addition to the panel discussion, the webinar featured a brand-new video on overcoming suicidal thoughts from Justin Azbill, National EH&S Director at MILWAUKEE TOOL, an MCAA member company.
Related Articles