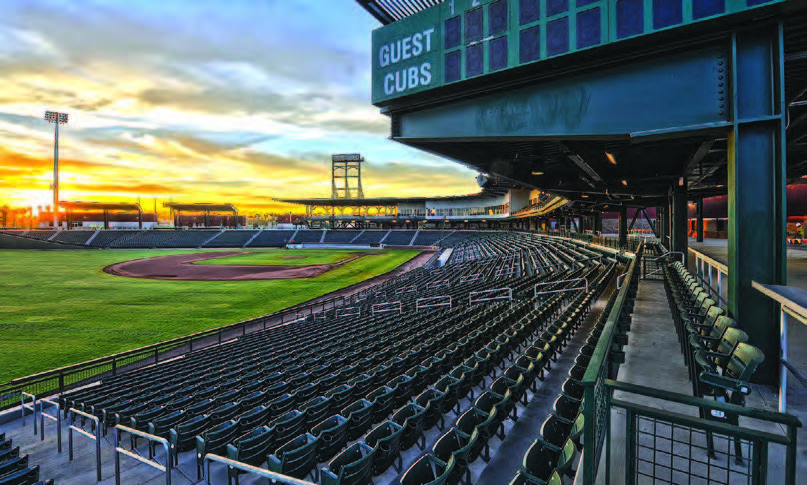 Cubs Honor Hometown Roots by Specifying the Illinois-Based Manufacturer
Dedicated Chicago Cubs fans who attended the Major League Baseball team's spring training in Arizona this year were rewarded with modern restrooms (among other amenities), thanks to W.J. Maloney Plumbing, Heating & Cooling and Sloan Valve Company. W.J. Maloney chose Sloan plumbing because its products have such a good batting record at the Cubs' main stadium and on other W.J. Maloney projects.
While Cubs fans defend their beloved, yet rapidly aging, Wrigley Field in Chicago during the official baseball season, their surroundings for preseason have improved substantially, and no one is complaining. In March, the team debuted Cubs Park, its preseason stadium near Phoenix.
W.J. Maloney of Phoenix was tapped for the 14-month design/assist project, which had to be finished in time for the 2014 preseason. Before the Cubs Park project, W.J. Maloney had installed Sloan plumbing in the Los Angeles Dodgers' portion of the Camelback Ranch Spring Training Complex in Glendale, AZ, as well as in other local commercial facilities.
The firm's good experience with Sloan over the years made the plumbing choice for Cubs Park a logical one. "We've used Sloan on other projects and never have had any problems," said Alan Boughton, vice president of construction for W.J. Maloney.
It was the Cubs organization, however, that really went to bat for Sloan, so to speak. The Cubs specifically requested that the Illinois-based Sloan, which has manufactured its flushometers in the Chicago area for more than 100 years, supply plumbing for its new park.
Although saving water is a major issue for plumbing projects in Arizona—and Sloan's water-efficient products help reduce water consumption—that was not a top consideration for Cubs Park. "Because the restrooms get used heavily for one month out of the year, we were looking more for durability," said Boughton. Arizona's poor water quality can also take its toll on plumbing, and Boughton knew that Sloan systems could stand up to the challenge.
The fact that the Sloan systems could save the park water was a bonus, as well as save money and improve aesthetics.
Cubs Park has installed 188 wall-mount water closets, plus 82 ADA-compliant water closets with Royal® flushometers and 124 complete Sloan urinal systems. The public restrooms have Sloan wall-hung vitreous china lavatories; the more upscale clubhouse and private restrooms have countertop lavatories.
The Cubs Park's public restrooms far surpass those at Wrigley—especially the notorious trough urinals in the men's restrooms. Cubs fans treated to the modern restrooms in Cubs Park may find it easy to forgo that Wrigley tradition.
For more information, visit www. sloanvalve.com