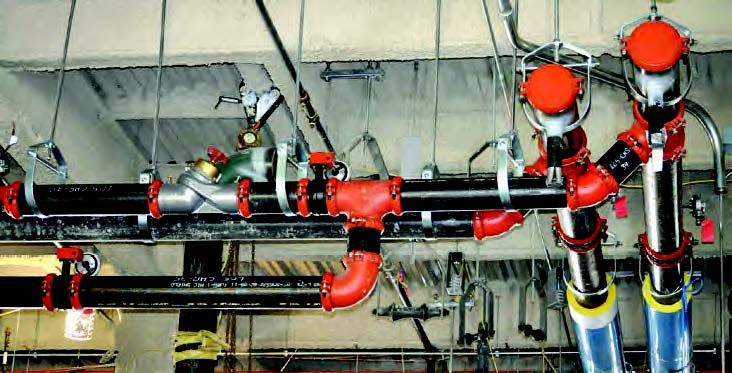 Grooved Piping, Project Management Yield 'Drastic Increase in Productivity and Throughput'
To maximize the benefits of using building information modeling (BIM), and to keep the Penn State Hershey Medical Center expansion project on schedule, Rado Enterprises of Bloomsburg, PA, turned to Victaulic. With proven experience installing grooved products in various HVAC systems since they began fabrication shop operations more than 15 years ago, Rado Enterprises knew that Victaulic grooved products provided a number of benefits over welding, such as ease of installation and maintenance, ability to meet demanding schedules, and decreased liability. What they learned with this project was the benefit of Victaulic's project management services.
With its new, ultra-modern, 252,000- square-foot, five-story Children's Hospital, Penn State Hershey Medical Center is part of a growing movement toward green health care facilities that relies on advanced 3D modeling to guide the building process. Dave Zeitler, president of Rado Enterprises, knows that, in order to remain competitive, his company must adapt to new construction techniques and continue to find the most efficient ways to do business. The firm has been in the mechanical contracting business for more than 75 years, serving commercial, institutional, and industrial customers.
"Victaulic couplings have the highest quality of grooved products and services in the market," said Zeitler. "Their offering is very innovative and, as a leader, they stand by their offerings to make sure everyone is satisfied."
Those offerings go beyond grooved mechanical couplings to the expertise of the Victaulic Construction Piping Services division, which provides project management services ranging from pre-planning to efficient piping layout drawings and project implementation.
"We trust Victaulic grooved couplings, so we knew we could trust their project coordination services to help find new efficiencies in the Hershey Children's Hospital project," said Zeitler.
Increasing Shop Throughput
By working closely with Rado Enterprises' 3D models and Victaulic product models, the team was able to provide drawings and isometrics that could be broken down into manageable sections so that employing lean principles in the fabrication shop was even more efficient. This breakdown of the isometrics made it possible to schedule pipe and product delivery to the fabrication shop as needed. Through these coordinated shipments, all pipework and components from Victaulic were labeled with dimensional data for ease of identification. In addition, the pieces were uniquely itemized so that all materials could be allocated exactly where they fit within the mechanical system installation.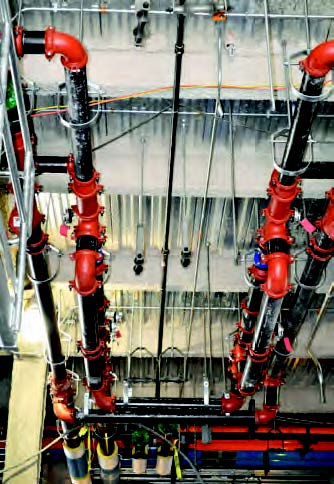 To achieve even greater levels of efficiency, Rado Enterprises incorporated additional lean concepts into its fabrication shop by implementing Victaulic fabrication principles, which consist of a layout plan for tooling, assembly tables, and lifts in the shop that maximize the throughput of the shop."Grooved has changed the prefabrication strategy in our shop," said Zeitler. "Victaulic changed our building strategy on the Hershey project. They provided us with the loading strategies to successfully implement lean principles while increasing jobsite safety."
As a result, Rado Enterprises was able to facilitate faster assemblies more accurately than ever before. This systematic approach also helped to reduce waste and material handling. Moreover, Victaulic made it easy for Rado Enterprises' fabricators to provide the prefabricated pieces and for installers on the jobsite to complete the installation.
"The installation was quite easy once we got into the field because of the accuracy of the detail in the isometrics," said Richard Karns, Rado Enterprises project manager, who was responsible for the Hershey Medical Center project. "In fact, we saw a drastic increase in productivity and throughput using Victaulic grooved systems because it's just so much easier and it far exceeds the production that we'd get in welded piping systems."
Karns went on to say that the 3D isometric drawing and fabrication work also helped on-site workers navigate challenging radius structures and meet the necessary angles of swing joints—something that would have been much more challenging had such efficient prefabrication strategies not been in place.
Improved Control Over Project Schedules
According to Zeitler, the drawings implemented from the BIM process made piping fabrication in the shop more widely accepted and allowed fitters to meet schedules on the jobsite more easily. Rado Enterprises enhanced its ability to improve control over logistics and scheduling installations at the Hershey Children's Hospital. Zeitler said that it is even possible to have piping fabricated prior to building foundations.
Additionally, the organization of building materials and the timely delivery coordinated with Victaulic made a significant impact on compressing the project schedule because of the cleanliness of the jobsite. Once on the jobsite, the additional grooved products and accessories were provided "bagged and tagged" with location and date information for maximum coordination. Without the extra materials laying around waiting to be used, installers and other contractors were able to move around the jobsite easily without handling the product multiple times.
Decreased Project Risks
Another significant benefit, noted Karns, was a decrease in liabilities on the project. There are risks with any installation, but welding involves the risk of arc flash and fire hazards. For Hershey Children's Hospital, the project specifications called for three firewatchers whenever welding took place. By using grooved mechanical piping systems, Rado Enterprises minimized the risk and eliminated the need for firewatchers, thus gaining additional control over the installation schedules. There was no need to take precautions typically associated with welding.
Rado Enterprises plans to engage the Victaulic Construction Piping Services team in assisting with future mechanical systems layouts and material shipments, as the benefits have been exceptional.
"When it comes to maximizing efficiencies and increasing productivity, enlisting the help of experts at Victaulic is a good place to start—and to end," said Zeitler. "We utilized Victaulic products and services, beginning with their couplings all the way to the end with their project management services."
Victaulic delivered a smooth transition, he said, that helped Rado Enterprises achieve lean building requirements that reduced material handling costs and sped up the process. By working with Victaulic on the Hershey Children's Hospital project, Rado Enterprises was able to increase shop throughput, have more control over the installation, and increase jobsite safety.
"In our eyes, Victaulic started as a trusted manufacturer of grooved mechanical couplings," said Zeitler. "Their Construction Piping Services team proved they are so much more."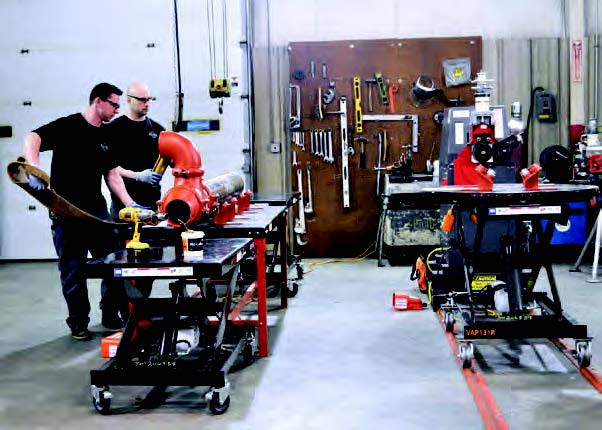 For more information, visit www.victaulic.com.
MCAA thanks Victaulic for being a major sponsor of MCAA 2012 and co-sponsoring the golf tournament.