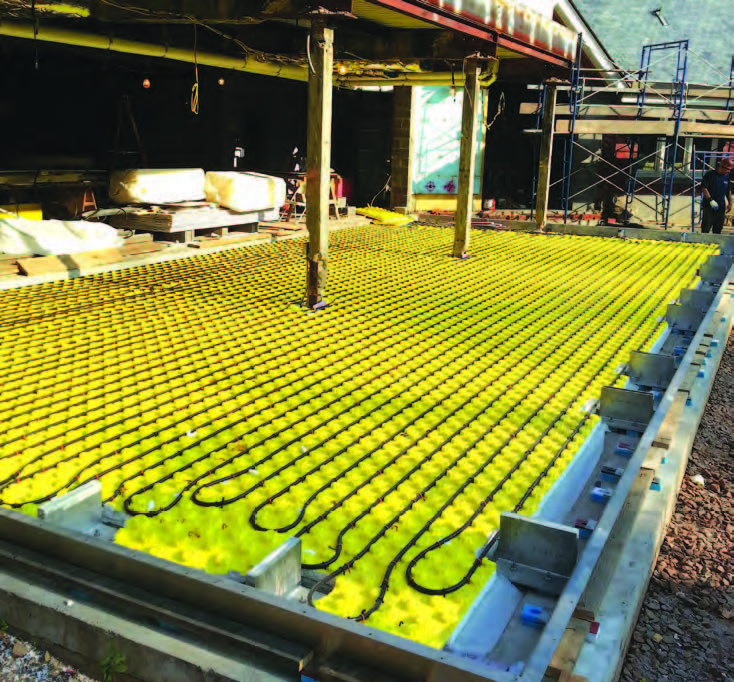 Installing Viega ProRadiant™ systems as part of the renovation of New York City's famous Tavern on the Green restaurant was a simple process—so simple, in fact, that Robert Stewart, steamfitter foreman for Vanguard HVAC Technologies, joked, "I was disappointed there wasn't more to do." Completing the radiant floor heating installation quickly allowed the rest of the project to move forward.
"This was our first time using Viega," said Stewart "I have a lot of years of knowledge in the business, and basically the Viega systems were very simple, very easy. They worked great."
Located in Brooklyn, NY, Vanguard HVAC Technologies was selected to install the air conditioning and heating systems in the new Tavern on the Green, including boilers, chillers, air handler units, heat recovery units, and unit heaters. Vanguard HVAC Technologies installed radiant heating in the terrace, which features a glass-enclosed dining area with views of Central Park.
Viega ProRadiant systems were listed in the building specifications, so Vanguard HVAC Technologies installed 1,500 square feet of ViegaPEX™ Barrier tubing with insulated panels, as well as stainless manifolds and manifold cabinets.
A Restaurant Revived
Few restaurants in American history have had as great an influence on popular culture as the Tavern on the Green on the Upper West Side of New York City's Central Park. From its original opening in 1934, it has appeared or been mentioned in several movies and television shows and has even played a role in commercial advertising.
During the financial crisis of 2009, the Tavern on the Green closed its doors. Nearly a year later, the city reopened the building as a visitor's center and gift store. In 2012, a pair of restaurateurs from Philadelphia won the bid to redesign and reintroduce New York City's famous landmark. The only problem was the condition of the building. It needed to be completely renovated.
Unfamiliar but Easy to Install
Stewart explained that despite his years of experience he still prefers to understand a system completely before installing it, and he appreciated the availability of local Viega sales team members who took the time to help.
"Even though you're familiar with the product, you still want to have a guideline of that manufacturer's procedure," he said. "I did have a couple of questions here and there, which they answered quickly. They were at the ready. If I needed anything, literally within the hour they were back to me with the answer."
As with any other radiant floor heating installation, ideally, the entire project is on hold until the tubing is laid and the concrete floor is poured.
The faster the radiant heating portion of the job can be completed, the more quickly the rest of the project can get under way.
"Installing the radiant tubing was one of the easiest things I had to do on the job," Stewart said. "The insulated panels are great because they line everything up. It's a great product to work with."

Cost Savings
Viega offers a variety of panel options—insulated, uninsulated, assembled, and unassembled—along with tracks and plates. Insulated panels, which Vanguard HVAC Technologies installed at the Tavern on the Green, are a versatile radiant option that incorporates insulation, vapor barrier, and a grid system to secure tubing all in one convenient product. Compatible with ViegaPEX Barrier tubing in sizes 3/8", 1/2" and 5/8", Viega insulated panels allow you to walk the tubing in easily. The approach also saves on material costs, because you don't need fasteners.
Viega ProRadiant heating and cooling solutions are designed to integrate with other Viega systems, such as Viega ProPress®, Viega MegaPress®, and Viega PEX solutions. Viega is the only manufacturer to offer press fitting systems in multiple materials, including copper, stainless, carbon steel, and high-performance polymer. The Smart Connect® feature helps installers easily identify unpressed connections, and Viega's Zero Lead™ alloy is specifically engineered for pressing.
"I definitely recommend it for its ease of installation," Stewart said. "To anyone thinking about installing radiant, Viega would be a company you should look at."
For more information, visit www.viega.us.