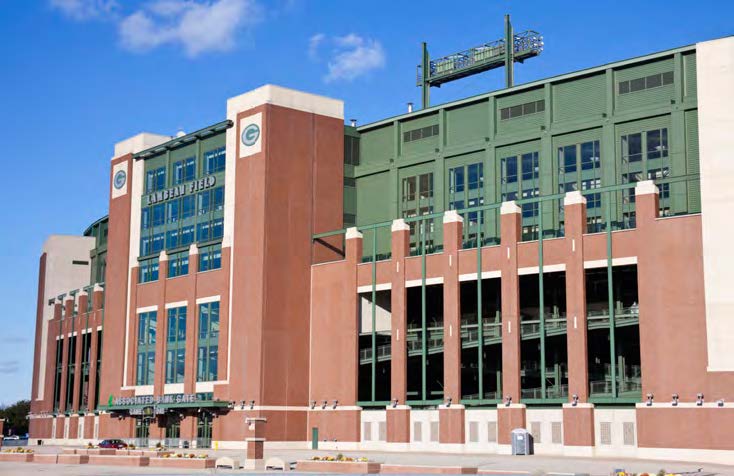 To win the contract to renovate the Green Bay Packers' Lambeau Field, Tweet/Garot of Wisconsin put Bidtracer's invitation management software to work to solicit bids and organize proposals from vendor and subcontractors. Once awarded all of the mechanical work (HVAC, plumbing, and radiant systems) for the Packers' $165-million South End Zone Project, Tweet/Garot turned to Bidtracer again for construction project management software for the submittal, request for information (RFI), and change-order process.
Tweet/Garot started using Bidtracer three years ago with the goal of increasing efficiencies in handling subcontractor proposals on the estimating side to the automated handling of the submittals process on the project side. They found that the software streamlines communication, saves time, and increases efficiency across the board.
'Put a Bid Together from Anywhere'
Using Bidtracer's bid estimating software, Tweet/Garot's upper management can view monthly activity of how much bidding is taking place and easily see charts of the status of the bidding process, ensuring proper follow-up is taking place by the sales team. "Through Bidtracer, we are now able to view vendor quotes immediately upon upload," said Ben Delcore, Tweet/Garot estimator. "No more running to the fax machine to check and see if a sub has their quote in. An estimator can now put a bid together from almost anywhere through Bidtracer."
Delcore continued, "This has opened up communication among team members, when you have multiple people working on bids. The audit trail gives estimators more access and control of subs and also the option to add more subs/vendors at any time to get the best possible price on bid day. We are able to obtain and organize more vendor quotes from subs."
Project Management Software Increases Efficiency
Bidtracer's unique submittal tool has helped Tweet/Garot save time gathering, organizing, and tracking submittals on the Lambeau Renovation. In the past, typical submittals took a lot of phone calls trying to organize one submittal process. Now, the project team can access realtime documentation both in the office and for the team working at Lambeau Field from an iOS or Android tablet. Alan Van Mun, project manager and LEED Green associate for Tweet/Garot, pointed out, "The increase in efficiency, though not documented, is roughly threefold. The submittal module allows project players to upload and review all pertinent project documentation."
Van Mun particularly likes the automatic reminders built into the software. "The automatic reminders notify vendors of upcoming submittal and operations and maintenance deadlines, streamlining project start-up and closeout. The automatic reminders allow me to focus on pertinent tasks, not spend time chasing vendors and subcontractors for information."
Van Mun continued, "The best part is all the files are contained on the cloud, allowing access to specific information for all team members from the office, jobsite, or anywhere your job takes you."

Tracking RFIs and Change Orders
With Bidtracer, you can set a default response time so that the software automatically e-mails your customer, subs, or vendors when the RFI is overdue. "The RFI process is significantly shortened by giving the general contractor or construction manager the option to answer directly within Bidtracer," said Van Mun. "This in turn eliminates the e-mail or paper transfer issue and allows us to reference the RFI during change-order processing. The reduction in processing time equates to more time spent effectively managing projects, resulting in increased profit."
Tweet/Garot knows that when change orders fall through the cracks, the bottom line is affected. With Bidtracer, a potential change order is generated at the time of an RFI to avoid such oversights. "Tying a tentative change order to an RFI helps increase the potential of our projects and helps our project managers not miss any change orders, increasing our profitability," said Van Mun.
Thanks in part to Bidtracer software, the Lambeau Field project has been a success for both Tweet/Garot and Packers fans, who are excited to enjoy the renovations in this upcoming NFL Season.
To chat online with a Bidtracer sales rep, click "Online Sales" at www.bidtracer.com or call 888-708-0921, extension 105, to talk to a representative.