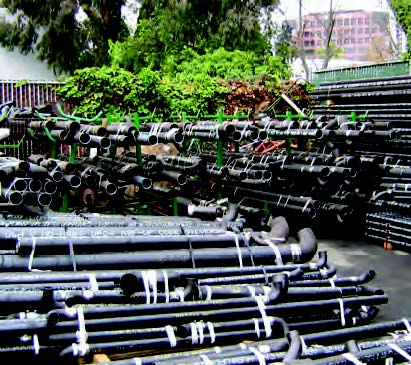 BIM Aids Collaboration on ARRA-Funded Hospital Project
MCAA members A.O. Reed & Co., Pan-Pacific Plumbing & Mechanical, and Murray Company united with Monaco Mechanical (a member of the National Certified Pipe Welding Bureau, an MCAA subsidiary) to form a joint venture (Monaco/RPM) to design and install the total mechanical package of the Camp Pendleton Replacement Hospital, taking advantage of Technical Sales International (TSI) software and technology to enhance the collaboration.
The Camp Pendleton Replacement Hospital is a design/build project managed by Naval Facilities Engineering Command Southwest. It is one of the largest American Recovery and Reinvestment Act (ARRA) projects within the Department of Defense— and the largest ARRA project awarded in the Department of Navy.
Recovery Act Funds Major Renovation
Located in San Diego County and overlooking the Pacific Ocean, Camp Pendleton is the largest military training facility on the West Coast. The new hospital replaces an existing hospital that is nearly 40 years old. It will be staffed by more than 2,100 military and civilian health care workers serving a population of about 150,000 Marines and members of other branches of service, as well as their families, veterans, and the public when in need of emergency care.
The nearly half-a-billion-dollar complex, which is scheduled to open in January 2014, includes a 70-acre site that will support the approximately 500,000-square-foot multilevel hospital. The project also entails site development and construction of a 20,600- square-foot central utilities plant, a multilevel parking structure with 1,500 spaces, an additional 1,000 surface parking areas, and associated supporting facilities. The new structure is a key piece of a more than $4-billion makeover that is transforming Camp Pendleton into one of the most modern bases in the United States.
Extremely Efficient Execution
The project is on track to be one of the fastest executed hospital design/build projects in the United States. The aggressive schedule reflects the objectives of the ARRA program and implements an extremely efficient execution plan. A. O. Reed & Co., Pan Pacific, and Murray Company are all using TSI's CAD-Mech software (now called CADmep+) along with Trimble Total Station robots for field layouts to ensure coordination and keep up the pace of the project.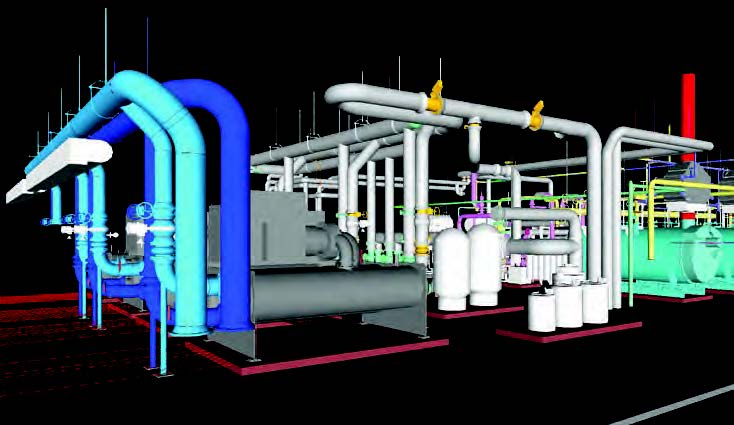 Patrick George, manager of building information modeling (BIM) at Pan Pacific, explained, "The Camp Pendleton project has many unique parts, one being the speed at which we are designing and constructing the building. Pan Pacific was designing in traditional 2D AutoCAD, but almost simultaneously we were converting those 2D drawings into 3D construction drawings using CADMech components of CADmep+ from TSI. Multiple detailers were working on the design side and on the construction side of the drawings and were in constant communication to make sure the proper design was being coordinated in the process. All of this was made easier with the comprehensive data and report features inherent in CAD-mep+."
Monaco Mechanical is handling a great deal of the submittals and providing a portion of labor for the project, while A.O. Reed & Co. is detailing and installing the ductwork. Pan Pacific and Murray Company have split the design of the plumbing systems: Pan Pacific designed the gravity systems (sanitary and storm), while Murray Company designed the pressure systems (water and medical gas). A.O. Reed & Co. is detailing the ductwork, Pan Pacific is detailing the plumbing (all systems), and Murray Company is detailing the mechanical piping—all of which is being done with CADmep+.
"This division of responsibility in designing, detailing, and installation— combined with the efficiency of using software solutions provided by TSI—is proving to be highly productive and effective," said Timothy Allison, P.E., LEED® AP, senior professional engineer at Murray Company.
Prefabrication Reduces Cost, Increases Speed
All of the underground piping was spooled and prefabricated using the spooling tools in CADmep+, allowing for incredible precision on shop drawings for prefabrication. "Our BIM modeling using TSI tools allows us to download information directly to our pipe fabrication facilities, resulting in higher quality and reduced costs. Our service department also benefits from our BIM shop drawings for use in plumbing system service and maintenance," said Pan Pacific's George.

Further, Murray Company has proven that prefabricating material in their shop versus in the field provides the following advantages:
20-percent cost savings
30-percent increased productivity
30-percent increased speed
High quality
"The 340-foot-long tunnel piping is an installation worthy of a museum if there were one large enough to hold it," said Major General Anthony Jackson, who oversees all Marine Corps installations west of the Mississippi River from his office at Camp Pendleton.
Monaco/RPM is also using the Trimble Total Station for field layout—some days running as many as seven stations at a time. The Trimble units allow for laser-pinpoint-accurate layouts, reducing the time and manpower typically required in conventional methods. Furthermore, the Trimble unit layouts integrate with CADmep+ software and are being used for canning; hangers; seismic anchors, braces, and restraints; wall penetrations; underground plumbing; and riser verification.
Prefabrication Contributes to Safety
To date, the combined project teams on the hospital at Camp Pendleton have clocked more than 250,000 man-hours over the past 14 months with zero lost-time incidents. The project is currently one month ahead of schedule.
In addition to the corporate cultures of A.O. Reed & Co., Pan Pacific, and Murray Company that promote and insist on safety protocols and education, part of that safety record is due to the prefabrication of mechanical systems. The warehouse environment enhances quality control through greater accessibility to project and executive supervision, and it lessens the time required for scope issues and problem resolution.
Aiming for LEED Gold Certification
The U.S. Green Building Council has acknowledged the importance of engineered mechanical and plumbing systems in green building design by dedicating a significant percentage of LEED Certification points for new construction to plumbing and piping systems. The hospital at Camp Pendleton is designed and constructed in line with California's seismic safety standards and is expected to receive LEED Gold certification. A.O. Reed & Co., Pan Pacific, and Murray Company all employ LEED-certified experts and people with BIM/3D CAD proficiency and Big Room (i.e., multidisciplinary collaboration) experience who provide advice in construction means and methods and sustainability issues.
The Camp Pendleton Replacement Hospital LEED Gold Certification design features include efficient mechanical and electrical controls, such as CO2 sensors, occupancy sensors, variable frequency drives on all motors, and a solar hot water panel system (725,643.1 kBtu). Photovoltaic panels (170kW total) provide three percent of the project's overall energy needs. The project uses reclaimed water, low-flow plumbing fixtures, building materials made from renewables or recycled content, heat recovery chillers, boiler flue stack economizers, and high efficiency chillers. These features combined will result in a 33-percent energy improvement over ASHRAE standards.
BIM Improves Coordination, Saves Time and Money
By using BIM, the project teams are able to coordinate efforts around the mechanical, electrical, and plumbing systems. Before BIM, spatial conflicts during installation might not have been detected until the systems were installed. With BIM, these design challenges can be avoided, saving time and cost. As a result, the biggest advantage of BIM is the improved construction efficiency.
Murray Company's Allison concluded, "TSI products, specifically CADmep+, have been the products of choice for Murray Company's detailing and fabrication of approximately $500 million worth of piping installations over the past six years. TSI has empowered us to perform BIM since before the acronym became the popular catch phrase in the construction industry that it is today."
For more information, visit www.technicalsalesinternational.com.