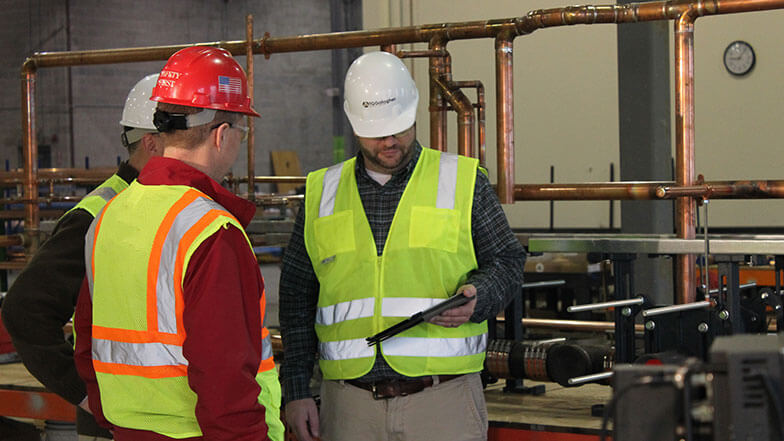 With the ManufactOn cloud and mobile solution, TG Gallagher has increased and improved its prefabrication capacity. The TG Gallagher leadership team can keep tabs on the status of prefab work and materials at all times. The field team can monitor the progress of prefabbed items, request them as they are completed, and tag products to keep track of them. By integrating prefabrication into TG Gallagher's supply chain, ManufactOn has helped them take the next step in the prefab revolution.
A leading mechanical contractor in the Boston area, TG Gallagher faces the same industry pressures as others in the field: high demand, tight budgets, and ever- shorter schedules. But TG Gallagher also faces challenges unique to the Boston area. The cities and towns are dense, leaving little room to work. Laydown areas and parking are scarce. Truck deliveries are tightly controlled to minimize noise and traffic. As a result, material delivery has to be just in time, and the supply chain must be fast, responsive, and accurate.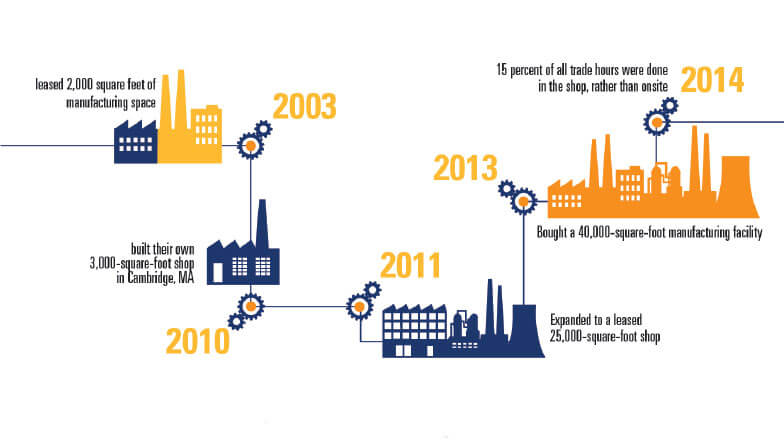 To meet these challenges, TG Gallagher developed a strategy around prefabrication, manufacturing and assembling as much as possible offsite, then delivering the products for installation. The company has been investing in prefabrication for 15 years. In 2003, they leased 2,000 square feet of manufacturing space while building Massachusetts General Hospital's Yawkey Center. By 2010, they had built their own 3,000-square-foot shop in Cambridge, MA. By 2011, they had expanded to a leased 25,000-square-foot shop. Finally, in 2013, they bought a 40,000-square-foot manufacturing facility. By 2014, 15 percent of all trade hours were done in the shop, rather than onsite.
A few years ago, TG Gallagher realized that it had a modern strategy that was being executed with 1990s-era tools: Excel, email, and phone. They partnered with ManufactOn in 2015 to help coordinate prefab planning and prefab production—and, most importantly, to integrate all of that into the supply chain. The ManufactOn cloud and mobile solution supports prefab planning and manufacturing. The solution's Supply Chain Manager feature provides a detailed picture of all prefab work. Finally, the mobile app (for iOS and Android) uses QR codes to help field staff track and manage prefabricated items as they are manufactured and shipped.
To give a clearer picture, here is how TG Gallagher uses ManufactOn on a day-to-day basis:
Once prefab opportunities are identified, they are listed in scope-of-work statements in the Prefab Planner module.
These scopes of work are then broken down into production orders.
Production orders go to the Production Manager module, where designs are added and manufacturing runs are worked out.
The shop foreman then gets the production order and uses it to track work.
Once complete, the production order is turned into a shipping order and queued up for delivery
All these steps come together in the Supply Chain Manager module, an information kiosk that is available 24/7 to shop, field, and leadership teams. The Supply Chain Manager provides visibility into, and control of, the Prefab Planner and Production Manager modules. Dates can be edited during status and planning meetings. Orders can be paused when design changes happen. Activity logs provide detailed histories when issues arise. Shipping is monitored and managed. In short, the leadership team always knows what is happening, without having to make phone calls or download spreadsheets.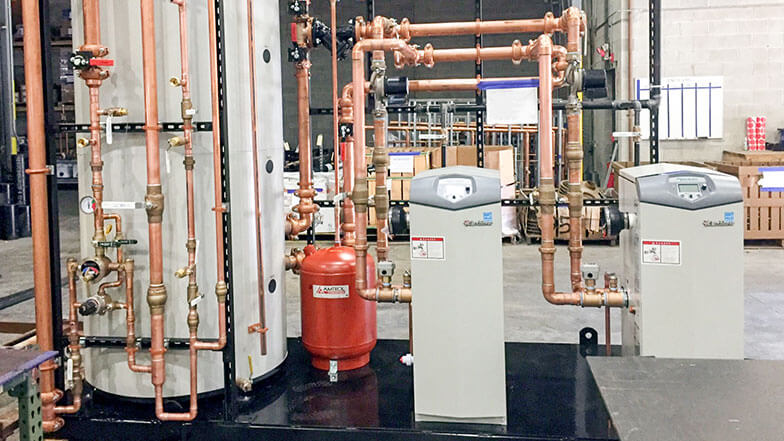 But the story does not end there. Using the mobile app, the field team can monitor both planning and manufacturing. The team can also request completed prefab items as they become available, making TG Gallagher's supply chain fast and responsive. In addition, ManufactOn can generate QR codes that can be attached to prefab items. The field team uses these QR codes to confirm and receive deliveries at the jobsite and to return damaged or incorrect items. The field team is now fully integrated into the supply chain.
Looking to the future, TG Gallagher sees ManufactOn as a long-term partner for helping to evolve their business and innovation strategy. For example, Autodesk's recent investment in ManufactOn means greater integration with 3D model creation and viewing. ManufactOn currently integrates with Revit, and TG Gallagher detailers are piloting how to jump directly from model to plan in ManufactOn. TG Gallagher is also excited by the possibility of viewing the 3D model in BIM 360 Docs and using it to help monitor and control prefabrication and delivery.
"ManufactOn has enabled us to do more prefab and do it better."

—Brian Potter, President, TG Gallagher
"ManufactOn has enabled us to do more prefab and do it better," said Brian Potter, president of TG Gallagher. "Prefabrication is a simple strategy—but getting the execution right is complex. We look to ManufactOn to help us manage that complexity and to keep us one step ahead of the construction industry's challenges."
For more information, visit www.manufacton.com. MCAA welcomes ManufactOn as a new member.