Under pressure to make up for lost time on a huge tunneling project, Shinn Mechanical Inc. used cordless Milwaukee tools to install Victaulic grooved couplings on an innovative piping design, shaving months off the original schedule. "Pairing Victaulic couplings with Milwaukee tools allowed us to finish a job scheduled to take eight months in only 10 weeks," said Mike Shinn, company founder.
Setbacks Squeeze Schedule
Seattle's SR 99 tunnel project is a 2 mile tunnel with a double-decked roadway inside. Part of the Alaskan Way Viaduct Replacement Program, it will replace the original viaduct, built in the 1950s, with an underground tollway that bypasses downtown Seattle, clearing the way for new public space on the city's waterfront.
To bore the full length of the tunnel, a 57'-diameter boring machine was built specifically for the project. Called "Bertha" after Bertha Knight Landes, the city's first female mayor, it was the world's largest earth pressure balance tunnel boring machine.
Bertha set to work on the SR 99 tunnel in 2013, boring from south to north. The project progressed until December 2013, when damage to the machine's seal system prevented it from completing the job. The repairs took two years and the machine restarted in December 2015.
By the end of 2015, Bertha was back at work but was stopped in her tracks again in January 2016 when a barge in Elliott Bay damaged some piers and a sinkhole developed near the project site. Until a safer worksite could be ensured, work was suspended, resulting in a hiatus that lasted until April. A year later, Bertha reached the north end of the tunnel.
After two years of delays, the tunnel had finally been fully excavated, but the work was not nearly complete.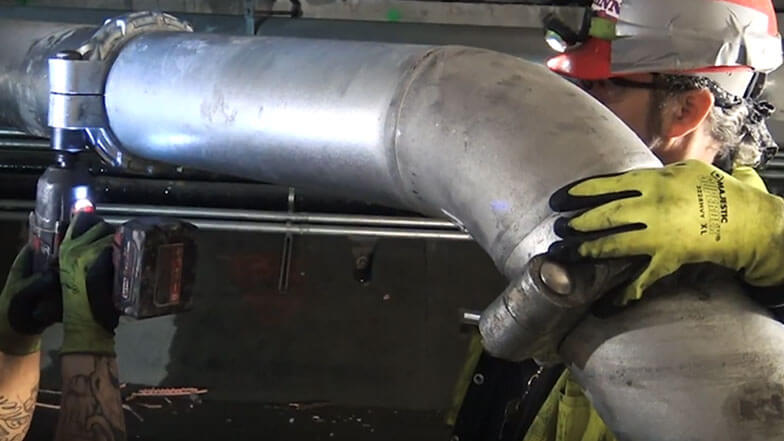 Creative Design Saves Time
The contracts for the project's major construction programs had been awarded years in advance. With the tunnel finally completed, work began immediately. A team began setting precast panels to create a road deck, and specialists started on the electrical and construction work.
Tasked with installing the enormous drain system for the tunnel, Shinn Mechanical was one of several companies on the worksite. It had won the job by designing a customizable header that decreased fabrication time in the curved tunnel, where every pipe had to be custom fit. Instead of trying to find an existing part that could be modified, Shinn Mechanical took things a step farther. "We came up with a better design," said Shinn. "We are innovative, and we're always looking for more cost-effective solutions."
The capacity, reliability, and compatibility of the Milwaukee tools "enabled us to maximize work hours in a challenging environment."

— Mike Shinn, Founder, Shinn Mechanical Inc.
Shinn Mechanical engineers designed a swivel joint that uses a pivot to allow the angle and the dimension to be fitted for each joint. Two plates slide against one another at a set point in the middle to allow the arms to be adjusted to accommodate varying tie-ins. Workers took measurements to determine the angles, and Shinn used those dimensions to fabricate the parts in a single day, cutting a three- to four-day turnaround into 24 hours.
With these parts in hand, Shinn Mechanical was ready to begin the largest tunnel project it had ever undertaken, and the company looked to its trusted partners for execution.
Partnering for Success
Victaulic and Milwaukee Tool brought nearly two centuries of collective experience to the table. Shinn explained that the reliability and ease of installation of Victaulic couplings has made them the grooved mechanical
coupling of choice for Shinn Mechanical.
The gradual bend in the tunnel limited pipe lengths for the drain system to 28', requiring approximately 350 pipe joints on the main line alone. With pipe diameters ranging from 2" to 20", pipe size presented as much of an installation challenge as the number of joints.
"Victaulic's Style W77 coupling was exactly what we needed for the SR 99 tunnel project," said Shinn. "We were able to cut our pipe to length and install the two-bolt couplings without mitering any joints."
Flexibility combined with a grooved joint that is easy to install in tight spaces and accommodates deflection made Victaulic's Style W77 AGS™ flexible coupling the right component for the curved tunnel. This one-of-a-kind coupling with a two-piece housing eliminated the need to flange or weld, allowing for a safer and faster installation of the large-diameter pipe. Victaulic's Installation-Ready™ technology, which improves efficiency under normal circumstances, was invaluable on a worksite where spare parts could be more than a mile away.
"There was no extra walking to get forgotten parts," Shinn said, and that minimized unproductive time. "I didn't consider any other coupling for this job."
The drain Shinn Mechanical installed carries rain and surface runoff, as well as water laden with brake dust, oil, and gasoline deposited by the cars using the tunnel. A proprietary Victaulic nitrile gasket, designed for use with petroleum based products, was supplied with the Style W77 coupling Shinn Mechanical wanted for this project.
Right Tools for the Job
Wet conditions, limited access to electrical power, and long distances to the work area precluded the use of corded tools on the jobsite. Shinn Mechanical looked to Milwaukee's industry-leading M18 FUEL™ technology for impact wrenches, band saws, vacuums, drills, and stand lights, which were indispensable in the dark tunnel. All these tools run on the same 18-volt battery system, meaning the Shinn Mechanical team did not have to spend valuable time searching for the right batteries and chargers—everything was completely compatible. This kind of tool reliability meant work in the tunnel could progress without interruption to rapidly install the drain line.
However, because of the massive amount of 20" Victaulic couplings, Shinn was skeptical that cordless tools would be up to the task. "We had zero confidence cordless tools would work on those [couplings]," said Shinn. "But as soon as we fastened down the first coupling with the cordless Milwaukee impact wrench, we were blown away that it was actually able to deliver the torque to get the job done."
The Milwaukee Tool impact wrenches proved to be a perfect match for installing the Victaulic couplings. Providing 1,400 foot-pounds of break-away torque, these tools aptly tackled the myriad of coupling sizes. And they could do all of it without the hassle of pneumatic hoses.
"The tools performed without a hiccup," Shinn said. "They were seamless, which enabled us to maximize work hours in a challenging environment."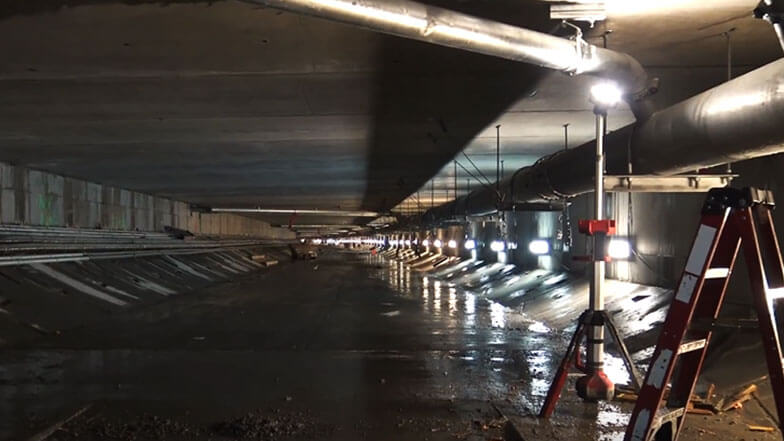 Milwaukee's cordless stand lights were particularly critical to the project because they could provide light when the tunnel was without electricity. These lights not only illuminated huge areas, but they also held up to the wet conditions deep in the tunnel.
"Pairing Victaulic couplings with Milwaukee tools allowed us to finish a job scheduled to take eight months in only 10 weeks."

— Mike Shinn, Founder, Shinn Mechanical Inc.
Each light stood on support legs that could be immersed in water with no detriment to the tool or its light output. The Shinn Mechanical team was so efficient at joining pipe that they outpaced the team laying the precast road panels. "It turned into a bit of a competition, but most days, we'd end our shift with 10' of pipe sticking out the front end of the road," Shinn explained.
More than two miles of the line was hydrotested without a single leak. "We've done a lot of tunnel work in the area," Shinn said, "but there has never been anything like this in the state of Washington."
Leveraging its trusted partnerships, Shinn Mechanical delivered an innovative and durable solution in record time. The tunnel is scheduled to open in early 2019.
For more information, visit www.victaulic.com and www.milwaukeetool.com.