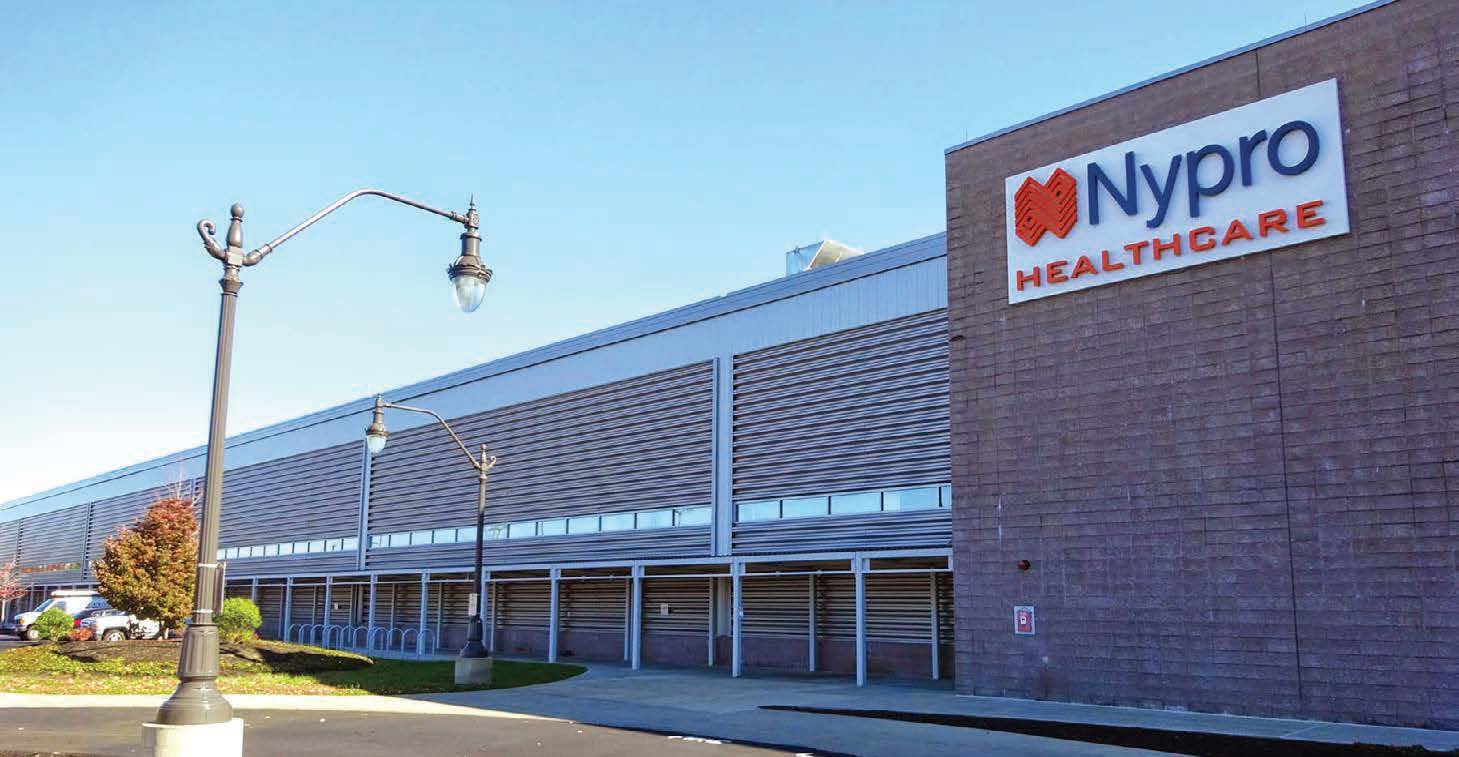 To meet a tight deadline, William F. Lynch Co., Inc. recommended Parker Hannifin's Transair aluminum piping over copper piping, saving installation time, labor, and material costs. By using Transair, Lynch was able to install twice the piping specified in the initial design and still finish the job on time.
Nypro, a plastics injection molding company in Clinton, MA, contracted Lynch, of Worcester, MA, to retrofit an abandoned building so that it could expand and upgrade its health care production facility. As facilities age and building restrictions tighten, retrofitting an older building for modern-day manufacturing can be challenging, especially in the medical industry. In addition, the project timeline allowed just six months for construction.
Seizing an Opportunity
Nypro has been negotiating with a pharmaceutical company to fill the medical delivery devices manufactured by Nypro with the medicine at the time of production, improving efficiency for both parties. However, Nypro's Clinton facility was too small to handle the expanded scope of work, said Senior Manager of Maintenance & Facilities Mark Butler.
Nypro sought an additional location for its health care division with adequate space for an ISO 8-compliant cleanroom, which has strict regulations regarding airborne particulate cleanliness. The room also required laminar flow—in which air flows in a parallel pattern with no mixing of layers—and HEPA air filters installed in the ceiling, Butler pointed out.
"We keep the particle count down by pressurizing the room, so when you open the door, the minute particles, if any, blow out instead of in," Butler said. "We're also very particular about the room's temperature and humidity."
The company found a 193,000-squarefoot abandoned building with 58,400 square feet for the cleanroom and another 18,000 square feet for cleanroom expansion. The rest of the building houses support, warehouse/shipping, and offices. Project work included rework of the mechanical systems and the design and installation of a compressed clean dry air (CDA) system. CDA air is critical to Nypro's manufacturing process, primarily for molding equipment and other pneumatic devices in the assembly area that operate the high-speed assembly equipment.
Aluminum: Alternative to Copper
Initially, Nypro wanted to install a copper CDA piping system, which would have taken more than 1,300 labor hours, said Lynch's president, Mac Lynch. The complex project schedule did not provide enough time for a CDA installation. After exploring options to reduce manhours, Lynch recommended Parker Hannifin's Transair aluminum piping.
"The initial design had about 2,300 feet of CDA piping," Lynch said. "As the project evolved and all parties saw the advantages of using this system, other phases of the project incorporated Transair into the design. Total installed CDA pipe was more than double the initial design—about 5,400 feet, a little over a mile—and we still met the project deadline."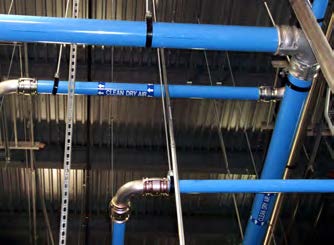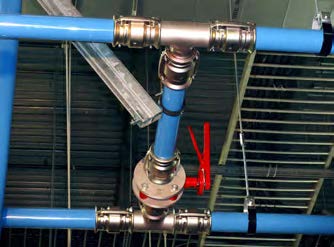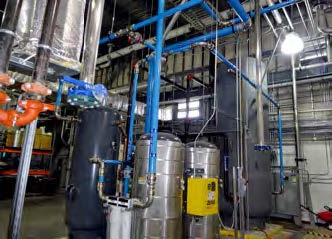 Using Transair allowed Lynch to meet the deadline and the CDA requirements. Aluminum is lighter and easier to manage than copper and does not require any brazing or purge gases, observed Lynch, thus eliminating the need for that added expense.
"We didn't need a big crew hanging the larger Transair pipe," Lynch said. "One man can install most of the pipe alone, and the fittings save quite a bit of labor."
Easy to Install, Repair
During the project, workers built section mock-ups on the shop floor before fitting them in the ceiling braces. Only one pipe joint in the entire installation leaked during the testing process, and the quick-connect fittings allowed for an easy fix.
"With a brazed joint, we would have had to cut it out, replace with new, rebraze and purge again, costing a day's labor plus materials," Lynch said. "With Transair the repair was about 20 minutes, even at 25 feet above floor level."
Transair also costs less than copper, said Lynch. The Transair cost savings over a pressed copper system were $24,100, just under 10 percent, and would be more if compared with a brazed system. The cost savings were a big selling point for Nypro.
"Long-time, experienced facility managers have ways of doing things that work for them and are hesitant to move in a different direction. It's just human nature," Lynch said. "We believe that the Transair system, once assembled, is as good as any other. We knew we could give Nypro the same quality they expected for a lower price."
Transair's smooth interior and full-bore design ensure optimal and constant airflow. Once installed, Transair is guaranteed to resist corrosion, which prolongs the life of both the piping and the facility's equipment.
"I've known about Transair for a while and knew their specifications and claims," Lynch said. "They delivered on these claims."
Two compressors (150 horsepower and 350 horsepower) supply the CDA, and a branch for a future 350-horsepower compressor was added. Piping was sized and installed based on the specific pressure delivery needs throughout the facility.
Over sixty percent of the system ranges from 3″ to 6″ in diameter, and the rest from 1/2″ to 1 1/2″.
Quick Turnaround
With Parker's extensive distributor network, the project's supplier, F. W. Webb of Boston, was able to get Lynch materials quickly, sometimes with a one-day turnaround.
"Timing was everything for them," said F. W. Webb's Inside Sales/Customer Service Representative Mike Costa. "Webb has a good reputation of going out of our way to keep a customer happy. We paid the extra freight charges and did what we could do to get materials out to Lynch when they needed them."
F. W. Webb pulled from nearby distribution centers that keep a large quantity of material in stock, helping the company meet same-day orders, Costa said. Webb's intercompany trucking services helped get materials from one place to another quickly, sometimes with two orders in one day. "That's a value-added thing for Webb that a lot of companies don't do," Costa noted.
The project was completed in October 2014, meeting the deadline. From planning to completion, the entire project took nine months, with design work continuing through part of the build-out.
"Transair was very helpful in walking us through their product and getting things off on the right foot," Lynch said. "As contractors, we don't like surprises. For this project, Transair's support eliminated surprises, making us and the owner very happy."
For more information, visit www.parker.com.
MCAA thanks Parker Hannifin for being a supporter of MCAA 2015.