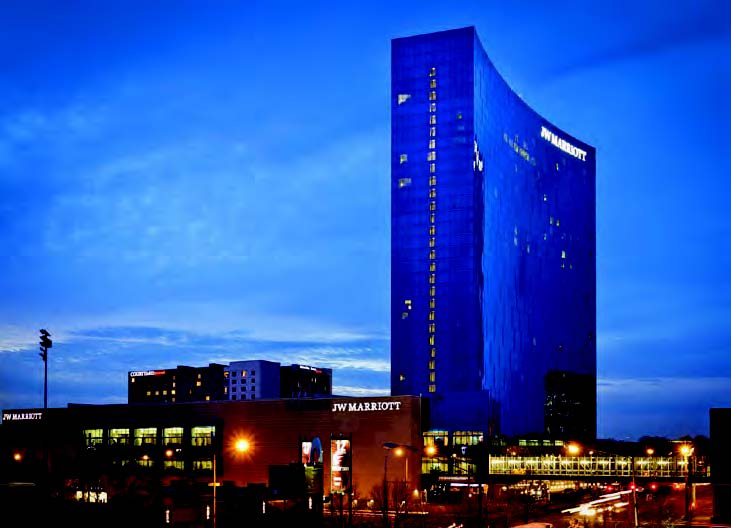 Ease of Installation Makes New Quad Close Trap Seal a Good Fit for Campus Construction Site
When the J.W. Marriott Indianapolis required some fundamental building systems to be completed ahead of the rest of the building schedule, North Mechanical Contracting, Inc. knew it could count on Viega ProPress® pipe fittings to get the job done. North Mechanical installed Viega ProPress for domestic water and hot water heating applications on all copper piping systems sizes 2" and below in the prestigious hotel. The 34-story J.W. Marriott opened its doors in February 2011; it is both the largest and tallest hotel in Indianapolis, with more than 1,000 rooms.
"We had a portion of the building that had to be done within about 10 months," said Rod Foley, project manager with North Mechanical. "And then we had an additional year for the rest of the building on top of that. The infrastructure fed another property—one of their adjacent sister hotels. And we had to have the infrastructure up and running."
Foley has been in the industry for 11 years and first used Viega ProPress six years ago. He prefers to install Viega ProPress because of the time savings the product offers.
"I think Viega ProPress is a great product," Foley said. "It really has good applications and we've found good success with using it in the past."
Viega Cuts Installation Time Dramatically
Viega press technology provides a secure connection in less than seven seconds on sizes 1/2˝ to 4˝ pipe. The patented Viega Smart Connect® feature also helps installers to identify unpressed connections easily, adding an additional level of security with each connection. As a result, installers can save anywhere from 30 percent to 60 percent on installation time using Viega ProPress.
North Mechanical is one of the top full-service contractors in the Indianapolis metropolitan area. Since incorporating in 1976, the company has expanded to include commercial, institutional, and life sciences clients.
North Mechanical is so confident in the time they can save by installing Viega ProPress that they offer their customers an opportunity to switch if Viega ProPress isn't already being installed.
"We feel like it does save time," Foley said. "Almost every project we bid on, if it's not in there, we offer it as an alternative cost savings for the owner."
Viega ProPress is engineered for use in many different applications, whether heating, potable water, natural gas, propane, fire protection, or solar. Because it trims installation time, Foley said, "We've found it to be a more economic option. We definitely intend to use Viega ProPress again."
Thanks in part to North Mechanical and Viega ProPress, the new J.W. Marriott joins three other Marriottbranded hotels on a seven-acre, $450-million complex in downtown Indianapolis.
For more information, visit www.viega.com.
MCAA thanks Viega LLC for being a major sponsor of MCAA 2012 and for sponsoring the student chapter outings.