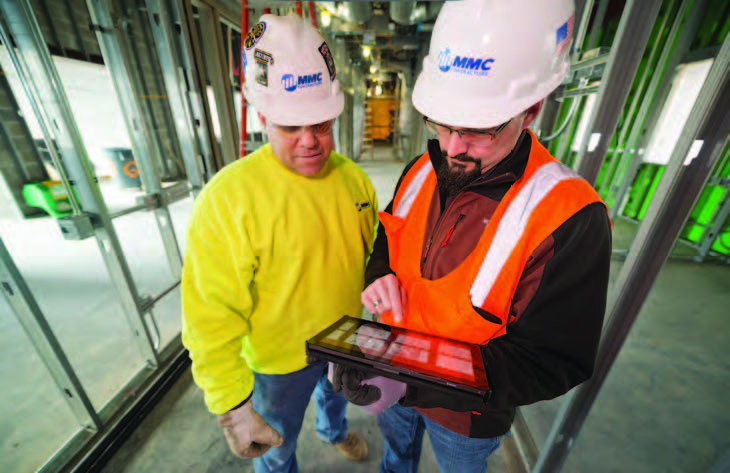 MMC Contractors credits Autodesk® Point Layout construction software with helping them shave weeks off the construction schedule for the Martin Army Community Hospital at Fort Benning, GA. "The time and accuracy benefits we realized on the project are a great example of why we moved away from manual point layout processes," explained Keith Flowers, vice president of construction planning for MMC Contractors. "When you can do things faster and more efficiently, you're more competitive."
The 745,000-square-foot facility will replace an aging hospital and serve military members and their families. It features 70 inpatient beds and additional intensive care, surgical, maternity, and psychiatric beds. Kansas City-based MMC Contractors has experience with health care projects and embraces new technology, such as the advanced point layout technology used on the project.
Transitioning from Manual Point Layout
In a traditional point layout process, MMC Contractors used manual measuring devices and calculations to install points in the field. Paper 2D drawings guided the process. Small errors had the potential to cause major rework, so field staff spent significant time on every job getting it right. Today, MMC Contractors creates points in Autodesk Point Layout software and installs them in the field faster and more automatically using a total station.
"The old process required people to interpret drawings in the field and then pull a string line and mark the points," said Brian Muggy, MMC Contractors' building information modeling (BIM) superintendent. "Misinterpret something and you're off. The model-based designs used on large projects today make it easier to achieve such a high degree of precision with activities like prefabrication and coordination. We wanted to bring that efficiency and precision into the way we installed points."
With Autodesk Point Layout software, "[i]t's faster to install the points, but you gain even more time by speeding up the whole process by not having to drill the concrete."

—Patrick Marshall, Assistant Superintendent, MMC Contractors
A New Point Layout Workflow
MMC Contractors' point layout workflow on the Martin Army Community Hospital looked quite different than one that relies on traditional processes. After receiving the designs from the engineers, the MMC Contractors BIM team added more detailed construction content. They then worked with the other trades on the project to create a model in Autodesk Navisworks® project review software that aggregated all the designs. Using clash detection tools in the software, they coordinated the project and addressed interferences.
Before going to the field, the MMC Contractors BIM team uploaded the coordinated model into Autodesk Point Layout to create points for items they needed to install, such as for pipes and other components. They exported the points into their total station, and installed them in the field.
"We expected to gain time and accuracy in the field by using a more automated point layout process," said Muggy. "Where we've been pleasantly surprised is that it's faster in the office, too. We no longer have to annotate drawings with dimensions. In the past, we had to put two dimensions and an elevation on every location that needed to be called out. Considering that drawings are already packed with material notes, the designs stay cleaner and easier to read."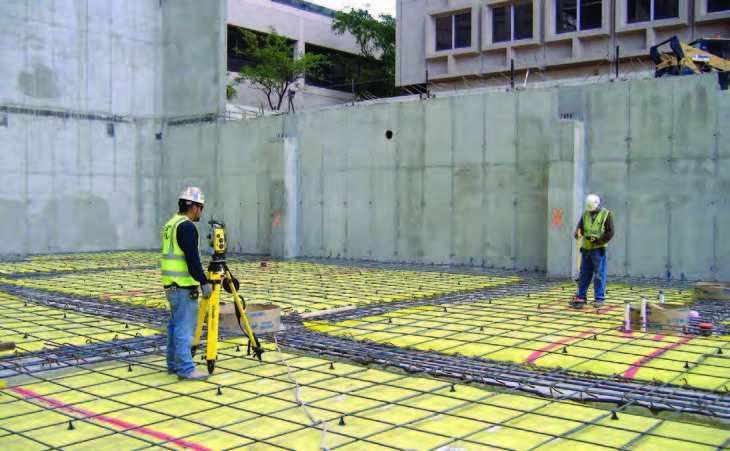 Saving Weeks in the Field
In his role as an assistant superintendent for MMC Contractors, Patrick Marshall experienced the real-world impact of faster, more accurate layout installation firsthand on the Martin Army Community Hospital project. "We used Autodesk Point Layout and total stations to lay out just about everything on the project," he said. "For example, laying out the points for the 300 to 500 concrete hanger inserts per floor was night and day compared to manual processes. We just set up the total station at the control point on each floor, and it then knew exactly where it was—and where all the assigned points should be."
In the past, contractors would have waited until the concrete was poured to lay out points for the installation of the hangers for each floor. They then would have measured the points onto the poured floors using traditional manual methods. Placing hangers at these points involved drilling holes into the concrete. The process would have taken as much as a month per floor.
MMC Contractors' new point layout process didn't require that floors be poured first. A team of two used a total station loaded with points created in Autodesk Point Layout software to locate each hanger. They were able to install all the points for the hangers and the hangers themselves in under a week per floor, saving as much as three weeks per floor.
"It's faster to install the points, but you gain even more time by speeding up the whole process by not having to drill the concrete," said Marshall. "We could go in right after the decking was installed. There's no need to use walls or concrete as a reference. The process is safer, too, because you avoid having to drill holes over your head into concrete. You just lay out points, install, and move on to the next floor."
More Information Onsite
MMC Contractors used other technologies on the Martin Army Community Hospital project that let them take rich building design and model information into the field. In addition to Autodesk Point Layout and total stations, MMC Contractors took advantage of Autodesk BIM 360™ Field and Autodesk BIM 360™ Glue® cloud-based services. These services let MMC Contractors' team access project information on Apple® iPad® mobile devices at the point of construction. Marshall, who is a member of the UA Local 533, said, "I can see value in unions helping to train members in the use of this kind of layout and mobile technology. This is the wave of future."
Flowers added, "It's hard to imagine going back to completing projects like the Martin Army Community Hospital the old way. Being able to take the precision of models into the field added significant value throughout the project. We gave our people tools that let them access more than twice the information in less than half the time, as compared to older methods. They used that information to save even more time while delivering a higher-quality product."
For more information visit www.autodesk.com/point-layout.