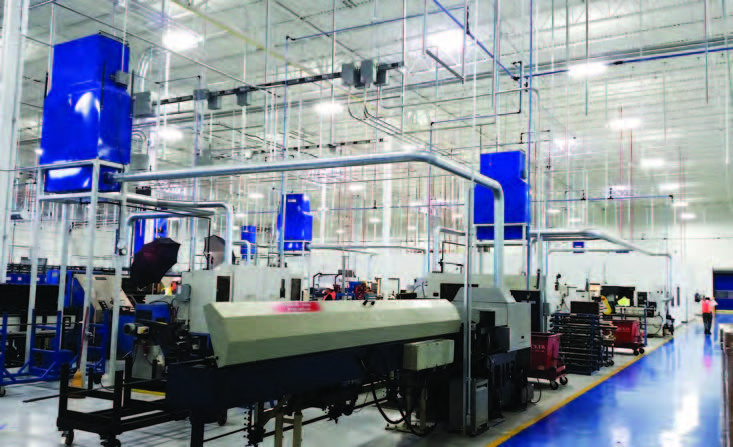 For a new production facility in St. Louis, MO, Mechanical Solutions found they could install Parker Hannifin's Transair piping for the compressed air system with about half the number of workers needed for a black iron system. Mechanical Solutions also found that with Transair piping, they could preassemble parts in the shop, saving even more time on site.
High Expectations, Short Timelines
When SKF of Sweden designed the North American flagship for its Lubrication Business Unit (LBU), they dubbed it Project SOTA (State of the Art). The 313,000-squarefoot, $26-million building includes manufacturing space for machining and assembly, a distribution center, and two floors of office space. It is one of 13 locations worldwide that produces lubrication distribution systems, from handheld grease guns to automated industrial lubrication systems for mobile and stationary machinery.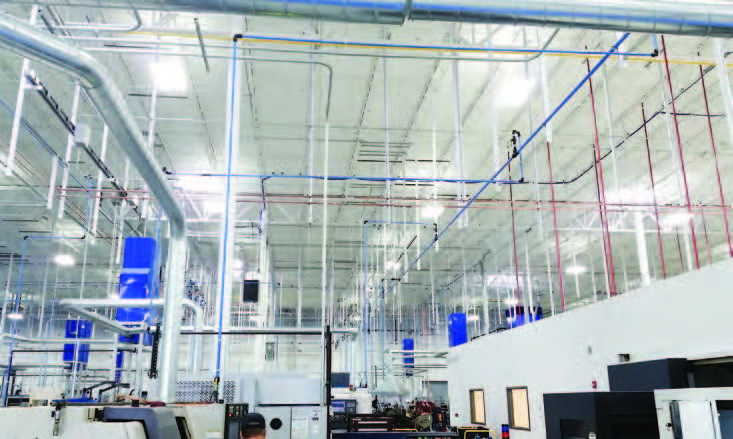 Construction began on October 22, 2014, and employees were moving in on October 19 of the following year. Deadlines to get internal systems up and running were tight, and a lot of the design and engineering was done concurrently with construction, said Bryan Stanford, SKF's continuous improvement manager of the LBU.
"Our compressed air system started going in around June or July, and we only had about a three-month period to get it done," Stanford said. "We needed something that was lightweight and easy to assemble to help us meet the tight schedule. This was a very tight-budget project, and any cost-savings ideas had to be examined and taken very seriously."
New Space, New Solutions
The compressed air system is connected to some 190 pieces of equipment at SKF's facility, including handheld tools and large pieces of equipment in the machining and assembly areas, such as metal cutting and turning equipment. Compressed air is also vital to the operation of assets in its distribution center, with air-powered lifts in the warehouse. This new building was an opportunity for SKF to improve on its old location. Rather than install another black iron compressed air piping system, SKF opted for an aluminum piping system, which is easier to work with and resistant to corrosion, said Stanford.
"The previous place was an old building with a lot of black iron compressed air piping," Stanford said. "We knew that we had to be state-of-the-art, and with black iron piping you get corrosion that eventually leads to performance loss and pressure drop over the years. That's something that we won't see with an aluminum product."
After considering several products, SKF chose Parker Hannifin's Transair piping for its new compressed air system. Cost-effectiveness was the main driver in that decision, Stanford said, explaining that although the material costs are higher with aluminum, the installation costs were reduced by 15 to 20 percent. That savings can be attributed to Transair's lightweight, quick-connect design, so it takes fewer workers less time to assemble and install the system.
Using Transair would also help SKF save money in the long run by preserving its equipment. Transair's smooth interior and full-bore design promote constant airflow and corrosion-resistance, ensuring extended longevity of equipment and fewer changes of filter elements.
Typically, 10 workers would be needed to size, assemble, and hang black iron pipe, but Mechanical Solutions only needed four to six workers at any given time to do the work using Transair, said its general foreman and pipefitter, Jeff Fox, a member of the St. Louis Plumbers & Pipefitters UA Local 562.
Lightweight Piping Easy to Install Though the work was done quickly, Fox said, he was initially skeptical of the aluminum pipe. Mechanical Solutions has done multiple compressed air installations in the past, primarily using copper, sweat copper, and schedule-40 black iron piping.
"When I first saw it, I didn't care for it," Fox said. "I'm old school and I don't like a lot of change. Transair is a lot lighter than black iron and seemed too easy to install."
The first thing Fox noticed was how much cleaner Transair was compared with black iron pipe, he said. While black iron requires threading and oiling the pipe, Transair's quick connections eliminate the need to thread, solder, or glue pipe. Workers could assemble parts of the installation on the shop floor and raise them in place when finished.
Lightweight piping also helped when workers had to assemble piping fixtures in the air, Fox said. Ceilings throughout SKF's facility are 32′ high, and piping is held in place by nearly 700 pieces of metal framing struts about 20′ off the ground. Mechanical Solutions installed about 11,000 linear feet of piping throughout the building in 3″, 2″, and 1″ diameters, with 1″ and 7/8″ diameter drops. Transair's quick-connect design made this work much easier and less time-consuming, said Fox.
"When you're using threaded pipe in the air, you have to level the pipe before you put it in," Fox said. "With Transair, it's like screwing in a light bulb. You don't have to level it until it's already in place. It's also a very good-looking system."
Flexibility for the Future
Ease of use also lends itself to quick changes and flexibility, which was a major selling point for SKF, Stanford said. Both the building and its utilities were designed and built with expansion in mind. With compressed air, coolant, electric, and water lines all hanging from the same infrastructure, SKF will need Transair to be flexible and easily modified as the facility changes through the years, he said.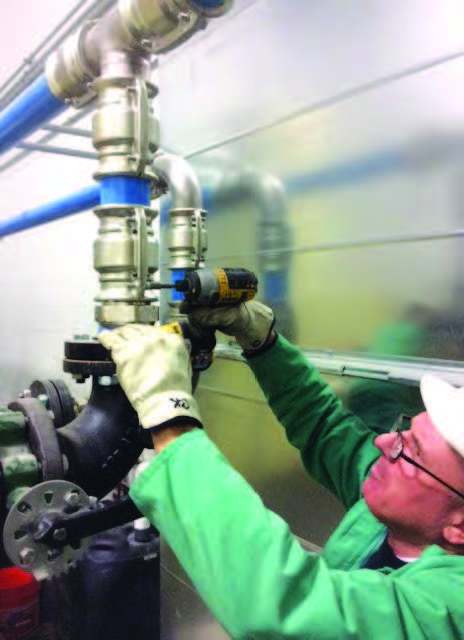 "We need the flexibility to change our manufacturing process quickly to adapt to our customers' needs," said Stanford, "whether that means installing a new line or revamping our current lines."
Workers met the three-month deadline and got the work done within budgetary constraints, Stanford said. Since SKF began operations of the facility, Stanford has seen very few issues with the Transair installation.
"So far, only one connection came apart, but it was easily fixed and hasn't given us any trouble since," Stanford said. "Other than that, it's performing great."
For more information, visit promo.parker.com/promotionsite/transair/us/en/home. MCAA thanks Parker for being a supporter of MCAA 2016.