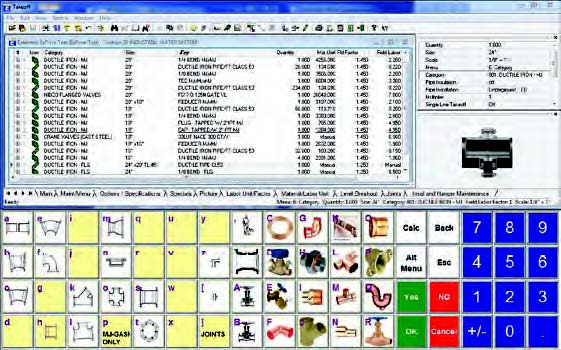 To increase productivity, keep costs low, and achieve optimal profitability, Dorvin D. Leis Co., Inc. (DDL) turned to Maxwell Systems™ Estimation® software to automate its estimating and procurement process. With Estimation, DDL is able to tie together estimates, labor needs, and cost analyses and so bid more quickly and accurately to win more jobs. And, once a job is won, DDL can leverage Estimation to take control of their entire procurement process—achieving greater efficiency and cost savings.
With more than 300 employees and more than $75 million in revenues, DDL is Hawaii's leading mechanical contractor. DDL works closely with its clients and design teams to provide a complete mechanical system that encompasses plumbing, HVAC, fire protection, and architectural sheet metal for a wide range of projects. The company provides services for commercial, light commercial, health care, institutional, high-rise, condominium, and residential projects across the Hawaiian Islands, as well as state, county, and federal projects, including military facilities.
Improving Speed and Accuracy
Curtis Goertz, one of DDL's two HVAC and sheet metal estimators, has been using Estimation since 2005. He appreciates that it is specifically designed for mechanical, plumbing, and HVAC contractors and uses the software on a daily basis for ductwork and sheet metal estimating. Two other estimators use Estimation for plumbing and mechanical piping projects.
"With Estimation, we are able to bid on more work because of the speed that it can provide when doing takeoffs and summaries," explained Goertz. "We are also able to section out duct systems within the takeoff, which then allows an itemized review of those systems. In addition, the sectional takeoff also provides a quick and easy method to change duct types and construction for potential cost savings that can be passed along to our clients to work with the owner's needs and budget."
Estimation has definitely helped speed up the estimating process. "Before, with our manual takeoff and summary methods, the process could be very timeconsuming. We would takeoff ductwork and fittings, then count equipment, dampers, air devices, and other accessories," explained Goertz. "Now, using Estimation, we can quickly run footages of ductwork; count fittings, dampers, air devices, and accessories; and easily summarize it to calculate the totals."
Estimation also allows DDL to share the information from the estimate among team members by providing easily generated and customized reports, so they can target and extract specific information requested by the operations and purchasing departments. "If we are buy Before Estimation, DDL's entire process was handled manually, and they had no historical details on purchases. Record-keeping was a real challenge and it took quite a bit of time to create POs. Now, with the Estimation database populated with up-to-date materials and pricing data, it is easy to find needed information and purchase materials.
"Having instant access to our purchasing history really helps with the followup process," explained Leong. "Using Estimation, we are able to more easily locate materials, determine when they came in, and keep all the necessary details in the system." If someone has a question, they can simply pull up the PO by searching by vendor, by item, or by other criteria, and review the associated notes to determine the status of a purchase.
"Everything in Estimation is really a plus," said Leong. "Before having this software, we had no way to capture, track, or manage our procurement data. Estimation provides us with a peripheral tool to see all of our procurement operations."
For more information, visit www.maxwellsystems.com.