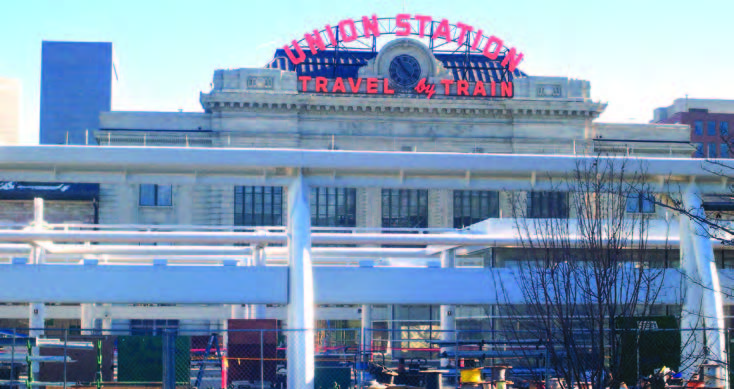 Speed and Safety of Installing Grooved Pipes Saves Contractor Time and Money
To meet the complex requirements of a massive public transit expansion, Legacy Mechanical, Inc. called on Victaulic. "We've worked with Victaulic grooved mechanical systems for nearly a decade so we know we can trust them to help us maximize productivity and address compressed work schedules, while increasing worker safety," said Scott Krum, president at Legacy Mechanical. "We also know we can count on them for expert prefabrication and minimizing time in the field."
Big Project, Big Challenges
The $650-million revitalization of Denver's historic Union Station is the nation's largest public transit expansion project. The site was once a key transportation hub for the United States, connecting Denver to the transcontinental railroad line. Serving as a distinctive gateway to downtown Denver, the modernized facility brings together many different transportation modes (including light rail and commuter rail, regional bus lines, taxis, Amtrak trains, and local shuttles), along with private development, to create a new bustling urban center.
Spreading across 20 acres, the Union Station site includes a 1,100'-long underground bus depot with 22 bus bays and also houses aboveground transportation hubs. The site also incorporates two million square feet of mixed-use development, including office, retail, residential, and restaurant space. It goes without saying that a task of this magnitude requires significant planning and strategy, but building the new facility in the center of one of the fastest growing metropolitan areas in the United States presented a unique set of challenges.
"By using grooved mechanical systems and eliminating welding, we were able to speed up productivity, increase cost savings, and minimize field labor by at least 10 percent."

—Matthew Archuletta, Project Manager, Legacy Mechanical
As a full-service mechanical contracting company, Legacy Mechanical was up for the challenge. In addition to working onsite in a design/assist capacity starting in March 2012, the Legacy Mechanical team was responsible for all mechanical, plumbing, and HVAC work in the underground bus station. The work included 3D coordination services and modeling of the entire project as well as pipefitting, HVAC, plumbing, fuel, and gas pipe work, which required the contractors to work subgrade. The work had to be conducted in phases, and the team was tasked with completing the project in just three years.
To help them meet the compressed schedule and handle intricate structuring and phasing, as well as simplifying their subgrade work, Legacy Mechanical chose Victaulic. Together, the teams needed to install miles of pipe safely, including approximately 6,000' of hot water piping, 8,000' for chilled water, 4,000' for domestic water, and 1,500' for snow melt.
Alleviating Time and Safety Constraints
Timing was critical with the Union Station project. Thousands of pedestrians, motorists, and businesses were affected by detours and construction zones. The phased approach made for a very fragmented construction process, further compressing the work schedule. To alleviate time constraints and to further streamline the installations, Legacy Mechanical decided to avoid welding whenever possible on the project. This decision helped eliminate the burden of stringent safety regulations as well as the potential for fire hazards and extra man-hours required for fire watches. In addition to increased safety on the jobsite, removing welding from areas such as the two subgrade mechanical rooms also improved overall efficiency on the project.
"By using grooved mechanical systems and eliminating welding, we were able to speed up productivity, increase cost savings, and minimize field labor by at least 10 percent," said Matthew Archuletta, project manager at Legacy Mechanical.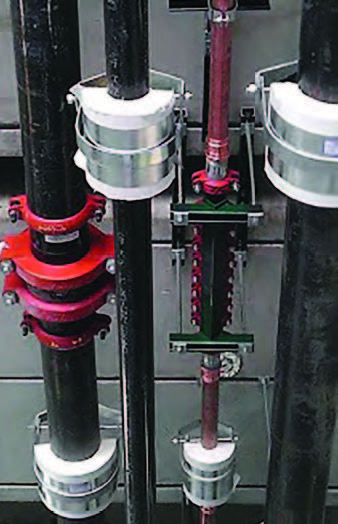 Increasing Productivity
Additionally, Legacy Mechanical used the manufacturer's installation-ready™ QuickVic Style 107 Rigid Couplings and QuickVic Style 177 Flexible Couplings. The patented technology is twice as fast to install as standard grooved couplings, up to 10 times faster than welding, and six times faster than flanging, while offering the same high-performance capabilities. The couplings expedite the project construction by requiring only standard handheld tools for assembly and by reducing installation steps. With no loose parts and no need to disassemble before installation, the coupling is simply pushed into the grooved end of the pipe, fitting, valves, or accessories as a fully assembled unit and joined by a second grooved end and tightened. In addition, no flame or heat is required for installation, furthering project efficiency and increasing jobsite safety.
Prefabrication also played a critical role in ensuring the project's installations stayed on course. By roll grooving most of their piping in a prefabrication setting, which largely consisted of 20' to 40' lengths of straight runs, Legacy Mechanical significantly increased productivity. Because the bulk of the work was executed in a controlled environment at the Legacy Mechanical prefabrication shop, the team had fewer on-site field hours when assembling the piping. This approach also meant fewer overall man-hours and fewer workers onsite, reducing the risks of accidents on the job, while improving safety and efficiency. Krum said the practice helps Legacy Mechanical remain competitive.
In addition to using grooved mechanical systems, Legacy Mechanical also engaged the Victaulic Engineering Services Department for design recommendations related to expansion joints. With tight spaces in the subgrade bus box, the firm wanted to eliminate large welded expansion loops requiring a perpendicular louver arm. As an alternative, Legacy Mechanical installed Victaulic Style 155 Expansion Joints and Mover Expansion Joint Style 150. The linear grooved mechanical systems not only saved space and reduced installation time over welding but also eliminated the need for field welding.
Partnership Pays Off
Working with Victaulic paid off for Legacy Mechanical. "The success we had on the Union Station project once again confirms why we continue to go to Victaulic for our piping needs," said Krum. "In addition to increasing our productivity, they also have the ability to help us meet compressed timeframes, increase jobsite safety, reduce man-hours on the job, and provide us with greater design flexibility—all while staying under budget."
In addition, Legacy Mechanical improved productivity during the commissioning and pressure-testing of the thousands of feet of piping. According to Archuletta, testing for each system of the phased project was initially planned to take two to three weeks, but with Victaulic couplings the firm was able to finalize each phase of testing within a week.
"On the Denver Union Station project, we reduced our testing time in half, if not more," said Archuletta. "That allowed us to stay ahead of schedule and reduced our man-hours on the job, translating into increased productivity."
For more information, visit www.victaulic.com.