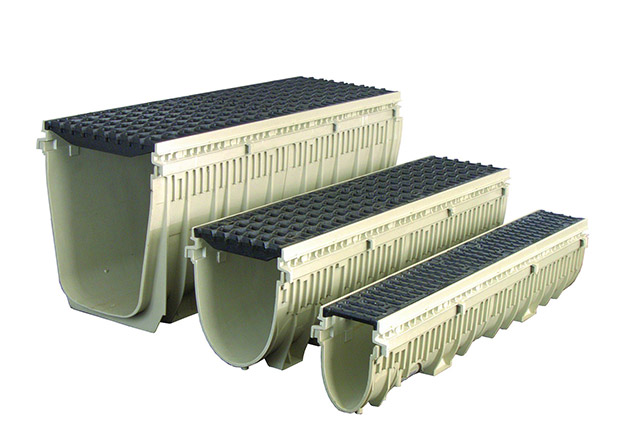 With its light weight and easy installation, Josam Company's Pro-Plus trench drain system not only minimized hassle for Miinc Mechanical Contractors of Dallas, TX, but it also saved them labor and installation time. Instead of using three or four workers to install the trench drain, Miinc needed only one or two workers laying the Pro-Plus system during a recent project for Southwest Airlines.
Avoiding the Hassle Factor
Most contractors do not enjoy working with trench drain. "Finding a trench drain system that, first, is not broken into pieces when you receive it; second, doesn't require an advanced degree to determine the proper way to install it; and can also withstand extreme weather conditions and temperature changes is not an easy task," said Alan Milby, director of preconstruction at Miinc. "In such a competitive environment, we need to avoid as many delays and potential issues in the field as possible that can cause increased labor costs on a job. Installation of trench drain is no different," he added.
Miinc was awarded the Simulator Office at Southwest Airlines Headquarters Building adjacent to Love Field in Dallas. The company spearheaded the five-story expansion, which included office space, a flight training building, and central plant expansion. The scope of work included three trench drain runs that were 8" wide with a C class load rating. In search of a trench drain system that would prove to be different than previous experiences, Milby turned to Miinc's long-time cast iron drainage supplier Josam Company for a solution. Josam Company was up for the task of proving to Milby that working with a trench drain system does not need to be a dreaded task.
Surviving Texas Heat
The Josam Company Pro-Plus trench drain system is the only system made of glass-reinforced polyester pressed from sheet molded compound, or SMC/GRP. The product is 1.5 times stronger than polymer concrete, yet it is 70 percent lighter, a big plus in handling and labor. Similar systems made of polypropylene experience 4.4 times more thermal expansion than SMC/GRP, and trench drain systems made out of high density polyethylene (HDPE) experience 10 times more. In the heat of Texas, thermal expansion is a big deal. Milby noted, "When we put the Josam Pro-Plus in, it stayed nice and straight on the install. We didn't have to do anything special with bracing or blocking to keep it that way like we would have with other manufacturers' products that we used. It went in really nice."
To meet the specifications, Josam Company shipped their 8" nominal-width trench drain with a class-C ductile iron grating and the innovative Starfix grating system. "While the Starfix design results in a much nicer-looking finished installation, we were even more pleased with the simplicity of simply securing the grates by pushing down on them with your hand and locking them into place as opposed to the timely process of securing the grates with a traditional locking bar system," said Milby. "It is little features like this that can help keep our labor costs down and be a benefit to our client down the road from a safety and ease-of-cleaning standpoint."
"The reduced weight of this product allows me to use one to two men for laying out and installing the run, as opposed to three or four men for the heavier products we've used."

—Alan Milby, Director of Preconstruction, Miinc Mechanical Contractors
Easy Installation
Milby further noted, "The channels were received at the jobsite with no breakage, and all channels were easily marked with a numbering system for easy installation. I have a few larger projects coming up where I fully intend to take advantage of Josam's no-charge service to provide an installation layout drawing which tells you exactly where each channel is to be placed for longer and more complex runs. The reduced weight of this product allows me to use one to two men for laying out and installing the run, as opposed to three or four men for the heavier products we've used. Again, this cuts down on my manhours and ultimately reduces labor costs.
"Lastly, when I received my quotation from Josam Company, I questioned why they quoted product to meet a class-C load rating without quoting a rail to support the load," Milby stated. "Josam advised us that, unlike other manufacturers, they are able to achieve up to and including a class-E load rating without needing to add an additional rail system like other manufacturers we have used. This not only is a material cost savings, but once again a labor-savings feature."
Although Miinc has a longstanding relationship with Josam Company, they often never thought of Josam when it came to trench drain. "Working with the Josam Pro-Plus system was an enjoyable and profitable experience for us, and we fully intend to use it whenever we encounter a trench drain installation" said Milby. "We are always searching for quality products that we can provide to our clients. The Josam Pro-Plus system not only is a quality product but one that offers a variety of labor savings features that enables us to remain profitable in our competitive environment."
For more information, visit www.josam.com.