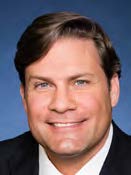 In this issue of Smart Solutions, you will see excellent examples of how suppliers are working with you, the contractor, to meet increasingly complicated customer demands while ensuring you stay profitable. For example, to prevent potential terrorism at a new Naval hospital, Jay R. Smith Mfg. Co. custom-designed a downspout nozzle with a locking, hinged cover so no one could insert an object into the piping. To excavate live, buried telecommunication cables in Silicon Valley, Tri Tool Inc. created novel machinery to cut the pipe housing the cables. Aerial service provider Erickson Incorporated lifted tons of chiller equipment to a rooftop in a few hours, cutting Conti Corporation's installation time dramatically.
Solving Dilemmas
Sometimes, the right products and services can help you out of a tough situation. Facing construction labor shortages in Houston, CFI Mechanical relied on building information modeling from Victaulic's Construction Piping Services division for a new office tower. MacDonald Miller was relieved to find—midway through construction—that the HOLDRITE® HydroFlame™ sleeving system not only fixed leaks that had emerged but also resolved other challenges.
Join me in welcoming our
newest supplier partners:
Coilmaster Corporation
DEWALT Industrial Tool Company
Enceptia
ISCO Industries, Inc.
LG Electronics USA, Inc.
Rawal Devices, Inc.
Seton
SPP Manufacturing
Watts Specialties, Inc.
Other examples in this issue demonstrate the benefits of experience and knowing what a product can do. With years of experience with Mitsubishi Electric US, Inc. Cooling & Heating Division, Arista Air Conditioning Corporation knew that a Variable Refrigerant Flow (VRF) zoning system would fit the bill for a new restaurant whose originally planned system proved unworkable. Since The Warko Group convinced a medical device manufacturer to install APR Controls from Rawal Devices, Inc., the firm has finally been able to control humidity and temperature in its cleanrooms. TG Gallagher had only two consecutive weekends to replace a hospital's aging cooling towers, so they selected Baltimore Aircoil Company towers designed to make installation and upgrades easy. ACCO Engineered Systems took an unusual approach to a compressor retrofit, replacing a tandem scroll set with a single BITZER compressor for an efficient, quiet solution.
Software Solutions
More software solutions are emerging to help you improve business operations. Read how Johnson Controls, Inc. combined its YORK® chillers and Metasys® software to help contractors monitor chillers, pinpoint problems, and resolve issues quickly. With MobiliForms from iBusiness Technologies, Donald C. Rodner, Inc. sped up their invoicing time and cut labor costs while keeping the forms and backend software employees were used to. By replacing their outdated software with easy-to-use, flexible Vista™ by Viewpoint, Bassett Mechanical improved efficiency and streamlined billing processes. Looking ahead, Autodesk is developing software for a "smart" hardhat with sensors that alerts workers to dangers.
We hope this issue spurs you to think about how your suppliers can help you save time, improve productivity, and meet complex customer needs.
Jim Allen, Chairman