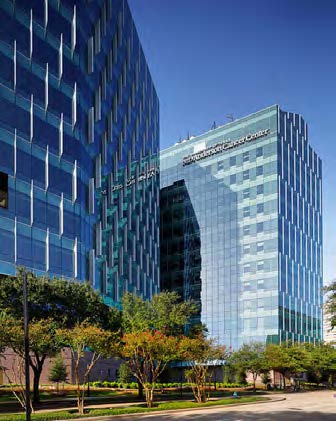 The sleek design of a new medical research facility specifically prohibited downspout nozzles, so Humphrey Company Ltd. called on Jay R. Smith Mfg. Co. for a custom drainage solution. Accommodating state-of-the-art design challenges is just part of the job for Humphrey. They believe that when you take the time to plan for unusual requests, you can always find a solution—an approach that proved valuable in the construction of one of the country's leading cancer research and treatment facilities.
In 2011, MD Anderson received a $150-million grant that funded, in part, the building of the new 626,000-square-foot Zayed Building for Personalized Cancer Care, which houses the Institute for Personalized Cancer Therapy and the Center for Pancreatic Cancer Research.
Chris Humphrey, vice president of Humphrey Company, said that one of the challenges was accommodating the overflow drainage for the building. The design of the building required the overflow to be drained straight off the 12th and 13th floors of the building. The architect specified "no downspout nozzles."
Humphrey Company turned to Jay R. Smith Mfg. Co. Sales Representative Randy Stephen to come up with a custom solution that would complement the building's sleek design and meet the architect's requirements. The engineers at Smith's Montgomery, AL, manufacturing facility created modified brass scupper boxes that would meet the overflow requirements and blend in with the building's exterior.
Stephen explained that even with the special requirement, there were no setbacks in the timing of the job. "Humphrey Company's jobs always run smoothly because they can spot a problem early and take the time to think through the best solution instead of having to come up with a quick fix."
Jerry McDanal, vice president of engineering at Smith, said, "It's not unusual for us to create custom solutions and modify standard parts as needed by contractors. We prefer working closely with the contractor to design the right solution, so they don't have to make do with a less-than-desirable quick fix."
In a way, custom solutions are exactly what MD Anderson is looking to provide when it comes to personalized cancer therapy and advances in pancreatic cancer research. The new Zayed Building was designed to facilitate collaboration among researchers. Built into the design is the ability to accommodate changes in occupancy as needed. An office wing can be quickly transformed into a laboratory if research needs call for it.
To accommodate those transformations, all spaces had to be fitted with the appropriate drainage and plumbing required for a laboratory. The majority of the drains installed by Humphrey were Smith Acid Resistant Coated drains.
The Zayed Building for Personalized Cancer Care opened in early 2015, just over three years after breaking ground. For their part, Humphrey said, "This one went very smoothly for us."
For more information, visit www.jrsmith.com. MCAA thanks Jay R. Smith Mfg. Co. for being a supporter of MCAA 2016.