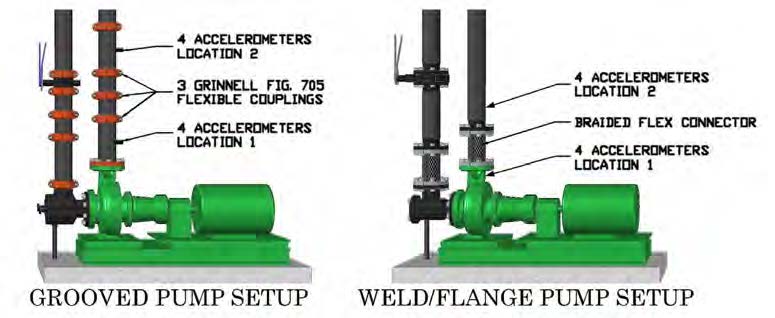 To address the challenge of vibration noise from pipes, GRINNELL Grooved Flexible Couplings reduce vibrations, minimizing the amount of noise distributed through a pipe system, while providing a tight seal to prevent leaks. In contrast, some elastomeric and braided metal flexible connectors designed to minimize vibration noise require you to install additional parts to pipe sections, perform extra welding, or add large, heavy flanges on pipe connections to accommodate the system's lack of flexibility. These methods complicate the piping system and increase the risk of leaks.
GRINNELL Grooved Couplings provide an alternative solution to "one-purpose-only" elastomeric or braided metal flexible connectors, which can require additional time and resources to mitigate vibration and sound attenuation. GRINNELL Couplings not only reduce noise but also use an elastomeric pressure-responsive gasket to seal pipe joints tightly and work within the housing of the GRINNELL Flexible Coupling. This design creates additional features within joined pipes that address angular deflection and axial and rotational movement.
Evidence of Vibration Reduction
In tests, on average, a single GRINNELL Grooved Coupling displays the same impact on vibration and noise reduction as one braided metal flex connector. However, the coupling's advantage becomes evident in systems with multiple connectors. Consistently, GRINNELL Couplings performed better as vibration attenuators as the number of couplings in the system increases. They also performed better at higher frequency levels.
In other tests comparing GRINNELL Grooved Couplings, rubber flex connectors, and braided metal flex connectors, all three systems performed similarly. However, when numerous grooved couplings were installed, the GRINNELL Couplings maintained a strong, tight seal and reduced vibrations when up to three couplings per pipe were used.
The Core Benefits
Vibration attenuation is a known challenge for developing piping systems. The right connectors are critical for attenuating vibration in pipes and reducing the resulting noise transmitted throughout the building. GRINNELL Grooved Couplings have been used successfully to address both issues without inhibiting a complete seal when joining pipes. They are especially effective when three or more are installed across a section of pipe. Also, they can help resolve minor angular offsets, simplify installation, and eliminate the need for specialized vibration attenuation components. As a result, contractors save money.
For more information, visit www.grinnell.com.
MCAA thanks GRINNELL for being a benefactor of MCAA 2013.