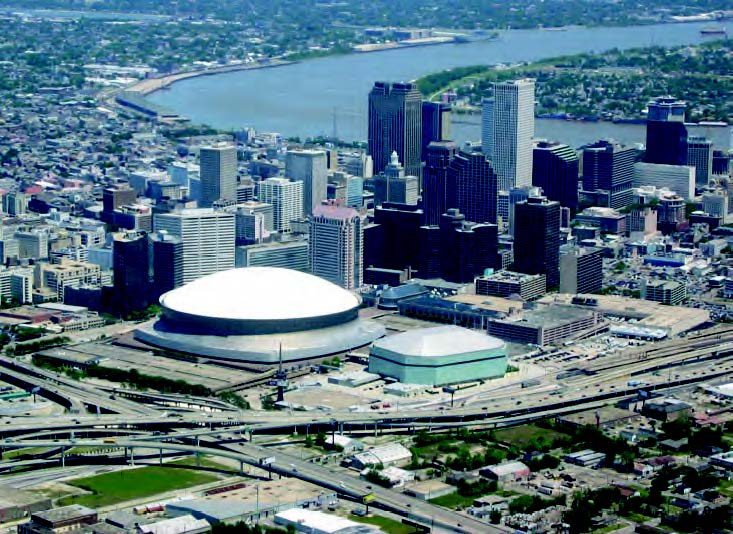 To take on the major renovations needed to restore New Orleans' famed Superdome to its former glory, Gallo Mechanical chose Sloan Valve Company plumbing systems. Not only does Sloan provide the high-efficiency fixtures and technology the job required, but it offers a manual override system in case of power outages that addressed project planners' concerns.
The Mercedes-Benz Superdome, memorialized through Super Bowls and Hollywood movies, was one of many casualties of Hurricane Katrina. When the devastating hurricane hit in 2006, thousands of people fled to the Superdome, which served as a makeshift shelter. Even though water from the broken levees never touched the Superdome, the structure was left in such disrepair that major renovations were necessary.
Flash forward to June 2011, and the last phase of renovations for the Superdome and surrounding structures has been completed. Gallo Mechanical installed Sloan plumbing systems with each renovation phase, showcasing Sloan's water-efficient technology.
The Superdome planning department could easily see the advantages of purchasing vitreous china fixtures for the Superdome restrooms from Sloan, which had long supplied them with reliable, high-performing flush valves. For the first phase, the Superdome installed sensor-activated, hardwired Royal® 111 ES-S flushometers.
Shortly after putting in the plumbing order for the final phase, the maintenance supervisor voiced his concern that a power outage could leave the flush valves unusable, which would be an unacceptable problem in such a large public facility. Fortunately, Sloan had introduced TMO (true mechanical override), which enables the electronic flush valve to operate manually when there is no power. The manual override was so important to the Superdome that they changed their order from standard ES-S valves to the new TMO units.
Next to the Superdome, Champions Square hosts bands, food vendors, and more. Gallo Mechanical installed Sloan's 0.25-gallons-per-flush (gpf) HighEfficiency Urinal (HEU) fixtures and 1.28-gpf High-Efficiency Toilets (HETs) in Champions Square's restrooms.
Also connected to the Superdome and Champions Square is Benson Towers, a 20-story office tower owned by New Orleans Saints' owner Tom Benson. Gallo Mechanical installed Sloan vitreous china fixtures in that building as well, with battery-powered G2 Optima Plus® flushometers for the 0.25-gpf HEUs and 1.28-gpf HETs.
The Mercedes-Benz Superdome, Champions Square, and Benson Towers represent a new chapter in New Orleans' history and show just how far the city has advanced since Katrina.
For more information, visit www.sloanvalve.com.
MCAA thanks Sloan Valve Company for being a benefactor of MCAA 2012 and for providing the convention souvenir.