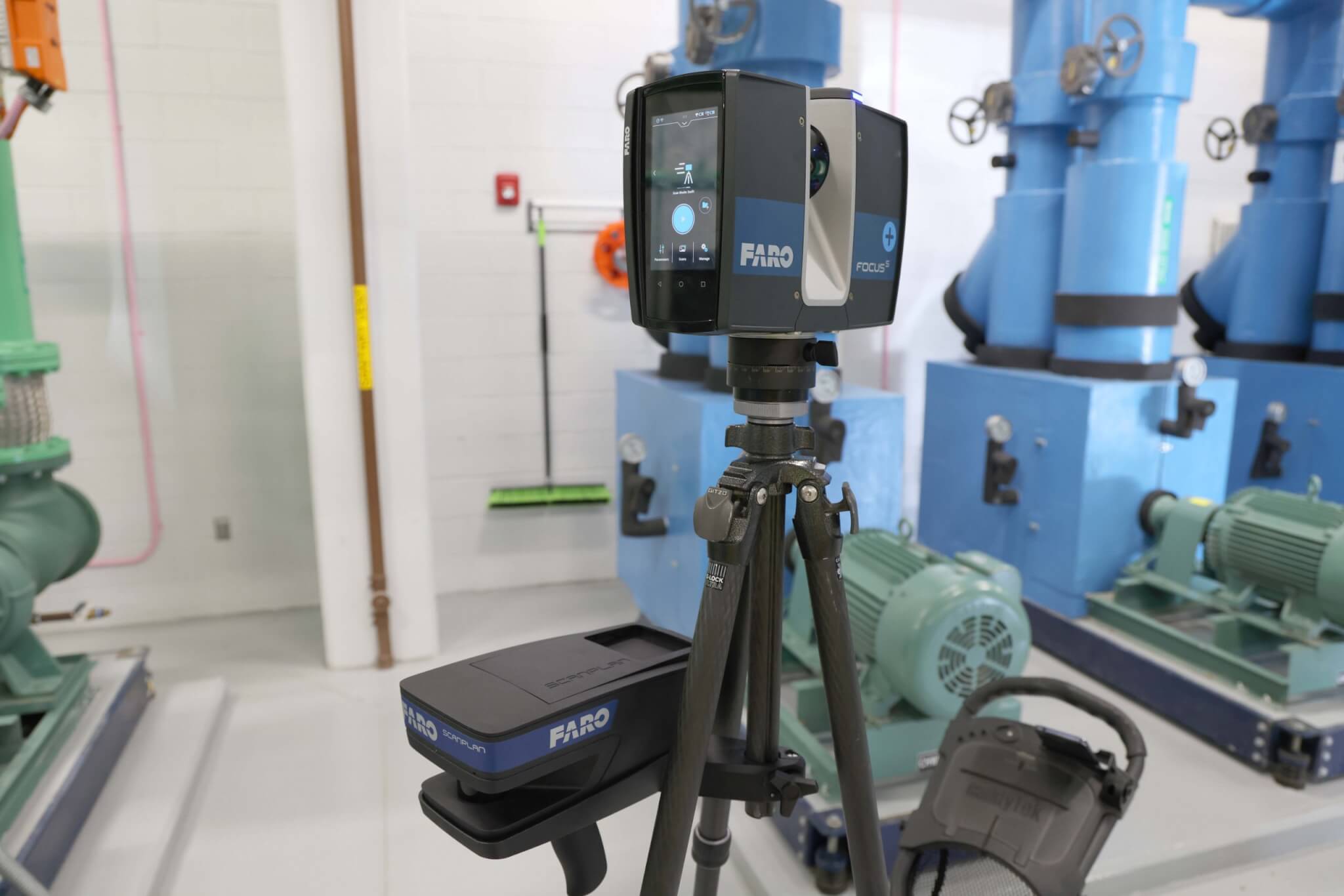 New Technology Opens Doors to New Business Opportunities
FARO Technologies Inc.'s FARO® Focus S 350 Laser Scanners "are really allowing us to send one guy in to a project and capture in a few hours what a team of people used to do over the course of a week—field measuring, documenting, etc.," said Mark Lamberson CPD, national virtual design and construction manager of Limbach Holdings Inc.  
Limbach reaped the benefits of reality capture technology's significant advantage over traditional measurement devices in terms of speed and accuracy when they completed a 3D laser scanning project earlier this year for a meatpacking business in downtown Detroit.  
By taking the initial steps in embracing a service-side reality capture component, the company documented the site and provided Revit® models to ensure that a new piece of bulky equipment would fit in the physical space. This type of documentation is especially important in cities like Detroit, where century-old physical structures lack their original blueprints, and even in newer buildings, where upgrades and additions no longer match what was first constructed.  
Earlier this year, in addition to two FARO scanners, Limbach purchased FARO's SCENE Software, As-Built™ Software, and WebShare Cloud, a suite of three programs ideal for site documentation for building structures as well as plant and MEP systems that include piping or HVAC. Combined, the hardware and software solutions have helped the $568-million revenue company streamline costs, enhance the efficiency of their workflows, accelerate project completion, and, perhaps most importantly, navigate the ongoing health and safety restrictions related to COVID-19.  
"COVID has required organizations, especially those like construction that are so labor-intensive, to rethink certain processes of their business," said Kipp Ivey, a FARO applications business development manager who has been a technical advisor to Limbach for the past 10 years. "You think about it, certain states have restrictions to prevent access to particular facilities. Even certain companies now have the authority or right to determine how many people are allowed in a structure or building at any given point. COVID has now made companies think, 'How do we mitigate human interaction and minimize the number of people that have to go onsite?'" 
Post-COVID Building Prospects
Even as material costs for lumber are up from last year and logistical logjams challenge numerous supply chains, federal stimulus money combined with pandemic savings has increased opportunities for the engineering and construction industry. For companies like Pittsburgh-based Limbach, taking advantage of those opportunities means a dedicated push toward upping their efficiency gains while reducing their per-project spend—all without loss of accuracy or quality control. Recently the publicly traded company, which specializes in integrated building systems with expertise in the design, installation, management, service, and maintenance of HVAC, mechanical, electrical, plumbing, and control systems, sought to improve its MEP workflows by incorporating 3D laser scanning and reality capture solutions into its business model.  
Increasingly, profiting from the "new normal" means selecting talented team members from all over the country, Lamberson explained. In a post-COVID economy in which companies seek to minimize the number of staff onsite for a project and also reduce their liability in case an employee falls ill or is injured on the job, the best-suited engineer might be in Ohio for one project and Florida in another. It is that type of staffing deployment precision that 3D laser scanning and reality capture technology help enable. "So the scanner is grabbing every detail, and I can share that file with all 10 branches of the company so that we can leverage the best people for the job," Lamberson noted. 
Thanks to the highly granular detail FARO's Focus scanners capture (collecting millions of data points for point cloud generation in only a few minutes per scan), not only can Limbach document a given facility, they can provide a variety of additional customer services, including the following: 
Logistics planning for newly selected equipment

 

Supplemental engineering documents on how best to connect the equipment to building services

 

The ability to return to the site to take subsequent scans, transforming a single scan of an as-built environment into a "living document," updated to match any changes made

 

Site validation for off-site prefabrication to mitigate risk when fabricating assemblies for older facilities and enhancing the effects of industrialized construction

 
Automation Appeal
While naysayers might conclude that some of the post-COVID, technology-enabled health and safety improvements will wane in importance as the months progress, Lamberson is more optimistic. The new efficiencies and targeted deployment of personnel will persist. Time savings and money savings are not pandemic-specific. And as the world has noted, COVID safety protocols have radically reduced the incidence of other illnesses and absences.  
For these reasons, the new normal is here to stay. So if one employee onsite can do what three could do previously, it stands to reason that automation's potential will increase. This is where the future lies—autonomous and semi-autonomous reality capture where a drone, operated remotely hundreds or perhaps thousands of miles away, can perform the same tasks a single human can onsite today. It is a future Lamberson and Limbach Holdings Inc. are eager to embrace.
Learn how to get the most out of FARO's As-Built, SCENE, and WebShare software in these recorded webinars: 
For more information, visit www.faro.com.