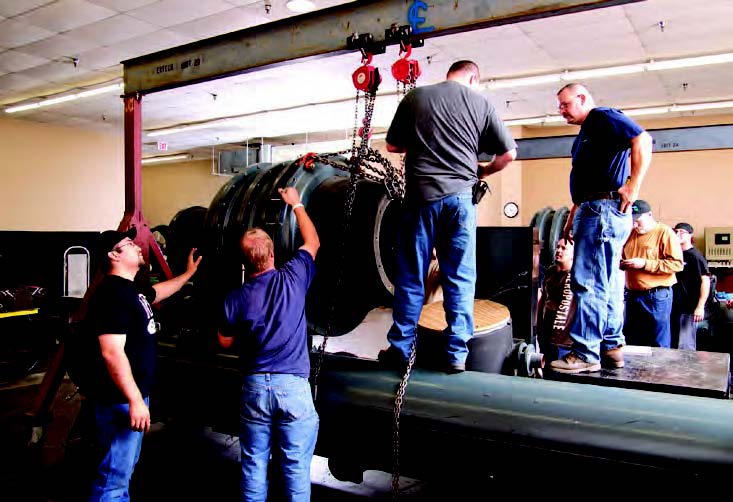 Where do you turn when an aging A/C unit needs service but the original manufacturer no longer supports the model? Entech provides handson training for technicians to enable them to dismantle and repair such equipment. Each week-long class is dedicated to products by a single manufacturer (Trane, Carrier, York, or McQuay). Field technicians with years of experience pass along knowledge and tricks of the trade that make service and troubleshooting easier.
Rick Klopfer of EMCOR Services/Mesa Energy Systems appreciated the opportunity for advanced, practical education. "The class size was perfect," he said. "We had nine gentlemen from all over that had some experience with centrifugals, which made it nice. The instructors did not waste a bunch of time going over the basics. Not only did it seem like on-the-job training, all were able to participate without feeling left out."
Darren Goodwin of McQuay International agreed. "It was like being taught by one of the guys not some teacher who had no real-life experience," said Goodwin. "They stayed late to help us understand the product and even since being back from school have communicated with us and helped us over the phone and e-mail. The manuals and literature that we received along with the class are priceless. To have a book with stepby-step pictures and information to go along with it is an A+."
Entech believes that the industry is better served when contractors are well trained and provide service in a professional manner. Knowing that a 10- or 20-year-old chiller can be maintained gives the end-users more choices, because they don't have to rely only on the original equipment manufacturer for service.
Classes are taught in the winter months to accommodate contractors who cannot afford to have their technicians gone during the busy summer season, and they fill up quickly. Teardown classes are designed for those who have a good working knowledge of refrigeration theory.
"The training on the dismantling the units was exactly what we had wanted," said Kevin Simard of EMCOR Services Northeast, Inc. CommAir/BALCO. "There were three stations of compressors, all different styles and sizes. This was great due to the fact you could see the differences and similarities of each compressor."
Simard added, "The overall knowledge of the three instructors was very impressive. They knew these compressors in and out. Also, they went into full detail about the overall operation of the machines and troubleshooting techniques."
Entech instructors are always looking for ways to update the classes to stay current. On the basis of student suggestions, some classes will add a running unit so that students can log the operating parameters and make diagnoses.
"The single most important thing about this training is it is not a sales class," said Erik Basner of Chiller Systems Service. "It is 'real-world' from guys that are working on these machines daily."
More than 80 students were scheduled to take classes from October through January. The schedule of classes beginning fall 2012 will be published in July.
To learn more, visit www.entechsales. com. To receive a schedule of classes to begin in the fall of 2012, e-mail Pat.Giles@entechsales.com