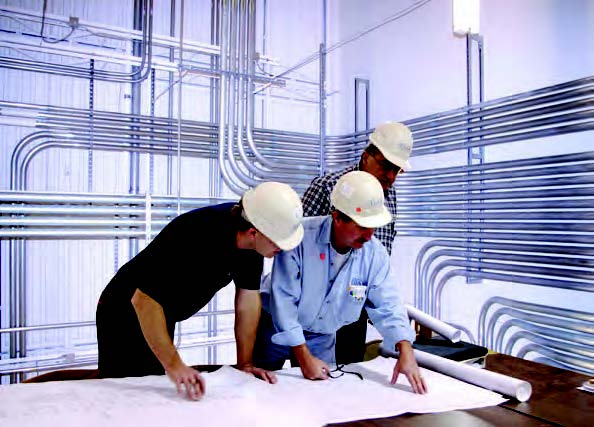 CRM Improves Service, Drives Sales
While some contractors are focused on weathering the storm of the current economic environment, others—such as Egan Company in Brooklyn Park, MN—continue to grow their business aggressively. To improve customer service and become a more sales-oriented company, Egan turned to its longtime partner WennSoft® for an integrated customer relationship management (CRM) system. Now, Egan is improving relationships with current customers, better identifying new prospects, and honing its competitive edge.
Egan has 700 employees across four divisions: mechanical, electrical, cladding, and building automation. In addition to providing new construction expertise, Egan also has a service group. Based on his belief that having the strongest possible operational solution will support Egan's continued success, Jim Nonn, chief information officer, has always implemented solutions that give his company an edge in productivity and customer service. Beginning in 1998, Egan partnered with WennSoft for operational solutions that control costs, increase operational efficiency, and improve profit margins.
Over the years, Nonn and Chief Financial Officer Jim Johnson have worked with WennSoft to implement Signature Job Cost and Service Management, as well as Microsoft Dynamics GP. These solutions have resulted in significant increases in invoicing speed and service dispatch efficiency while also accommodating the company's growth. Egan has nearly tripled in size over the past 13 years to become a $150-million company.
Filling a Communication Gap
As the company grew, Egan struggled with its internal communications. Customer records were only kept for accounts payable and receivable purposes, so key project management personnel had limited information on the customers they served. Johnson said, "I've heard of instances where one business group would call on a customer, not knowing that the customer was just contacted by a different business group."
Nonn added, "Oftentimes, the right hand didn't know what the left hand was doing." Egan determined that a CRM system would help keep everybody on the same page.
When considering solutions, Egan's goal was to have a unified customer database that could be accessed and updated by all of the company's groups. In addition, "We wanted to have a more proactive sales approach, rather than wait for calls to come in," said Nonn.
To find the best solution, the company did its research. "We went to peer groups and spoke to people who were using different CRM solutions with different levels of success," Nonn said. Eventually, they decided that Microsoft Dynamics CRM® would be the best fit for the company. Not only did it provide the desired functionality, but it also integrated seamlessly with the company's existing WennSoft Signature solution.
With the solution in place, Egan has created a unified database that contains information on more than 2,100 companies. Perhaps most important, Egan employees throughout all divisions can access the database, so everybody can work together to enhance customer service and drive sales.
CRM Improves Customer Service
Now, before making contact with any customer, Egan employees can research the case history, so they aren't gathering information from scratch each time. And an employee from one business group can be mindful if the customer was recently contacted by another group. "Basically, it helps us to understand our customers' needs better," said Nonn.
Furthermore, the implementation of Microsoft Dynamics CRM has helped every Egan employee become more sales-focused. "CRM helps our business groups cross-sell," said Johnson. "It helps them feed off each other." For instance, while an electrical contractor is on a job, he may notice that the customer also needs service on a mechanical system. Then, he can update the information within CRM for Egan's mechanical group, which can then sell its services to the same client.
Additionally, Microsoft Dynamics CRM has allowed Egan to run targeted marketing campaigns. The first campaign centered on a green energy conference at the company's facility. Nonn wanted to get the word out to all customers, so he used the solution to create lists for targeted mailings. He also used it to track prospects from the conference. "CRM was a great tool for this, and we had great attendance at the show," he said.
Improving the Competitive Edge
WennSoft solutions have not only helped Egan keep better track of its customers and prospects, but they have also helped the company monitor its competition better, thanks to CRM. Every time the company bids a job, it records the outcome. "If we lose a job, we track who we lost it to, and for how much," said Nonn. "We also keep track of the jobs we win. Over time, this information will help us accurately determine what margins we need to bid against different competitors." Now, Nonn's goal is to refine how the employees enter data into Microsoft Dynamics CRM, which will help lead to more measurable results and a better understanding of its customers and competition. And as Egan continues to improve the process, the company continues to grow. Egan's backlog is larger, and its relationship with its customers is closer than ever. According to Nonn, "WennSoft solutions are a big part of our overall success."
For more information, visit www.wennsoft.com.