Grooved Couplings Cut Installation Time from One Day to Under One Hour
To install the mechanical system for the International Gem Tower, one of New York City's largest HVAC installations, A. D. Winston Corporation turned to Victaulic, a global manufacturer of mechanical grooved systems and services. Contractors at A. D. Winston are well versed in working with mechanical systems in the five boroughs of New York City. The firm specializes in hotel, institution, residential, commercial, and health facilities.
"We decided to institute the Victaulic system because of the significant cost savings," said Salvatore Barbera, president of A. D. Winston. "This was our first experience using them (Victaulic) in this magnitude, but we were installing such a significant amount of piping and knew they would allow us to be more competitive in terms of speeding up the process and cost savings."
3D Renderings Increase Efficiency
Since the early 20th century, New York City's West 47th Street has been the diamond trade capital of the Americas, but it has remained virtually unchanged. In 2010, construction began on a state-of-the-art, 35-story tower that is the city's only commercial condominium designed specifically for the diamond, gem, and jewelry trade, with retail and commercial space available on the top floor.
The 800,000-square-foot job includes two large mechanical rooms on the 6th and 34th floors. The 34th-floor mechanical room includes three cooling towers using a 20" pipe hookup to the heat exchanger and six pumps. The 6th-floor mechanical room contains the hot water system and secondary condenser water pumps for distribution to the air handling units. Thousands of feet of piping in a variety of sizes were used for the job, including 2.5"- through 14"-diameter pipe for the chilled water system and 2.5"- through 8"-diameter pipe on the condenser lines.
To simplify the installation in the two mechanical rooms, A. D. Winston solicited Victaulic's Construction Piping Services to provide 3D isometric renderings that enabled them to coordinate efficiently and effectively with other trade groups (plumbers and electricians). With the renderings, A. D. Winston predetermined the lengths to cut the pipe to keep the installation moving. As a result of the isometric drawings, A. D. Winston was able to plan ahead and cut piping down so it could be transported efficiently using the elevator shaft instead of lifting 21' lengths by crane.
By having the Victaulic Construction Piping Services team complete the 3D project renderings, A. D. Winston was also able to have their Victaulic materials bagged and tagged using the coordinated isometric drawings and bill of materials. The process increased organization and cleanliness of the job, which led to speed and efficiency on site.
"I've been enlightened about how Victaulic can help us be very, very competitive in the market to win more projects to keep more people working."

— Salvatore Barbera, President, A. D. Winston
"The bag-and-tag system was like putting together a puzzle," said Joe Casale, project manager at A. D. Winston, who oversaw the International Gem Tower project. "Everything came boxed and labeled according to where it needed to be installed, along with a bill of materials, which made for easy coordination. When you needed a part you'd just locate the box, look at the bill of materials, find it, and install it."
Barbera estimates that Victaulic's bag-and-tag process saved hundreds of field manhours that would otherwise have been spent on material handling and product logistics. Parts were packaged and shipped when and where they were needed.
Grooved Products Speed Installation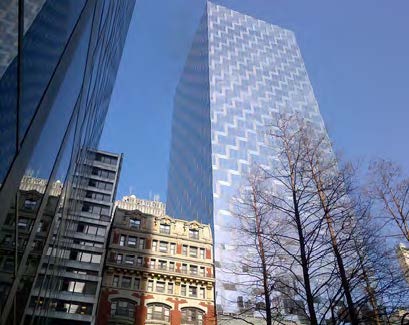 When installing 14" pipe in the tight 6th-floor mechanical room, the contractor was surprised by the speed of installation. "I've been around AC and mechanical systems for 25 years and knew about Victaulic systems prior to this job," said Casale. "I have seen Victaulic installed all over the city, I know that they work, and I've never had a problem. I knew they were a lot quicker than welding and that they provide a nice, clean, neat job, but I was surprised at how fast we could hang a 14" joint. We cut joining time in half, if not more, over welding the joints."
According to Casale, in the past his team did not associate large-diameter piping with being quick to install. A 14" weld would typically require a full day to complete. However, since using Victaulic Advanced Grooved System (AGS) couplings, which start at 14" in diameter, Casale experienced firsthand the speed and ease of joining Victaulic's large-diameter products. Casale's 14" AGS couplings were installed in under one hour.
"Victaulic grooved mechanical systems are high-quality and very easy to use and just as effective as welding," added Casale. "I've seen pressure tests on the couplings, and I was amazed at how much pressure they could handle. When you consider this, in addition to the fact that they are safer and more environmentally friendly, it's a night-and-day difference."
Environmental health and safety on the jobsite is always important, noted Casale. With welding, the team has to think about smoke and breathing it in, eye safety, the risk of fire and potential for burns, and increased electrical needs. Victaulic grooved mechanical systems eliminate all of those issues. Installation simply requires clamping the systems into place and tightening with two nuts using a hand ratchet. Additionally, A. D. Winston eliminated the costs associated with cornering off the area for fire safety and for an extra person on fire watch.
"I was surprised at how fast we could hang a 14" joint. We cut joining time in half, if not more, over welding the joints."

— Joe Casale, Project Manager, A. D. Winston
With Victaulic grooved mechanical systems, A. D. Winston was able to complete the installation in 19 months. The company and the developer for the International Gem Tower are already exploring additional possibilities to incorporate Victaulic grooved mechanical systems on future jobs.
"I'm a welder and have not always been open to using grooved mechanical systems," confessed Barbera. "But after this project, I'm sold. I'm a big fan. I think it's a good product. I've been enlightened about how Victaulic can help us be very, very competitive in the market to win more projects to keep more people working. Victaulic helped give our client a good impression of A. D. Winston, and we intend to find new ways to work with Victaulic."
For more information, visit www.victaulic.com.