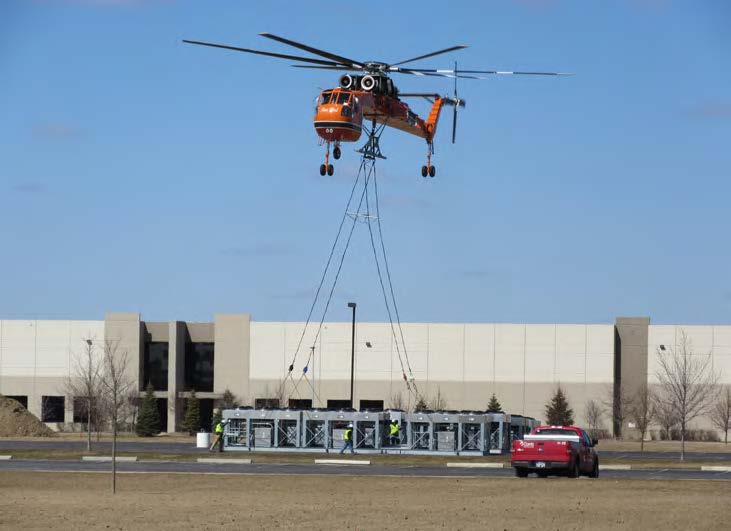 Innovative aerial service provider Erickson Incorporated successfully conducted 13 chiller equipment lifts to the top of the JPM Chase building in Belleville, MI, in just two-and-a-half hours, allowing Conti Corporation to cut installation time dramatically. Erickson's placement lifts saved time on the ground and also saved labor costs, because they were much more efficient than standard ground-based methods.
To prepare for such an extensive HVAC lift and placement project, Erickson operators worked with Conti project managers for three months, with an initial site visit in February to determine lift sequence, rigging, and clearance for crews to enter JPM Chase property. On the morning of March 28, Erickson's S-64F Aircrane and crew arrived at the site. The chiller components previously prepared and staged in the parking lot next to the helicopter landing and fueling zone where Erickson and Conti managers had established a direct flight path to the rooftop to minimize flight time.
After a comprehensive safety briefing, the lift portion of the project began at 1:00 p.m., and all chiller components were successfully placed on the rooftop by 3:30 p.m. Erickson proved instrumental in accomplishing Conti Corporation's goals in a short amount of time, while meeting safety expectations.
Although the lift was quickly completed, it was no small undertaking. All 13 placements were flown with steel cable rigging as four-point lifts, and package weights ranged from 2,118 pounds to 15,500 pounds. Erickson's expert Aircrane crew consisted of three pilots and two radio personnel, one stationed on the ground for rigging, and one on the roof at the delivery site. For added safety, five road guards were stationed around the perimeter to ensure a secure area while the helicopter was working. This collaboration between Conti Corporation and Erickson Incorporated is an example of effective, efficient, and modern infrastructure installation and construction. Erickson's Aircrane is uniquely designed, piloted and crewed to perform these kinds of specialized lifts and has successfully and safely placed more than 40,000 HVAC units on multistoried buildings, automobile plants, and aviation hangers across North America and Europe.
"The mechanical equipment was located in the middle of a 300,000-square-foot live data center complex. The pre-planning that Erickson and Conti undertook was exceptional and [the lift] went as planned. Each unit was precisely placed in a very efficient and safe manner. The Erickson Team took the time to visit the site twice, once meeting with the owner and the other with the Conti Team, making sure we all worked the plan and giving the customer a level of comfort," said Victor Calleja, senior project manager for Conti Corporation.
For more information, visit http://ericksonaviation.com.