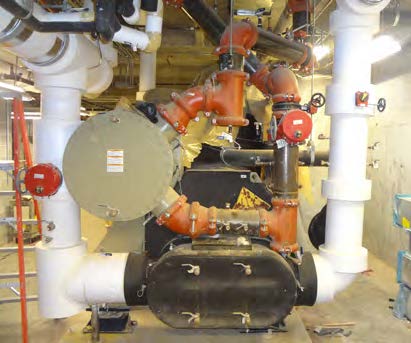 Building information modeling (BIM) and 3D modeling offered by Victaulic's Construction Piping Services (CPS) division helped CFI Mechanical manage the lack of detailers available in Houston, where construction is booming. Victaulic's grooved piping systems and prefabrication services also saved CFI Mechanical installation time and money on a new office building project.
Building Boom Spurs Labor Shortage
Houston, TX, the heart of the oil and gas industry, has seen rapid growth in recent years, fueled by tax incentives for companies setting up headquarters in the area. The influx has led to a high demand for office space and, in turn, a wave of construction that has resulted in labor shortages. Despite the recent oil industry downturn, building activities continue at a breakneck pace. When they were awarded the mechanical systems contract for the Millennium II Tower, CFI Mechanical turned to Victaulic for help in overcoming the labor shortage, as well as schedule and budget challenges.
"CPS did exactly what they said they were going to do and when. … We can't wait to get another job where we can plug in Victaulic."

—Chuck Fell, President, CFI Mechanical
The Millennium II Tower is an office building under construction in the Westchase district of Houston. The long-planned sibling property to the Millennium Tower, Millennium II is a 24-story glass-and-aluminumclad tower that will stand 309' tall, making it the tallest building in the district. All 417,000 square feet of space was pre-leased by National Oilwell Varco (NOV), a leader in the design and manufacture of oil and gas drilling equipment and Houston's largest energy employer. With more than 14,000 employees in the area, NOV will consolidate employees from 10 other facilities at the Millennium II Tower when it is completed in October 2015.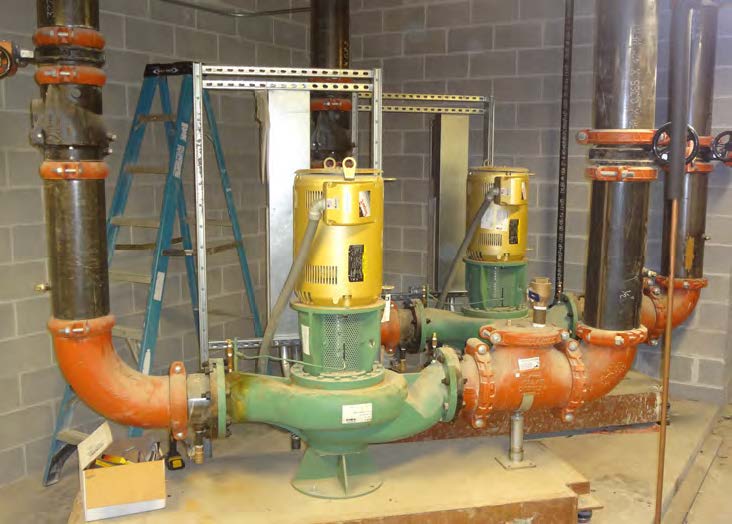 "Construction has a lot of cycles to it, but for the last two years, it has been crazy around here," said Chuck Fell, president of CFI Mechanical and immediate past president of MCAA. The Houston-based contractor, which provides plumbing and HVAC services for commercial construction throughout Texas, knew the labor shortages would present challenges on the Millennium II Tower project in terms of design and construction. In addition to welders, the company has experienced a shortage of detailers that has been magnified by mandates for BIM on projects. "There's a lot more demand now on our drafting services," Fell explained. "More customers want the Cadillac, they want everything."
CFI Mechanical is also facing thetypical construction challenges ofschedule and budget. "We are buildingat a record pace around hereas far as the speed at which we putbuildings together," Fell noted, "andbudget's always an issue."
Victaulic Services Extend Drawing Departments
Although CFI Mechanical planned to manage the BIM process in-house, it quickly became clear that help was needed. CFI Mechanical had not previously worked with the Victaulic CPS team, but the Millennium II Tower was a good project to test the waters. "We see a need for [CPS services] in the future, and this looked liked it was a good fit for Victaulic to come in," Fell said.
Shortly after CFI Mechanical was awarded the contract, in January 2014, the contractor brought in the Victaulic CPS team to model the mechanical rooms and piping systems. The CPS team completed the fully coordinated BIM model for the basement and penthouse mechanical rooms, an air-handling unit room on the eighth floor, the cooling tower area in the attached parking garage, and the crossover piping, managing to stay ahead of the construction coordination timeline despite the tight schedule. CPS also generated isometrics, fabrication spool drawings, and bills of material, enabling the contractor to get a head start on fabrication.
Victaulic Products Speed Installation With years of experience working with Victaulic products, CFI Mechanical knew grooved piping systems would be the solution to the schedule and budget challenges, as well as the labor shortage. "We've been in business for 19 years; we've used Victaulic for 19 years," Fell stated. "We try to use it every possible way."
In 2014, CFI Mechanical executives toured Victaulic headquarters in Easton, PA, where they got a closer look at the manufacturing and quality control processes. Already a proponent of Victaulic because "there's a trust factor there," according to Fell, the tour gave CFI Mechanical's leadership even more confidence in the products. It also revealed new ways to improve efficiency. "It changed our approach, got us more into fabricating and using the tools available to us from Victaulic," said Fell.
Victaulic grooved mechanical piping products, including QuickVic™ Installation-Ready™ couplings and AGS couplings, were specified to join the carbon steel condenser and chilled water piping systems as well as the stainless steel and copper domestic water systems. In addition to the mechanical systems, Victaulic products were specified for the storm drainage and fire protection systems.
"We could not have accomplished our budget for the job without using Victaulic products, and it would have been a whole lot more difficult keeping up with the schedule."

—Chuck Fell, President, CFI Mechanical
The Victaulic CPS team coordinated bag-and-tag product shipments to CFI Mechanical's fabrication shop. This service enables Victaulic products to be shipped to the shop or jobsite for just-in-time delivery, labeled and packaged per the contractor's direction. Pipe spools were cut, grooved, and assembled in CFI Mechanical's shop and sent to the jobsite for installation.
Cooperation Keeps Project On Time, On Budget
The installation went smoothly, and the CPS team stayed involved throughout the construction process, assisting with several design changes. For instance, an extra floor was added, which increased the size of the piping at the lower levels and called for larger cooling towers. The control valves that had been ordered per the contract drawings did not fit the cooling tower connections, and the lead time to get new valves would have delayed construction. The CPS team devised a solution using Victaulic reducers, which enabled the original control valves to be used and construction to progress on time.
The Millennium II Tower project is on time and on budget. "We could not have accomplished our budget for the job without using Victaulic products," Fell stated, "and it would have been a whole lot more difficult keeping up with the schedule." Despite CFI Mechanical's reservations about working with CPS, attitudes changed by the end of the project. Initially concerned about costs, prompt service, and lack of control, Fell reported that the project "turned out very well. CPS did exactly what they said they were going to do and when. The value was there. We can't wait to get another job where we can plug in Victaulic."
For more information, visit www.victaulic.com.