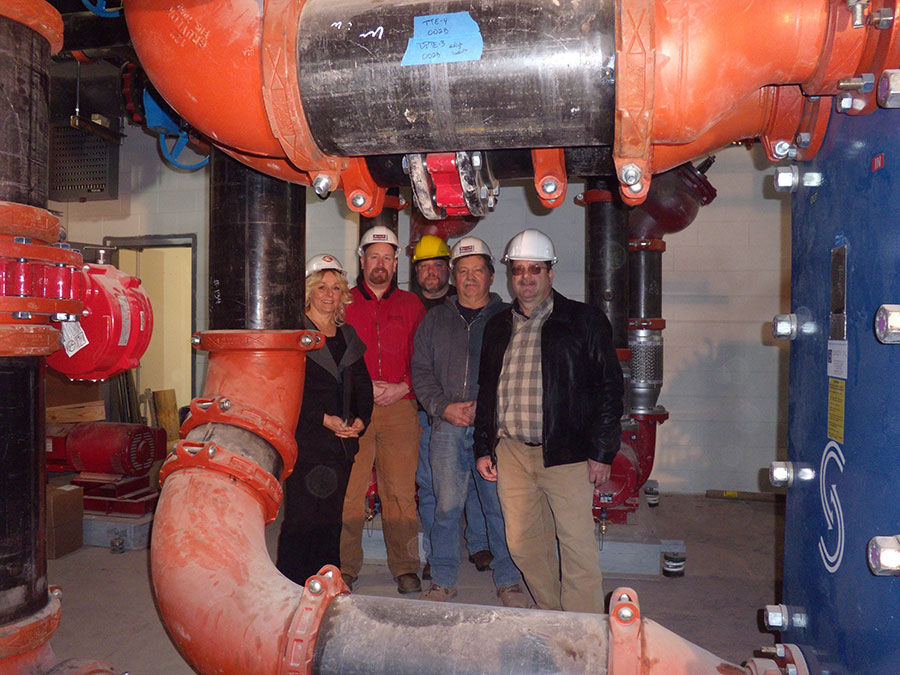 Savvy design from Anvil® International allowed Bennell, Inc. to install all the needed systems in the very small mechanical room of a new residence hall and bookstore at Bloomsburg University of Pennsylvania. Because of the creative design, which included Anvil's Gruvlok® connections for the heating and cooling pipe, Bennell managed to "make 10 pounds fit in a five-pound bag," said President Craig Hosler.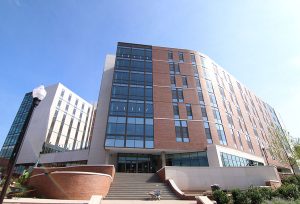 The building helps the university alleviate a student-housing crunch, provides much-needed retail space, and creates what a university official calls a "wow factor" that will help the campus compete for new students and enhance the student experience. Completed on time for the fall term beginning August 2017,
the 163,000-square-foot, $61.9-million building has room for 398 students in
suite-style apartments. The building's mechanical room had to fit heating
and cooling pipe, ductwork, and the electrical, mechanical, plumbing, and
fire-sprinkler systems.
The mechanical room was not the only cramped location on campus. Until the new residence hall opened, said university spokesperson Tom McGuire, many dorm rooms at the university had three students squeezed into spaces designed for two. In welcome contrast, said McGuire, the new facility's suites are consistent with the college living arrangements that many of today's students prefer. Besides providing more privacy and elbow room, the new residence also features Chick-fil-A and Qdoba restaurants.
Bloomsburg University is the third-largest within Pennsylvania's 14-campus state system of higher education. More than 9,600 students were enrolled in the 2016–
2017 school year. The university sits 75 miles north of Harrisburg. Founded in 1839 as a literary academy, the school today offers 56 undergraduate and 20
graduate programs. Like all colleges, Bloomsburg needs to attract students both with responsive degree offerings and inviting facilities.
Standing Out in a Crowd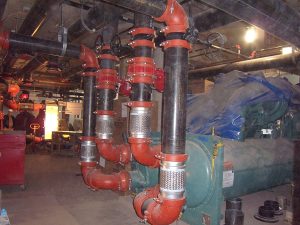 "Competition for students these days is very tight among institutions," McGuire
observed. "We're in a state with dozens of institutions that students can choose from. So it's important to have something that's eye-catching to students and parents as they get to campus. This building will be a showplace and a centerpiece for our admissions office." New study areas in the building will also improve the learning environment.
Bloomsburg's students will probably never see the Gruvlok connections that Anvil provided for the building-wide heating and cooling systems. Nor are they likely to know the challenges that accompanied their design and installation. But those issues were substantial, and Anvil responded with the unique expertise of its senior piping designer, Merrill Davis, based in North Carolina.
In his work, Davis takes architectural and structural drawings, adds schedules and equipment specifications, and builds 3D computerized models of hydronic systems. He is accustomed to solving intricate design puzzles. This one, however, taxed his abilities in new and demanding ways.
"We're used to working with tight spaces," Davis said. "But this was particularly challenging for coordination purposes with the other trades, because we just had so many people trying to use the same area."
A Collaborative Approach
As sometimes happens in complex projects, the mechanical room's design evolved through several iterations. Each time, Davis took the new drawings
and created CAD-compatible files for the various contractors. In what Davis describes as a "roundrobin," the electrical, plumbing, ductwork, and other
contractors electronically overlaid their designs on Anvil's Gruvlok system
scheme, noting conflicts and suggesting changes. The highly collaborative process
ultimately resulted in a model that enabled all of the contractors to fit their systems into the tight space.
Hosler had worked with Anvil previously, but had never used the company's design services. He came away impressed.
"I've told Merrill if he ever finds himself up this way and he needs work, to call me," Hosler said, adding that Anvil "had a very good knowledge of how to lay out the systems and how they worked—the principles behind them. They were also very tech-savvy when it came to getting information into our hands."
Once the design challenges were met, fabrication represented the final question mark. To save labor costs, Hosler opted for prefabrication of the mechanical room's piping in Texas. Davis worked with Hosler to determine how best to split the piping into sections that could ultimately be connected at the construction site. But when the pieces got to the building site, would they fit?
"I was holding my breath about having it done offsite," Hosler confided. When the shipment arrived, he saw that every piece was tagged as it had been in the drawing, and everything fit together like an erector set.
The new building will be named after retiring university President David L. Soltz, Ph.D. The honor is especially fitting, as Soltz concentrated on building programs and infrastructure during his tenure at Bloomsburg University.
For more information, please contact Anvil's corporate offices at 603-418-2800 or visit anvilintl.com.