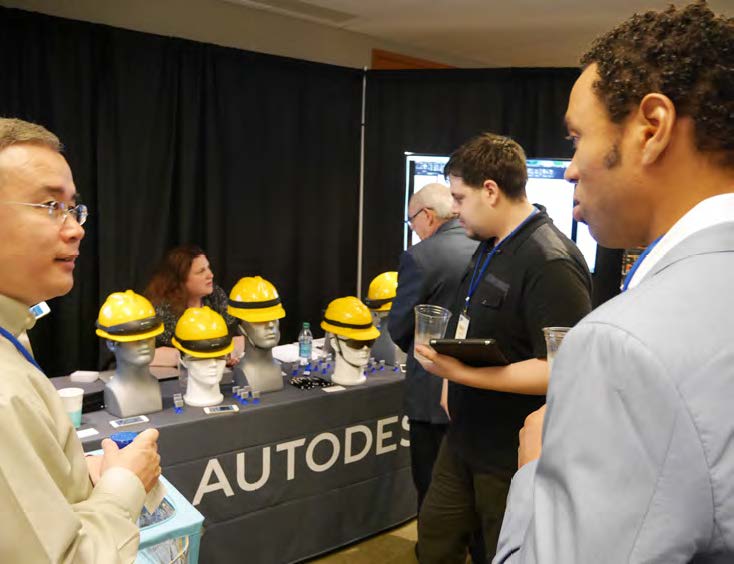 Autodesk's mobile software prototype communicates with dust and noise pollution sensors attached to a hardhat and tracks when levels become dangerous, offering the potential to dramatically decrease the number of injuries. Attendees of the MCAA Technology Conference: The Best of Now, The Best of Next, held just outside of Chicago, had a chance to try out the app and give feedback. Several members of the Autodesk research team came in from China to demonstrate the product, answer questions, and interact with potential users.
Construction continues to be one of the most dangerous occupations globally. Every year, hundreds of people are killed and many more injured at construction sites in the United States. The MCAA Technology Conference provided a first look at a sort of "smart" hardhat from Autodesk that incorporates technological advancements to improve safety on the jobsite.
The Autodesk system can also alert other workers when someone falls. Construction crews could locate workers, in near real-time, who had become injured or unconscious while in a remote corner of a building. In addition to identifying individual safety issues, the data from the sensors can be captured in a dashboard, giving holistic and historical views of where most accidents occur, along with other information. The software could also potentially eliminate the need for workers to punch in and out every time they arrive at or leave a jobsite.
Conference-goers offered the researchers ideas on how the construction industry might deploy these intelligent platforms to improve construction safety. For example, they suggested adding a sensor that could detect gas levels, particularly carbon monoxide, and others that could capture personal health parameters, like heart rate and body temperature. Autodesk is seeking companies that might be interested in piloting the helmet at their jobsite.
For more information, visit www.autodesk.com. Contact ling.zhao@autodesk.com to learn more about the pilot program.