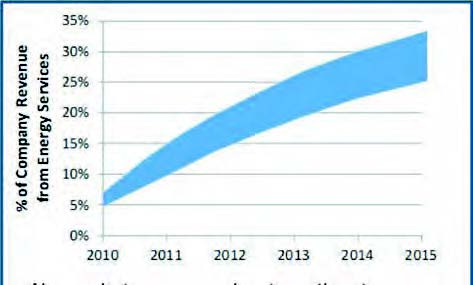 With AirAdvice training and BuildingAdvice™ technology, Airco Commercial Services, Inc. amped up its energy services program, adding five to seven percent to their annual revenue in 2010. In 2011, revenue from energy services doubled to comprise 10–15 percent of total company revenue.
Bruce Wright, Airco's Bay Area vice president and general manager, said, "I see our energy services revenues very easily becoming 25 percent of our total revenue in the next five years. Within that, there are two aspects: the tangible proof of project retrofits, as well as the intangible value-add of providing energy services as part of our preventative maintenance agreements. Already, we are seeing a substantial uptick in business that we can link directly back to our decision to aggressively pursue an energy services approach."
Call Them Clairvoyant
With a combined 50+ years in the industry, Airco Commercial Services' two vice presidents, Wright and Rick Cooke, had seen it before. In 2008, they recognized the turn the industry was taking, projecting a significant downturn in commercial construction. From past experience, Cooke and Wright knew that a soft construction market inevitably leads to increased competition for service as contractors scramble to keep technicians busy and trucks on the road. The leadership at Airco projected that energy services would begin to play a larger role in the coming years.
Cooke put together an Energy Services Committee with Airco employees from all areas of the business—management, sales, operations, and trades—to discuss how each would play a role in shifting their business to stay on the cutting edge of the industry.
Wright recalled, "In 2009, I was on an MSCA roundtable panel with Thom Brazel, MSCA Board Vice Chairman, who was buying his third AirAdvice energy services platform kit for Hill York. I invited AirAdvice to present to our committee, and we began to focus on how we could accelerate the launch of an energy services offering using their BuildingAdvice program. We didn't feel we could justify the investment in time and money to build our own program when something as complete as this was immediately available."
Implementing an Energy Services Program
Most of the Airco staff participated in the BuildingAdvice webinars offered through the MSCA, which helped them better understand the sales approach and the technical elements of an energy services offering. Later, AirAdvice representatives met with Airco's management team to develop a business plan and conduct training for Airco's sales and technical teams on the specific steps to implement the program.
"Our energy services approach provides substantiated information that quantifies potential cost savings from reducing energy waste," said Wright. "Providing measurable savings changes what was before a qualitative decision into justifiable proof for moving forward with specific projects or services. Using BuildingAdvice, energy savings is no longer conceptual."
As with any new program, implementing an energy services program required some adjustments. But the management team at Airco was convinced that changes were necessary to effectively compete in a challenging economy. Wright said, "The biggest hurdle we faced was creating a culture shift in how we execute a sale." Airco found the support that AirAdvice provided in helping to make this shift invaluable. "Even if technical tools are available, we would have struggled to implement them without the sales training and ongoing coaching that comes with the BuildingAdvice program," said Wright.
Wright explained how Airco changed its approach. "With the old sales strategy, a project salesperson might come into a building, identify an old chiller, and quote a replacement at $325,000. Under current financial conditions, building owners and managers are feeling the pinch of tight capital budgets and wonder whether spending money now is a good idea," he said.
Using BuildingAdvice, Airco found a better way: partner with the building owner/manager to look at what the building is currently spending on energy and why it is more than it needs to be. "Then you take that information and develop a strategy of how you, working as partners, can reduce the energy consumption together. It's about changing the focus of the conversation from the price of the project or service to an apples-to-apples comparison of what they're spending now to what they will spend in the future if they move forward with our recommendations. You've changed the whole discussion."
As revenues demonstrate, the new tack is paying off. "Now, the way we approach problems and how we articulate the solutions is as an energy services provider, rather than as a mechanical contractor. If you're not looking at energy as a major driver of your business, then you're not paying attention." Wright said.
If you're a contractor seeking to enhance your energy services, MSCA offers education to help its members become the energy service providers of choice. Visit www.msca.org to download webinars and learn more.
For more information, visit www.airadvice.com.