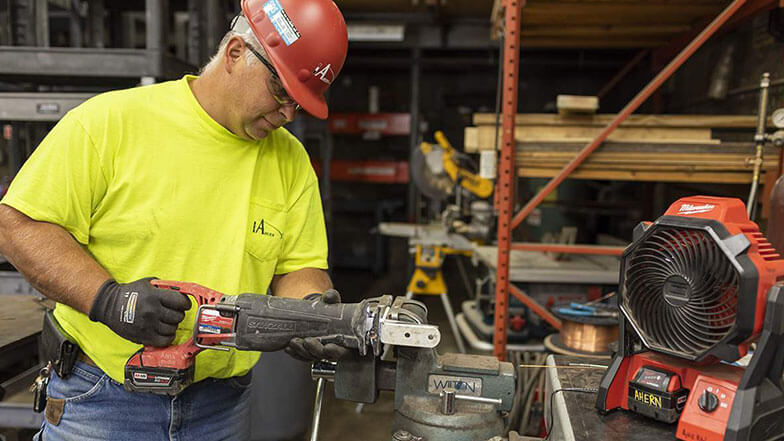 MILWAUKEE TOOL's product lineup has long been J.F. Ahern Co.'s choice of power tools because the same batteries could be used for a broad range of tools, saving time and money. Recently, Ahern had the opportunity to test out some of MILWAUKEE TOOL's new MX FUEL™ Equipment System, including the first-ever cordless core drill, on a project that required drilling more than 1,500 holes through various types of walls, including block and concrete. Ahern found that the handheld core drill was much more efficient than a traditional drill, providing more control and more power. MILWAUKEE TOOL is an MCAA benefactor sponsor.
One Battery, Many Options
Nearly a decade ago, it was not uncommon for a major mechanical contracting company to use power tools from two or three manufacturers, each with its own unique battery. When Tyler Gumm became manager of Ahern's Tools and Equipment Shop in 2012, he was faced with an inventory of hundreds of power tools and batteries that spanned multiple brands. Soon, the feedback from the field would lead Gumm to overhaul the company's choice of power tools.
Ahern was frustrated by the amount of time crews were spending chasing down the right batteries for the tools at hand. No batteries were compatible with one another, which left field crews idle for the time it took to recharge once their tools died. The Tools and Equipment Shop tried to alleviate this frustration by matching tool manufacturers as much as they could when setting up jobsite boxes, but it was clear the time spent was negatively affecting productivity.
"Stocking these many brands of tools and batteries affected inventory. At the time we were stocking four different batteries from four different manufacturers, and it took a considerable amount of time to look up tool brands and models to match batteries," said Gumm. "It's hard to quantify exactly how much productivity was lost directly because of this, but it wasn't anything short of significant."
The problem presented Gumm an opportunity to find a better solution for the tools being supplied to the field. After meeting with various manufacturers, visiting their plants, and testing out a fair amount of different batteries and tools in the field, a clear leader was identified, and a new partnership was formed.
"MILWAUKEE TOOL came out as the frontrunner because, overall, they had the best line of tools and battery compatibility that far exceeded any other manufacturer," said Gumm.
The efficiency of MILWAUKEE TOOL's M18™ battery platform is important for Ahern. The same batteries fit every single tool. The crews in the field do not have to spend valuable time searching for a spare battery when one dies or is left behind.
More Than Just the Batteries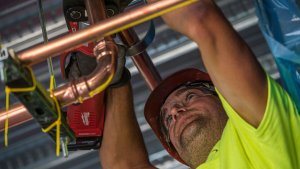 Outside of the battery platform, MILWAUKEE TOOL has distinguished itself by its breadth of products, service, and opportunities for additional innovation and collaboration.
"It's incredible the number of new tools becoming cordless that we never thought would be," Gumm observed. "No cords is the best thing to come from the world we're living in now, because it is safer for the guys in the field. At the time of our decision to move over to MILWAUKEE, they had the most breadth of line for the work we did. Now, nearly a decade later, their offerings have only grown—and it's all still on the same system!" said Gumm.
Gumm notes that the company used to have to fix a lot of tools internally.
With MILWAUKEE's 5-year warranty and additional service support, Ahern mechanics no longer need to work on power tools, so they can focus on other work crucial to the business.
Frequently, MILWAUKEE TOOL's Research & Development and Engineering Teams have reached out to Ahern when they are looking for some real-life users to test new tools and provide feedback. This arrangement is a unique opportunity for field crews to get their hands on new-to-market tools and equipment, preview it far in advance of competitors, and provide feedback to help make the current tools and future releases even more effective. And with Ahern celebrating its 140th anniversary this year, MILWAUKEE TOOL gains insights from an organization that has withstood the test of time.
For more information, visit www.milwaukeetool.com. MCAA thanks MILWAUKEE TOOL for being a benefactor sponsor.