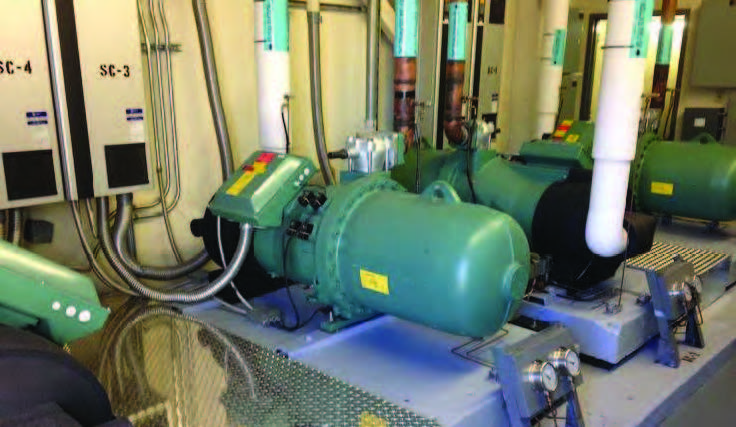 By installing new BITZER compressors to replace aging, inefficient, and unreliable technology, ACCO Engineered Systems of Glendale, CA, helped Cedars Sinai Medical Towers in Los Angeles improve the health of its two 11-story buildings. The upgrade not only met the needs of the building's inhabitants but also qualified for a substantial rebate.
The two 166,000-square-feet medical office buildings were in need of a mechanical upgrade. Each of the buildings had its own central plant made up of four 150-ton open-drive compressors that used 1950s reciprocating technology. In addition to being inefficient, the compressors and refrigeration components had been experiencing high failure rates.
ACCO conducted an engineering study to identify the system components that would deliver the best return on investment. They took into account the retrofit cost, energy efficiency, sound levels, ongoing maintenance costs, and reliability. Eight BITZER high-efficiency CSW9573-160Y-4DU screw compressors were specified for the job.
The preeminent challenge for ACCO came in replacing 1,200 tons of cooling apparatus (coils, pipe, and compressors) without disrupting building operations during construction. The equipment was replaced in stages over fourweekends. The job took five well-choreographed and specialized crews to accomplish the technically challenging changeover, ensuring that the new A/C system would be operational when the fully occupied towers opened for business each Monday.
BITZER is known for manufacturing reliable, relatively quiet semi-hermetic screw compressors that are well suited for direct expansion retrofits. This compressor upgrade, along with other system enhancements, justified a $250,000 rebate from the Los Angeles Department of Water and Power.
For more information, visit www.bitzerams.com.