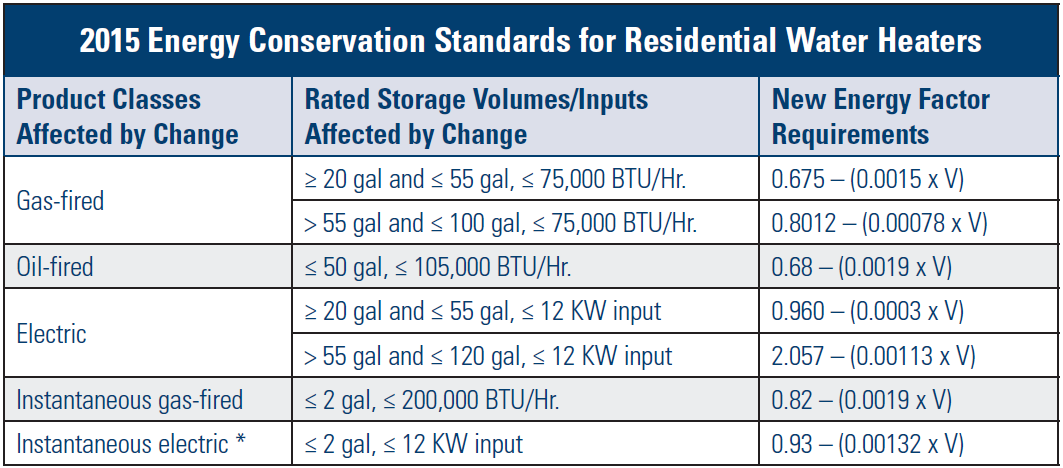 Bradford White Highlights Potential Pitfalls, Opportunities
The Department of Energy's (DOE's) new energy efficiency mandates, which take effect April 16, 2015, will require higher energy factor (EF) ratings on virtually all residential gas, electric, oil, and tankless gas water heaters. These changes will impact how water heaters are manufactured, distributed, and installed.
Energy Efficiency Requirements Increase
The EF is the ratio of useful energy output from the water heater to the total amount of energy delivered to the water heater. The higher the EF, the more efficient the water heater. While all affected models will see an increase in the EF requirement, the most dramatic changes are in larger capacity models (see the table). The DOE established the EF requirement for residential gas and electric water heaters over 55 gallons to drive manufacturers to implement new, more energy-efficient technologies. While the new rule does not require a specific technology, the only currently viable options to meet the EF requirement over 55 gallons are heat pump water heaters for electric and high-efficiency condensing technology for gas water heaters.
Potential Changes in Size, Other Factors
Electric water heaters, already very efficient, will likely require more insulation, increasing the diameter or height of the water heater or both. Additional insulation may be required for piping and fittings such as drain, temperature, and pressure valves. For electric water heaters over 55 gallons, the only currently available technology that meets the EF requirement is a heat pump water heater.
To meet the required minimum EF, gas models may need additional insulation, newer flue baffling technologies (including flue dampers), electronic ignition in lieu of the standing pilot, or a combination of these. Again, the likely impact will be an increase in the overall product size, especially in diameter. For gas water heaters over 55 gallons, high-efficiency, fully condensing combustion technology will be required, so line voltage and a means for condensate disposal will be needed. Much like gas products, oil-fired water heaters will likely incorporate additional insulation or completely new combustion systems. The new minimum EF for tankless (instantaneous) gas will increase from .62 to .82. Most tankless water heaters currently have EF ratings of .82 or better.
Impact on the Installer
Employees will need training to get up to speed on the new technologies. While manufacturers and distributors will provide resources to train installers, training will be time-consuming and may eat into employee productivity.
As water heaters get larger and heavier, installation may require more workers or larger trucks. Under the new regulations, some water heaters may now require electricity, drains for the condensate, or new ventilation systems, so installers will have to have the training, tools, and expertise to address these needs. In addition, new water heaters may require more space or be noisier than the models they replace, so installers should pay attention to the location of new equipment.
Prepare for Changes
The 2015 DOE rule could pose challenges for manufacturers, wholesalers, installers, and customers. However, when products become more complex, it is less likely that do-it-yourself consumers will install them. Therefore, the 2015 water heater changes may increase the share of water heaters sold through wholesale distributors and thereby increase installation opportunities. You should spend the time to become well-versed in the changes resulting from the new rule. The time to prepare for these changes is now.
For more information, visit www.bradfordwhite.com.
MCAA thanks Bradford White Corporation for being a major sponsor of MCAA 2014.