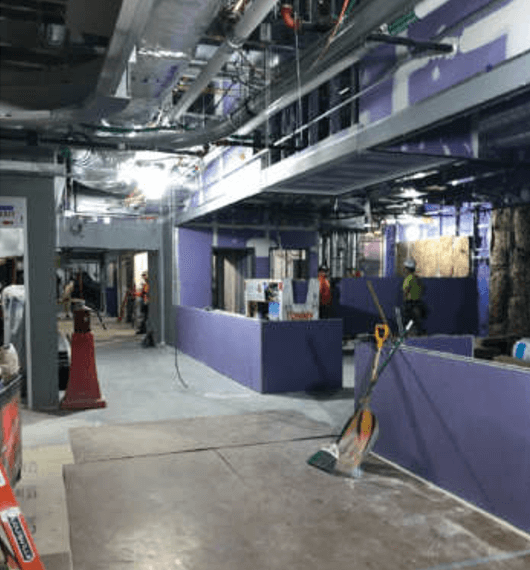 Southland Industries and the Integrated Project Delivery (IPD) team at Penn Medicine shaved 15 months from the construction schedule for a portion of a new hospital tower in University City, Pennsylvania, to prepare for the potential influx of COVID-19 patients.
Operationalizing the newly-constructed Pavilion took the team two weeks to bring 120 patient rooms and associated support spaces online. Southland installed a temporary med-vac system, medical gas piping, electric water heaters, medical air manifolds, hot water heaters, temporary plumbing fixtures, and temporary piping and ductwork.
Jim Meacham, Southland's Mid-Atlantic Division Leader, explained that Southland teams were able to tackle the challenge of accelerating such a critical project through an IPD approach, clear and consistent communication, the willingness to step up, and dividing up the workload between engineers, project teams, and superintendents.
"The IFOA IPD contract method allowed for immediate collaboration amongst all the IPD partners to develop the right design solution to temporarily activate the hospital, with realistic jobsite condition awareness followed by instant decision making," said Meacham. "Co-location and the collaboration developed early on during the formation stages of this project really paid off with the ability to expedite a solution that met Penn's and the city's needs."
The facility was recently connected to the existing hospital of the University of Pennsylvania (HUP) via a tunnel, which creates a pathway for hospital staff to bring low-risk non-COVID patients over from the existing hospital. Moving the patients prevents existing cases from being exposed to new COVID-19 admissions.
Jim Meacham says, "we are faced with a real crisis and the majority of the state has suffered restrictions and closures. The PennFIRST team did an amazing job bringing this facility on line in the time required. The high level of confidence amongst the entire project team resulted in complete and timely execution, where everyone acted very quickly and decisively, while outlining and tracking each level of detail and associated sequencing required."
Southland Industries continues to collaborate on COVID-19 facilities. They contributed to the surge facility project at the Walter E. Washington Convention Center that was facilitated in just over three weeks. We are all in this together.
Related Articles